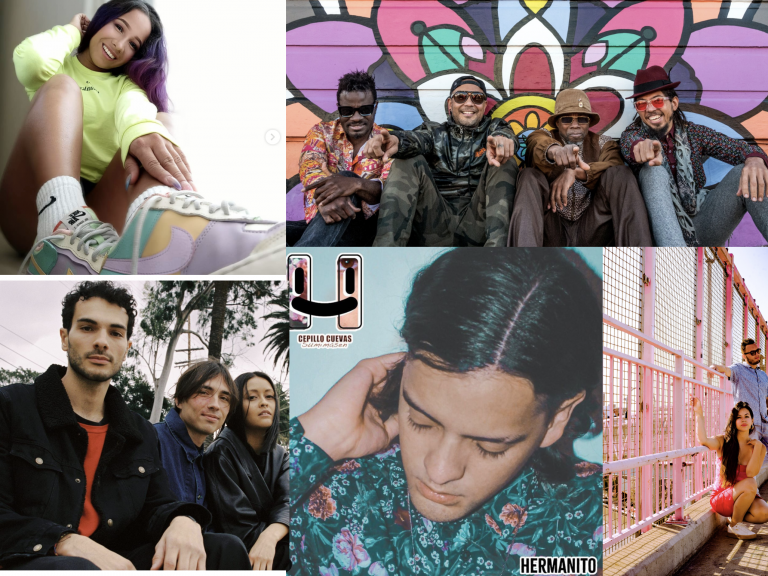 On Our Radar: Colombian Champeta Gets Some Shine, Plus New Music by LA's El Mañana, Mexico's Cepillo Cuevas, & NYC's Blssom
05 February, 2020
Colombia: Champeta in Miami with dancer Liz Dany & in New Orleans with Tribu Baharú
The National [American] Football League's Super Bowl always creates a buzz, but it was two globally known Latina performers who really sent the post-game media cycle into overdrive. Colombia's Shakira and Bronx-born Puerto Rican Jennifer Lopez performed a compilation of their biggest hits along with guest reggeatoneros Bad Bunny and J.Balvin, as well as Calí dance troupe, Swing Latino.
Shakira put two dances from Colombia front and center with a riveting bit of mapalé and, after performing some of her World Cup 2010 official song, "Waka Waka (This Time for Africa)," she broke out the champeta while flanked by AfroColombian dancers.
The quick-footed choreography to the soukous track "Icha," also known as "El Sebastían," by Congolese artists Syran Mbenza with Diblo and Lokassa Ya Mbongo, was put together by an 18-year-old from Barranquilla, Liz Dany Campo Díaz, who Shakira has given one hell of a boost by featuring her prominently on her social media. The young dancer has been making the media rounds ever since, even earning a full scholarship to Colombia's Universidad del Atlántico, gifted to her by Colombian politician Elsa Noguera. Check out some of Liz Dany's signature dancing below.
But it's not just Shakira putting champeta in front of audiences in the United States. Colombia's Tribu Baharú is currently on tour in the States and they brought their brand of champeta to New Orleans' Bal Masqué carnival celebration. See them joined by Louisiana's Kumbuka Dance Collective in the video below. The performance was very well received, and this begs the question: will champeta be the next Latin music craze? One can only hope.
Los Angeles: El Mañana, 'Lejos'
How about some dreamy indie rock by the likes of Los Angeles' El Mañana. Led by Colombian American singer songwriter, Danny Murcia, the band has a very 90s inspired indie-rock sound.
The lyrics of his new song, "Lejos," like most of what Murcia puts out, reflect the duality of being bicultural. He tells us,
"In 'Lejos,' I'm navigating the many-layered traps of nostalgia after a profound emotional sacrifice for the sake of self-empowerment and growth. It's a break up song, for sure— but one that ultimately focuses on the dizzying vertigo of feeling freer than you ever knew you could feel. In the verses, I'm emotional and contemplative, momentarily dipping my feet in to the waves of nostalgia. But the choruses launch me into a radical embrace of the uncertainty that comes with leaping into a life of forward-propelling independence. As for why it flips back and forth so much between Spanish and English, I chose to express most of my feelings in Spanish because I wanted to protect my former partner from knowing I was writing about her and feeling so profoundly empowered by our separation."
LA/Mexico: Cepillo Cuevas on the Hermanito label, 'Sumimasen'
Who could never forget Moombahton? Not us, though some artists who were a part of that specialty genre seemed to have dropped off as the music game evolved. One such artist is Mexico's Cepillo Cuevas, who took a break from the global bass scene some years ago.
Well, it's a new day and he's back with a new song for Dave Nada and Tittsworth's label, Hermanito. In "Sumimasen," which has lyrics in Spanish and Japanese, Cuevas sings about forgiveness. The Hermanito press release on the track asks, "Could he be apologizing to this harsh music game? Regardless, Cepillo is here to let you know that he never really left and never stopped loving music."
NYC: Blssom, 'Miel Animal'
Created in 2014, a band called Blssom is made up of Carlos Marín, a Colombian bassist and producer, Patricia Cornejo, a Bolivian singer-songwriter. Their new single, "Miel Animal," a ditty with a little pop, disco and R&B influences, is about mystery, vulnerability and sensuality. The duo tell us the track is inspired by the chemistry and suspense that exists when two people are attracted to each other. Listen to "Miel Animal," which translates to honey animal, below.

Follow Sounds and Colours: Facebook / Twitter / Instagram / Mixcloud / Soundcloud / Bandcamp

Subscribe to the Sounds and Colours Newsletter for regular updates, news and competitions bringing the best of Latin American culture direct to your Inbox.
Share: