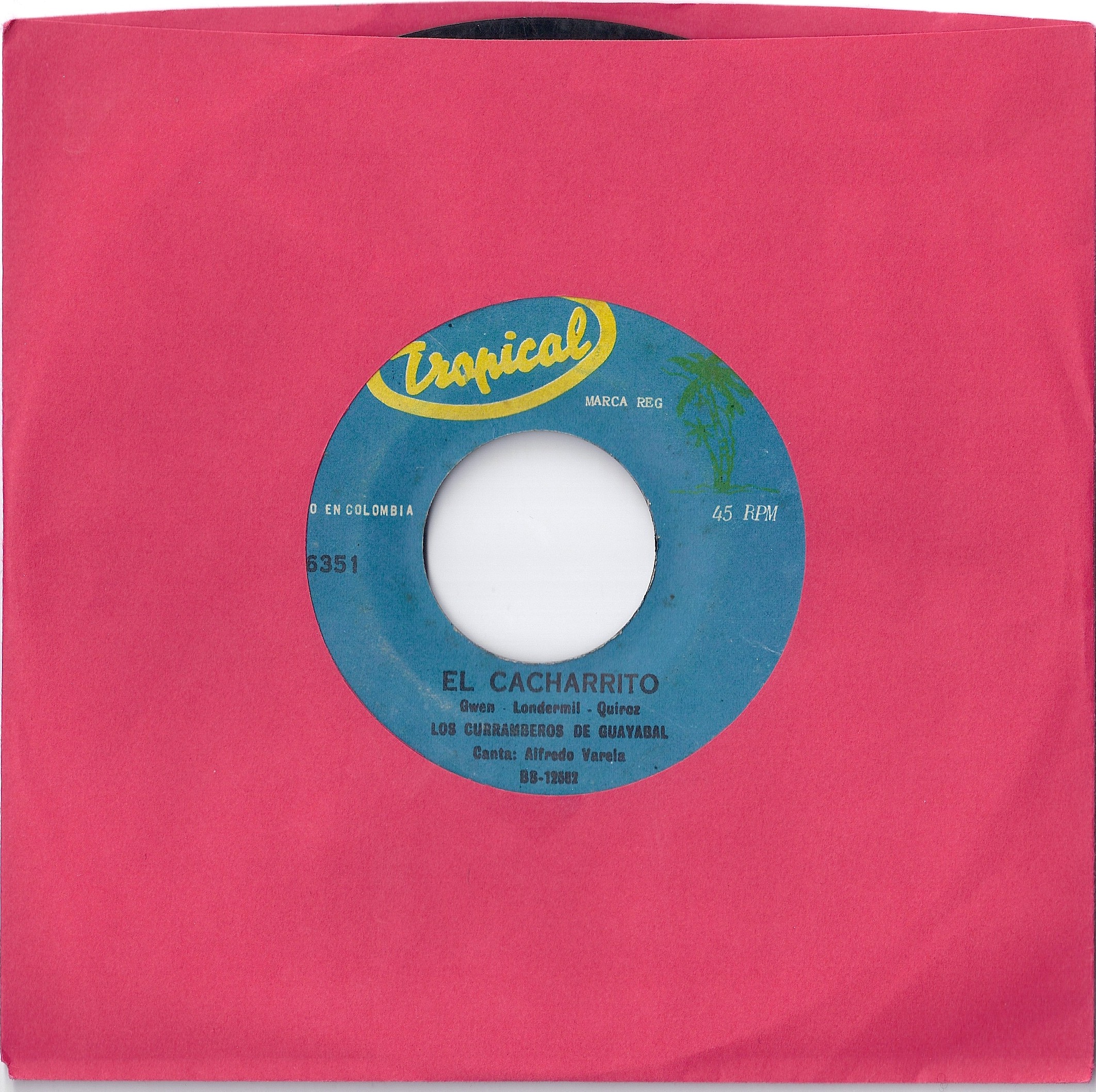 Pedro Ojeda's Rarezas Colombianas Mixtape
11 April, 2014
Pedro Ojeda is a drummer and percussionist from Bogotá. He plays in Los Pirañas, Frente Cumbiero, Romperayo, Ondatrópica, Sidestepper and Mucho Indio, to name just a few of the great projects he's involved in. Not too surprisingly, Pedro knows a thing or two about Colombian music, and especially the country's rich accumulation of rhythms and styles. It's something which he proves in this fine mixtape featuring rare 78s, 45s and 33s that Pedro has amassed over the years, records bought in Bogotá, Medellin, Cali and Barranquilla in Colombia.
Here's Pedro tell you a little more about his Rarezas Colombianas mixtape:
From 1930 up to 1970 Colombia produced thousands of records mostly in 78 rpm. Labels like Curro, Fuentes, Ondina, Venus, Lyra, Zeida, Sonolux and many others were dedicated to recording Colombian music. Some of these record labels also had there own radio stations and orchestras and would record and cut vinyl of the shows they did. All kinds of bands and musicians from the rural areas of Colombia would travel to the main cities like Bogota, Medellín, Cartagena and Cali to record with these labels. There was a lot of "tropical" (Caribbean music from the Atlantic coast of Colombia) music recorded within this era. There was big bands and orchestras playing compicated arrangements, as well as thousands of small combos with accordion, guitars, and percussion playing cumbias, sons, merengues and porros.

In the Andean rural areas of Colombia there was a big tradition of troubadours that would improvize lyrics about any topic, so a lot of that "trova paisa" was recorded too. In general, many Colombian styles were recorded, styles like cumbia, porro, paseo, merengue, gaita, currulao, fandango, paseaito, son, merecumbé, etc., as well as guarachas, mambos, chachachás and mexican corridos. We could say the the 50s and 60s were the golden ages of the 78 rpm vinyl industry in Colombia. In 1970, 78 rpm vinyl production stopped and 45s and 33s became popular. Some of the labels didn't switch to he new technology and the production dropped and never recovered. Some years later, in the late 70s and early 80s, there was a new revival in the production of vinyls in Cartagena and Barranquilla with labels like Felito and Machuca who produced a lot of psychedelic folkloric stuff and champeta but never comparable with the old times of Curro, Fuentes, Ondina, Lyra, et al.
Here's the full tracklisting, with extra info on rhythms and record labels:
1. Pedro Laza y Sus Pelayeros (Vocals: Crecencio Camacho) "La Olla" (Fandango) Fuentes
2. Los Teenagers "Nos Vamos" (Montocumbe) Zeida
3. Los Isleños Con La Orquesta de Marcos Gilkes "El Alabao" (Villancico/Currulao) Ondina
4. Rolando y Sus Guapacheros con La Orquesta de Alex Acosta "Mona Linda" (Porro/Gaita)
5. Los Curramberos de Guayabal (Vocals: Alfredo Lara) "El Cacharrito"
6. Carlos Roman "Tropical Swing Colombiano"
7. Gil Altamar "Loco Nipavido" Felito
8. Crecencio Camacho con la Orquesta de Rufo Garrido "La Carestia" Curro
9. Alfredo Gutierrez "La Banda Borracha" Fuentes
10. Conjunto Miramar "Ritmo Suavezón" (Chachachá)
11. Los Curramberos de Guayabal (Vocals: Anibal Velasquez) "Mira Mira (Ella Baila El Pompo)"
12. Nirhay Marin y Conjunto Los Pescadores "Mis Animalitos" (Porrito) Zeida
13. Tito Cortes con Los Piratas de Bocachica "Buenaventura" (Currulao) Fuentes

Follow Sounds and Colours: Facebook / Twitter / Instagram / Mixcloud / Soundcloud / Bandcamp

Subscribe to the Sounds and Colours Newsletter for regular updates, news and competitions bringing the best of Latin American culture direct to your Inbox.
Share: