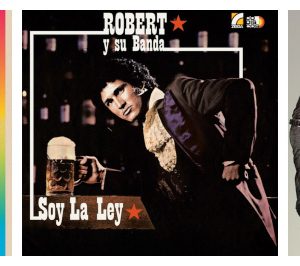 Review
Peru/Colombia Vinyl Reissue Round-Up (Cumbia Beat 3, Robert y su Banda, Los Revolucionarios)
Dedicated as they are to the production of lovingly packaged obscure musical curios from a bygone day, those diligent people at Vampisoul in Madrid have been very busy in recent months digging through Peruvian and Colombian packing crates in search of treasure. A few leaping beauties have come to light.
Various Artists: Cumbia Beat Vol. 3
Anyone who's enjoyed any one or more of the Bugalú Tropical volumes that captured the fervour of 1960s' Peruvian boogaloo will love this collection of raw cumbia culled mainly from the years 1968-1980. According to the influential Peruvian guitarist of the time, Enrique Delgado Montes, "We've defined a typically Peruvian cumbia which, strange as it might appear, people also like in Colombia and several other countries." Given the likes of Marco Merry y sus Golfos, why wouldn't they?
There are a few stylistic crossovers – Los Girasoles' "Girasoleando", for example, sounds like it might have been have left over from the Gózalo! boogaloo series – but this is hardly surprising. Even if Colombian cumbia is the main ingredient, it's easy enough to detect such varied influences as Cuban guaracha, UK and US beat music, and even psychedelia (as in the fuzz guitar on Los Ecos' "Chola Ingrata"). Indeed, groups like Los Demonios del Mantaro and Los Demonios de Corocochay purveyed a uniquely Peruvian genre of huaycumbia, a hybrid of cumbia and the indigenous huayno.
Hi Fidelity it ain't. Sourced mainly from rare 45s, there's a bit of wow and flutter on Side D, so the double LP format may be more appropriate than the CD. But this is earthy, charming stuff replete with ringing guitars, bongos and accordions, guaranteed to wiggle the most recalcitrant butt.
Released by Vampisoul
Robert y su Banda – Soy La Ley
Part of Vampisoul's new series of re-issues of Colombian salsa dura from Codiscos and its sister labels, comes an album originally released in 1978. Who, you might ask, is Robert? Band leader Roberto Antonio Urquijo Fonseca, to give him his full name, is or certainly was blessed with a voice that immediately recalls the legendary Héctor Lavoe. In fact, Bob's band opened for the Fania star at his initial appearance in Colombia, on July 29th at the Plaza de Toros La Macarena, Medellín.
If Robert's golden voice weren't incentive enough for investigating this album, fans of the great Joe Arroyo will be intrigued to hear the original of his huge hit, "Rebelió", in the guise of "El Mulato". DJ Bongohead points out that the two sang together with La Protesta in the early '70s and even detects Señor Arroyo's voice in the chorus. Leading off the second side, it's an infectious dance track spurred on by cowbell and bongos and punctuated by a crisp horn section. It's also fairly typical of the whole album. I say "fairly" because the very next track, "Hijo de Gitana", reveals Robert y su Banda as equally fluent in cumbia. The silky "Mi Cariño no Espera" achieves a particularly sweet fusion of the two genres. As a digestif, an irresistible slice of Cuban guaguancó, "Son Candela", reminds one that good salsa is often much more hetero- than homogenous.
Released by Vampisoul
Los Revolucionarios: Los Revolucionarios
And now, from the same series of re-issues from the Codiscos stable, something completely different…. It's short and sweet and, if not exactly as revolutionary as the tongue-in-cheek cover suggests, it's certainly unique. Just as the twin trombones, the "crazy roaring elephants", gave Eddie Palmieri's La Perfecta band its USP in the early '60s, so an incongruous (and undeniably cheesy) organ infiltrates an otherwise conventional salsa/cumbia line-up to produce a sound like… well, the Tornados wigged out on mescaline perhaps. Listen, for example, to "Salsa del Monte Adentro" on the second side and the way the saxes, the piano, band leader Alfredo Gutiérrez's accordion and some fabulous timbales kick up a storm over a basic riff stabbed out on what sounds like a toy organ. On the next track, "La Mezcla", the insistent organ works in combination with an alto sax to create a splendid boogaloo/joropo mash-up. Next up, "Toro Barcino" and the festive "Josefina" are particularly redolent of the band's Carribbean-Colombian roots. Altogether, Los Revolucionarios create a joyful sound unlike just about anything that you will have heard before. "It's a cracker!"
Released by Vampisoul

Follow Sounds and Colours: Facebook / Twitter / Instagram / Mixcloud / Soundcloud / Bandcamp

Subscribe to the Sounds and Colours Newsletter for regular updates, news and competitions bringing the best of Latin American culture direct to your Inbox.
Share: