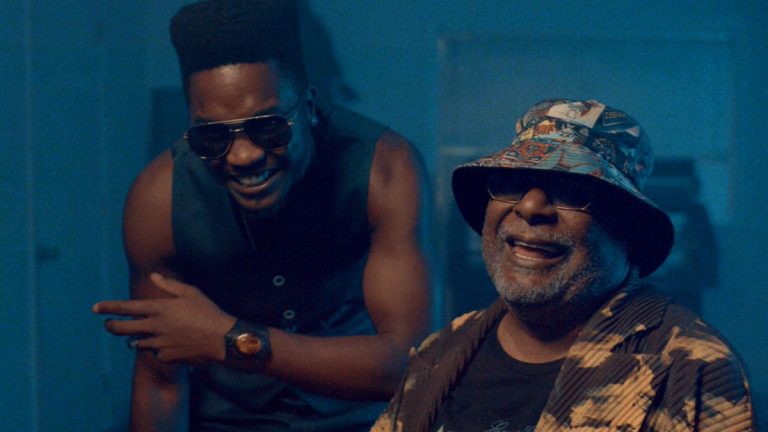 Prezident Markon's Singles Round-Up (Orquesta Akokán, Meridian Brothers, Susana Baca, DJ Jigüe, Desta French and more)
25 August, 2021
Summer may be fading out like the final track of a bossa nova compilation, but it hasn't staunched the flow of colourful new sounds to savour.
Orquesta Akokán "Mi Conga Es De Akokán"
It's always good to start with a bang – and here's a group that's guaranteed to offer more bang than a Howitzer field gun. Ever since their eponymous debut for Daptone Records, Orquesta Akokán have been reminding us of the glories of Cuba's burgeoning big-band jazz scene in the 1950s. The current single from their hotly anticipated third album, 16 Rayos, is no exception: the same urgent vocals, the same frantic percussion, the same blaring horns. Glorious, but sorry: you'll just have to wait till October 22nd for more.
Wilson Acevedo & JazzMeetsSalsa Band "Gury's Mambo"
In a similar vein, but with more contemporary polish perhaps, comes this gem from the Toronto LatinX community. Along with Havana, New York and Miami, Canada's biggest city is currently one of the world's hotspots for salsa and Latin jazz. There are distinct shades of Ray Barretto's blend of genres at work here, with some marvellous understated bongo and conga-work propelling this tribute to local Latin music DJ, Gury Gury. It first came out in 2013, but has now been released as a double 7″ single, with the equally fine "Ritmo Sentimental", on DJ Gury Gury's Hyperopia Records. Hyper-groovy, Batman!
Meridian Brothers "Pensando en Mi Morena"
Eblis Álvarez, better known as the Meridian Brothers 'band', has harboured a long-standing ambition to make a traditional vallenato-centric album with the accordion at the centrepiece. When he hooked up with the young keyboard player and accordionist, Iván Medellín, he "knew he was the guy to do this with!" Judging by this single from the forthcoming September release on Bongo Joe Records, La Paz En Tierra (Peace On Earth [fat chance, ed.]), we are in for an absolute treat. The album's theme may well be a traditional one, but clearly the music is defined by the contemporary touch that Meridian Brothers is/are known for.
Contento "Guajira Espacial"
For all its traditional roots, salsa is still generically speaking in its infancy. Here are two more Colombians whose mission is to add their own distinctive twist to this most familiar and international of genres. The expatriate duo, Paulo Olarte and DJ Sano, like to call themselves 'salsapunks', reflecting a salsa sound stripped back to its raw ingredients. With a backbone of an irresistible tumbao groove, spiced by a blend of boogaloo and cumbia, theirs is a deceptively simple sound designed to keep the listener well and truly contented. It's hip, playful stuff and their second album is earmarked for a November release on Barcelona's El Palmas label.
Los Siderals "Virgenes Del Sol"
Globally speaking, Madrid is but a short hop from Barcelona. It's home, of course, to Vampisoul, the specialist house of South American reissues. Its sister label, Munster Records, has just resurrected this unashamedly kitsch slice of Peruvian surf/psych rock from the late 1960s as a 7″ single. Not sure if I quite agree with the publicity's notion of Jimi Hendrix joining Santana in a cumbia combo, but it's all rather splendid and it transports you right back to an era of white polo necks and baggy bikinis. Frankly, that's just where you wanna be "when this old world is getting you down."
Los Nivram "Sombras"
And just when you thought it couldn't get any more retro-culiar, here's a sought-after nugget of Peruvian garage rock (again courtesy of Munster) from the same era as part of a four-track vinyl EP. Once heard, never forgotten. What more can one say, except perhaps "Do the frug, baby!"?
Joe Bataan "Gypsy Woman"
Before we go back to new releases, we have before us now a truly mouth-watering prospect. Set for release on the 8th October, Craft Latino with the able assistance of DJ Dean Rutland has assembled 89 singles on the Fania label from 1965 to 1975. It's A Good, Good Feeling includes artists such as Ray Barretto, Larry Harlow, The Harvey Averne Band and the King of Latin Soul himself, Joe Bataan. His unique take on Curtis Mayfield's "Gypsy Woman" dates from 1967. Like other Joe Bataan transmutations – "The Bottle", for example, and indirectly the delirious "Young, Gifted and Brown" – he has that knack of "making it his own". Hmmm, it's my birthday in October. Just thought I'd mention it. Here's hoping for a good, good feeling.
Desta French "Señor"
Desta French is a young Italo-Colombian singer based in North London and currently making (sound)waves within the UK Latin community. The single is short, sweet and sensuous. As one YouTube commentator suggests, "She put some sauce on this one!!!", while someone else asserts, "Your time is coming!" Based on this quietly compelling evidence, I would add "quite possibly".
Alea "No Me Apaga Nadie"
Based in the Bronx, Alea is another expatriate chanteuse with Colombian roots and promise a-plenty. The single's taken from her album released this month on Jarana Records, whose title, Alborotá, is deeply personal to Alea. In most of Latin America, the word translates to being too much, too different, too sexual. Alea "decided it was time to redefine this word, to give it a new meaning in [her] life and use it as a flag that represented being free, different, independent, outspoken, equal, feminist." The single's title "refers to the fire within… It's a call to be rebellious and free in a society where you have to claw your way in to be part of the conversation." Well, she sure can sing and move those limbs very sinuously, and she's definitely part of conversations to come. I rather like Jackie Coleman's accompanying trumpet, too.
Susana Baca "La Herida Oscura"
A fellow distaff singer now, who needs no introduction. That said, the Afro-Peruvian diva has been a little off my personal radar since her classic 2002 album on David Byrne's Luaka Bop label, Espíritu Vivo. Now she's on Real World and sounding just as good as ever. Produced by Michael League of Snarky Puppy, the single from the forthcoming Palabras Urgentes is a homage to the legendary Peruvian guerrilla leader, Micaela Bastidas. lt confirms that the septuagenarian former Minister of Culture knows a thing or two about Urgent Truths and can still put them over in her own unique style with utter conviction. This is music with gravitas for difficult and dangerous times.
George Clinton and Cimafunk "Funk Aspirin"
Time perhaps to get on the good foot and dance your troubles away. Dr. Funkenstein himself sounds now like he's popped a few too many aspirins in his time, but in the company of Cuba's ex-medical-student-turned-funkmeister, Cimafunk, the unlikely pair sound like together they can turn this motha out. Actually, not that unlikely a pairing, as the teenage Cimafunk used to sneak into his uncle's car to listen to George Clinton and other forbidden fruit from America. George in his turn "loved all the mambo cha-cha music of the 50s!" and liked young Master Cimafunk's musical fusion of past and present. They found a pick-you-up together in the groove. "That's why I called it Funk Aspirin," Cimafunk explains, "because the Funk Pill for my soul is natural medicine, and provides instant healing." What was it Dr. Funkenstein once intoned? "The bigger the headache, the bigger the pill."
DJ Jigüe "Sombras"
More Cuban funk now and a second "Sombras" this month. The two numbers do not appear to be related. This one, a track from DJ Jigüe's Ekelekua EP, is a thumping collision of electronic music and Cuban rhythms distinguished by Iran Ferias' heavy percussion and Julio Rigal's blistering trumpet. Too much of this might bring on a headache of thumpasaurus dimensions, but at five minutes it's just fine, thanks. It's brought to us by the DJ's own Guámpara Records, whose mailing address appears to be in Carson City, North Virginia. I only mention that because Captain Beefheart once referenced Carson City in one of his songs. I can't for the life of me remember which one. Answers please on a…
LPT "Se Quema El Mundo"
We'll end roughly where we started – with some downright classy music that can be classified loosely as salsa. It's the title track from this 10-piece Jacksonville outfit's sophomore album. I'm still sufficiently in possession of my faculties to remember liking very much and reviewing their debut, Sin Parar, which won Best Latin Album at the 18th Annual Independent Music Awards. Judging from this, we can expect something of similar class and distinction. The title means "the world is burning" and I'll leave you with the thoughtful words of lead vocalist, Josué A. Cruz: "Hell, some days the world actually IS burning, heat waves, wild fires, oil spills… But we still have to move forward as a people. Eradicate all of the poisons that ruin us: racism, poverty, inequality. We still have to find a way not to fail our future generations. That may sound trite and obvious, but it is no less true right now." Hell, the man's a natural born orator. Hand him the mic, someone.

Follow Sounds and Colours: Facebook / Twitter / Instagram / Mixcloud / Soundcloud / Bandcamp

Subscribe to the Sounds and Colours Newsletter for regular updates, news and competitions bringing the best of Latin American culture direct to your Inbox.
Share: