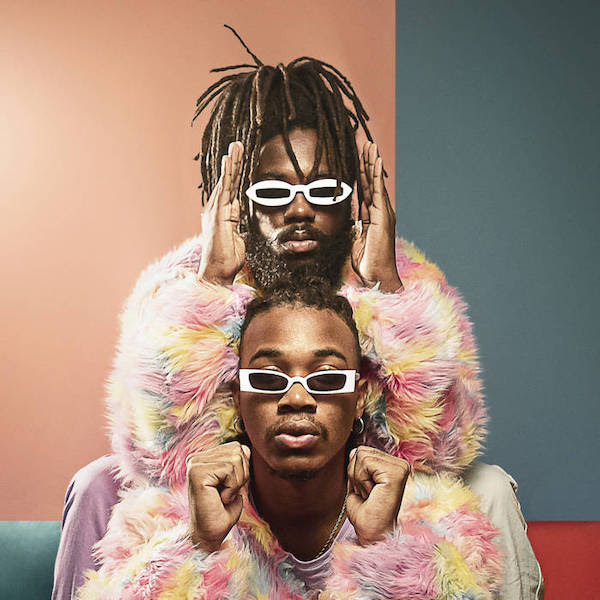 Sight Beyond the Grammys: An Interview with Dawer X Damper
15 November, 2023
We recently had the honor of interviewing Damper Vergara, one half of breakout Afro-Colombian duo, Dawer x Damper. Nominated for their first Latin GRAMMY, to take place tomorrow in Sevilla, Spain, and renowned for their groundbreaking music that celebrates Afro-futurism, the project has captivated audiences globally with genre-bending beats and socially-conscious narratives.
From their mesmerizing debut at Central Park SummerStage earlier this year, earning the Discovery Award at this year's LAMC, to unforgettable performances at lofty events such as Afropunk Brooklyn and Bogotá's Festival Estéreo Picnic, this duo has left an indelible mark on the Latin American music scene. Their latest single, "Bochinche," a teaser for their upcoming EP, revolves around the complexities of gossip and misunderstandings within a neighborhood, mirroring the essence of their community-rooted inspiration:
I wanted to start by talking a bit about the project. I've been a fan since last year, but I know you've been making music for quite some time.
Yes, of course, when we started on this journey, I was 13, and Dawer was 14.
You guys are family, right?
Certainly! We are brothers. And since we were 13 we saw music as a profession, or as something we loved, but even before that, we were involved in art: folkloric dance since we were 6 years old, playing instruments from the Colombian Pacific folklore. We did theatre, visual arts, many artistic ventures around the neighborhood, thanks to the social leaders.
Right, in fact, that was something I wanted to talk about. Your music, and this whole theme of Afro-futurism, it's obviously rooted in the musical tradition of the Pacific. Surely the musical tradition of Cali and other areas has been an important influence.
Absolutely, I'm not sure to what extent this is, but the land's flavour really is responsible for a good chunk of it. Cali has too much flavour, it's clearly like a mix of everything because in the end, Cali at some point became a transient city and began to fill up with a lot of things. We say that Cali is like a very small New York, so in that entire mix, let's say, the music based in the city has been salsa – because of how it positioned itself in the city, but also the folk music of the Pacific because of the number of Pacific migrants in Cali. Everything Cali absorbs, it turns into its own special spice. So, Cali is very multicultural in every sense.
It's clear of course that there are more modern influences, giving it a twist towards the future. I understand that in Cali, for about 10 years now, and in the Pacific in general, there has been a need to reinvent the native sounds and project them toward the future, just like it happened in the Caribbean Coast some time before
Yes, absolutely. Besides the need to reinterpret, I feel it's also about redefining ancestral music and the native music of the Pacific coast. It's become evident how the new generations are starting to bring these sounds with the future in mind, thinking about what will happen later. Understanding that being traditional doesn't mean it's not related to the roughness that is happening currently.
Got it. So speaking of your project, I understand you're releasing "Bochinche". I listened to it a couple of times this morning, and it's a banger. Tell us a bit about the song and the release event you have planned.
Right, on November 24, we have the live release at El Calidoso. It's a relatively new space, but it's pretty cool. It's going to be crazy.
Tell us more about the collective you collaborate with, and who will also be part of the event. Thanks to you guys I discovered the work of Afroturro, and I know, for example, here in Bogotá, you've also worked with Discos Fiera's crew, among others.
Sure! We would like to do a lot more, but to focus the event's idea, we're bringing up-and-coming Branbel to the event. Lil Keren will also be there, with whom we're collaborating on the song that was released today, along with her brother. Lots of folks, brother. We are also putting the Brokix on, another group we really admire. In short, it's going to be a total blast.
Sounds like the event is going to be powerful. I've only seen you at Estéreo Picnic, which is sad because I know that's more of a corporate type gig for you. However from a distance, it was one of the festival's standout performances.
Now in terms of your hottest projects and the Grammy matter, tell us about the Donde Machi video you were nominated for.
Sure. We made a video for the album, exploring the entire concept visually. You see, we grew up at Mrs. Nelsy's, "Machi," who used to rent rooms. My mom worked there, and Machi was the one who looked after us. What always happened was that everyone came to Machi's place: her kids, the kids from the neighborhood, and it was basically where the whole gang gathered. We wanted to portray that, to go back to the roots of what we are. Because where Machi was, it was like going back to the origin of who we are. Besides, that's our musical school because there we listened to everything from chirimía, Canalón, Julieta Venegas. It was a wide range of influences, and also a constant gathering of friends, tenants, and house owners all the time. It's about how the stories intertwined and how what happened outside affected inside, but also how what happened inside affected everyone outside. Obviously, we added fiction to it when we created it because many of the things in the video didn't happen as such at Machi's place. However, the idea was to portray how internal dynamics affect our externalities. Each character represents a song, and they start to appear, to come in and out; some are families, others are friends. But there's a single situational plane that goes through the story, aiming to capture everything I just mentioned. It becomes a single piece that starts at 1, all the way to 13, and lasts for about 33 minutes. In fact, today we're going to project it at La Tertulia.
Understood. That really clarifies things. The video indeed is very well done, and its art is an excellent portrayal of your reality growing up. Is there anything else planned for this album?
The album was released in November last year, and now this November, we're launching the Mixtape. So, really, after this event, and a couple more things in December, there won't be much left to do in that regard, and the idea is for it to be the grand farewell to Donde Machi.
How do you see the future in terms of the project's sound? Currently, it can be said that you've explored a lot of sounds from the Afro-Latin diaspora, dembow, everything we were talking about concerning the Cali tradition, and much more. What's your perspective on what's coming regarding the music itself?
It's a bit crazy, mate! At the moment, I couldn't exactly tell you where we want to take it. For instance, we're already working on the next album, but we still don't have a specific direction we want to take. I believe what we want to maintain is to keep the idea that Pacific music is our deep ancestral inspiration. We're not just thinking about how the Pacific reaches the neighborhood, but it's also essential for us, the language, how people speak in the neighborhood, the slang, the forms of communication, the sayings… and from there, we believe these elements will always be present in the project as a base. However, to clarify, even if we made a funk album, we'll try not to lose those particularities we want to reinterpret. So, in one way or another, the project starts to reframe and reinterpret itself. In the end, we don't make traditional Pacific music, but we do try to keep those native elements in our sound. We're always trying to reinterpret the sound of the native Pacific instruments. From there, my friend, we could do salsa choke, dance funk, rock, whatever we come up with. We don't have any terms and conditions, except our reinterpretation of what our ancestry means to us. We don't limit ourselves musically, even though we're not the most versatile. So don't be surprised if a rock album comes out tomorrow, because in our heads there have never been specific terms and conditions.
That's a very interesting look into it. Something I appreciate from the album is that you show influences not only in terms of sounds, but also in terms of the spaces where you grew up. However you've already discussed that extensively, and it would be interesting if you could tell us a bit about the sonic influences more specifically.
For sure. I could tell you there are several, among them Pharrell Williams. From Dancehall there's definitely Sizzla, Capleton.
Nice. And what about local ones?
I think Socavón, Canalón de Timbiquí. That music has marked us a lot, directly and indirectly. It's had a tremendous impact on us because we literally grew up listening to Maestra Nidia. Even if it wasn't our favourite music, it was part of our musical banquet. So many things that we sometimes do in terms of melody, we feel that they come from the Pacific. Like when we recall our mom, she used to sing in the church, sometimes we relate the way our aunts, our mother sing to many of the melodies we do, or intentions that we have. It's always there, so what I can tell you is that the traditional music of the Southern Pacific, especially Socavón or Canalón de Timbiquí, which were the groups we listened to the most before Herencia came along, or before our ears caught Grupo Bahía, the group of Maestro Hugo.
Absolutely. On another note, your sound is very digital, but at the same time, it keeps a grassroots sort of vibe. How do you see the issue of technology in music?
In the studio, we use FL or Ableton. Now, regarding this matter of where music stands in terms of artificial intelligence and digitality, obviously, we use a lot of digital elements, such as what the program provides. Of course, all that is inspired in things we feel or references. We're not, in a way, users of artificial intelligence, to put it clearly. We haven't felt the need, and we don't know if it's necessary at this moment. We want to continue using our ancestry, our heritage. I also feel that the issue of artificial intelligence is questionable in terms of who benefits, who is included, and who isn't. It's a monster that's starting to grow, and how it will be managed is uncertain. But it's necessary to understand that, unfortunately, the most disadvantaged will always continue to be so in any systematic stage that appears. So, will it keep taking away rights from communities, black people, indigenous people? It's a real concern. We continue to value the sensitivity of making music, playing it live, and stepping out of time a bit. That seems incredible and delicious to us.
Understood, and I totally agree in the sense that the human touch in music can't be lost. Also I think the Grammys should also appreciate this effort you've put into the musical aspect.
By the way, who are you competing against in the video category?
There's Camilo (Echeverry), Kenia Os, who's a Mexican artist and she's also on a strong hype. And well, literally, we're the least known there in terms of music, political relationships, industry. That's why I say it's either the grace of God upon us, or they'll be won by the usual people, and there's nothing to say about it. We're not expecting anything because in the worst case scenario, we were at the Grammys and had a good time.
Absolutely. It's clear though that the album itself deserves all the recognition, and we'll still be keeping track of whatever happens with the award. We'll be rooting for you, and hoping that the miracle will come true!
Thank you!
Dawer X Damper will release their new mixtape in 2024. Listen to their acclaimed "Music From Ritmo Salvaje", exclusively for sale on Discos Fiera.

Follow Sounds and Colours: Facebook / Twitter / Instagram / Mixcloud / Soundcloud / Bandcamp

Subscribe to the Sounds and Colours Newsletter for regular updates, news and competitions bringing the best of Latin American culture direct to your Inbox.
Share: