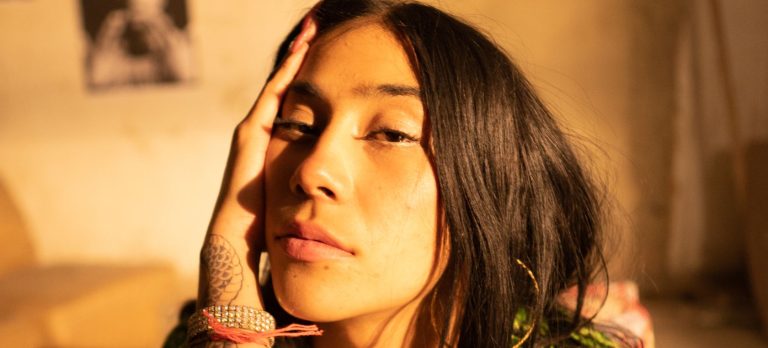 Sight Beyond the Surface: An Interview with Lee Eye
08 May, 2023
Lee Eye is a fast-rising Bogotá-based artist who started releasing music around the year 2017. With a mix of pop and rap influences, she draws inspiration from artists such as Nicki Minaj, Cardi B, and Macklemore. In an interview, Lee Eye discusses how her early musical inspirations came from mature women and Latin American music, as well as her experience as part of a chorus in the Primatial Cathedral of Bogotá that helped her develop her voice in a more technical way. She also talks about her current work with the Spanish collective Yuukii Music, and how they have been scouting for artists in Latin America.
S&C: I can tell that besides Spanish you also speak English, from that song "Stoned" you put out a while back. By the way it's pretty good!
LE: Well thanks! Yes, so I started releasing music around the year 2017. My first songs were in English because I couldn't find my way around writing music in Spanish. But finally I got the knack of it and started doing it. My influences were a bit of a mix between a sort of Rihanna type of vibe, with something closer to what my mom listened to.
S&C: And what was that?
L: Well you know, this sort of mature women wave. Things like Ana Gabriel.
S&C: Oh, ok. Gotcha. Sounds cool, though, given that those songs seem like a good starting point for singers.
L: Right, I also think the Latin American element is key because here we've got that sort of raw power in singing. So it was that sort of thing. Also a woman who was not exactly Latin American, but still a big influence: her name was Rafaella Carrà.
S&C: Well to be honest that one doesn't sound as familiar.
L: Yeah, she's the one who sang that song that goes "Hay Que Venir al Sur".
S&C: Oh right! That tune is pretty famous. And so she was another one of your early influences…?
L: Yes exactly. That was the sort of music that inspired me when I didn't really have a choice about what to listen to. On the other hand I was influenced by more contemporary pop singers like Nicki Minaj, Cardi B and that sort of thing. And so at first I got a good hold of how to sing, but I didn't have much to grab from in terms of lyrics.
S&C: Yeah, that has always seemed like such a difficult part of the composition process for me. Especially in genres like rap.
L: Right, and I don't even consider myself a full stack rapper, because nowadays you see a lot of them who are very complete. But it's still very important because rap is really what liberated me from that sort of lyrical fog I was in.
S&C: For sure. And were there any specific rap artists in that influenced you in that sort of primal way, like those early influences you mentioned?
L: Yeah I would say at first I was more into a pop vibe. Stuff like Macklemore. I was never really much into the more '90s Wu-Tang kind of vibe.
S&C: Oh cool. Macklemore is still a great rapper, even if he's more pop.
L: Yes of course. Also as I mentioned, more contemporary artists like Niki Minaj, Doja Cat. I'm also very much into this new rapper called Dyce.
S&C: Never heard of him, but I will for sure.
L: Oh he's fantastic. He actually released a song with La Mala Rodriguez recently.
S&C: Cool, cool. I'll definitely give him a listen.
L: Yes he's incredible. In terms of others influences, I can tell you I was part of a chorus in the Primatial Cathedral.
S&C: Nice! That's amazing.
L: Yeah. I think that really helped me develop my voice in a more technical way. We sang songs in other languages like German and Latin, so that was a very interesting experience.
S&C: For sure! By the way, have you ever been to the sacred music festival that happens here in Bogotá? Not sure if they still do it, but that was an excellent event. A friend of mine went to this Mongolian Tuvan throat singer concert in Zipaquirá's salt cathedral, and to this day I deeply regret not going to that.
L: Yeah of course, I'm familiar with that.
S&C: I think, all the religious elements aside, that kind of music is very rich.
L: Yes definitely. For instance I'm very much into the melodies of genres like gospel.
S&C: That's excellent. All right, time to talk a bit about the current state of your project. I understand you are working with this Spanish collective alongside artists like Santa Salut and others.
L: Yes! The name of the label/collective is Yuukii Music. They have been like a family to me, and even though they mostly work with artists from Europe, most recently they've been scouting for people in Latin America like myself, and also Simona who I believe is a phenomenal singer.
S&C: Nice. Guaranteed I'll be listening to the whole crew's stuff. Also I got a chance to see Santa Salut at Hip Hop al Parque last year and she was pretty good.
L: Right. I was actually booked to sing the song I have with her, but something came up last minute and I didn't get to do it. But in any case that contribution led to my signing with Yuukii, because at the time of that collab I didn't have a label, and so I got the proposal from them. Overall I think it's a fantastic and very supportive group of people, because they're not bound to this more industrial dynamic in music. Sometimes as an artist you feel like you're just a number, but being surrounded by this group I feel like I'm being treated like a human being, which is extremely important. They really care about the artists' mental health, and that is something which I appreciate a lot.
S&C: Of course. On another note, how was your show at Estéreo Picnic? I've always felt like they don't give enough importance to local artists.
L: Well maybe it's also because a lot of people like to arrive a bit later, but to be honest my experience was pretty good. My show was on Sunday at 5pm, and the tent went from being totally empty to totally full in a matter of minutes.
S&C: That's fantastic! I think I hadn't really got a clear idea of the massive way your project has scaled-up in such a short time. Really glad that was the case, and please let us know about your upcoming dates.
L: Definitely.
Listen to Lee's most recent single "Fantasmas" (with Simona), out now on Yuukii Music:

Follow Sounds and Colours: Facebook / Twitter / Instagram / Mixcloud / Soundcloud / Bandcamp

Subscribe to the Sounds and Colours Newsletter for regular updates, news and competitions bringing the best of Latin American culture direct to your Inbox.
Share: