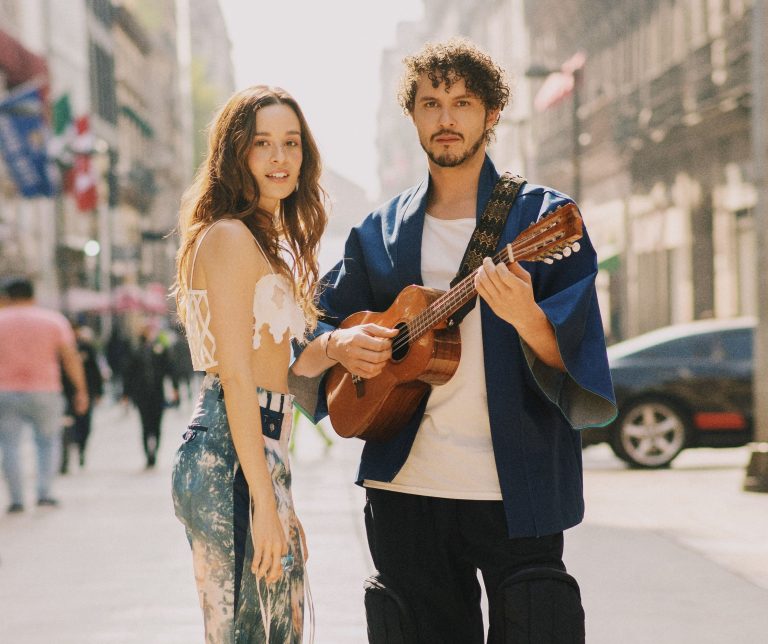 Sight Beyond the Surface: An Interview with Monsieur Periné
22 June, 2023
Amidst the ever-evolving landscape of Latin American music, Monsieur Periné stands as a beacon of innovation and authenticity. With their much-anticipated album Bolero Apocaliptico, the Colombian duo invite us into a world where boundaries cease to exist and creativity knows no limits. The album, born out of a period of introspection and adaptation during the global pandemic, showcases the band's unwavering resilience and artistic growth. Through an exquisite tapestry of melodies, harmonies, and diverse musical contributions, Monsieur Periné delivers a sonic experience that pays homage to their roots while fearlessly pushing the boundaries of their sound.
We recently held a brief but meaty Zoom call with Santiago Prieto and Catalina Garcia, the masterminds behind Monsieur Periné. In our conversation, we explored the depths of their creative process, the inspirations that fueled their latest album, and the wide appeal of their music. With their genuine presence and unfiltered insights, Santiago and Catalina offered us a glimpse into their artistic journey, and provided us with the most recent updates on the band's current state.
MP: For some reason I believe we were meant to speak today, given that I'm only a few kilometers away from Villa de Leyva, Colombia, which is the spot where I believe this whole story began.
SP: No way! Why are you there?
MP: Just on a casual trip I took. I'm mostly based in Bogotá, but caught this interview in the middle of this paseo.
SP: Ah, interesting.
MP: Now to get into the interview, it was very pleasant to know that you guys were still around doing stuff.  What has happened since the last record? You know, with the pandemic and all of that.
CG: We had a pretty intense year of work in 2019, and we actually needed a break in order to return to our roots and to a greener stage of the project. Of course we didn't know it would happen the way it did. The pandemic definitely affected our overall craft as musicians, and it represented this big stop where we went through losses of family members, and just a general change in our routines. Of course it was a very quiet time. We weren't flying in airplanes any more, and had to stay distanced from the world. Also lots of uncertainty about what our job as artists would turn into for the near future.
Those nine months between March and December 2020 were still very important and productive, given that while everyone was in this indecisive state and not knowing what to think or what was happening. So it was a good time to be on the lookout for new songs, and most importantly for new sensations that went beyond the songs themselves. 
This new album was definitely a reflection of that process. At first it was meant to be released in 2021, but a bunch of things came up, and it didn't come to fruition until 2023. There were still very positive aspects, given that it was a project where we were able to collaborate with lots of friends and artists in our space. 
Ultimately I think the big takeaway from this experience is that we don't control much of what goes on in our lives, both personally and as artists.
MP: For sure, that's true. I did notice the record is packed with contributions from other artists, so could you tell us a bit more about that? How was the dynamic between you guys and the people who you featured in the album?
SP: Well like Cata said, it was a very contributive process overall. During the pandemic we were locked in for a long time, and at first we had a stack of somewhere around 50 songs, both written by us both, as well as some of them that featured other artists. Then the idea of recording with Rafa (Sardina) came about. He was actually in Colombia at the time, and we were able to include a bunch of Colombian artists in the project. Some of them have been traditionally part of our band, and we also had contributions from the Symphonic Orchestra in Bogotá for some of the percussion and brass sections of the songs.
Other than that, we had already released the song with Pedro Capó as a first single, and the album also includes contributions with people like Puerto-Rican singer Guaynaa, who's more on the urbano side of things. With him we recorded a more salsa-infused track called "El Caudal". Also we had guests like Ana Tijoux, Spanish singer-songwriter Vanesa Martin, and Brazilian reggae band Natiruts, who we contributed with on the song "Ven Pra Mim". This one was actually the first song we released in Portuguese.
We actually have a deluxe edition of this album coming up in a couple months, and it will have contributions with another set of artists. Overall it's beautiful to see that the record is a product of many hands and many hearts coming together, like music has always been, and it's even better when all of these contributors are actually friends of ours.
MP: Absolutely. It's very interesting that you mentioned this song in Portuguese. I know at first you guys were very much influenced by traditional Colombian music, but I would like to know more about the influence from Brazil and other parts of Latin America that you have incorporated in recent times. Some of the editors and the audience of our site are totally obsessed with Brazilian music, so please tell us a bit more about that.
CG: Yes. Actually the first song I sang when we started making music together was "Corcovado", so definitely it's not a recent thing. Brazil has always been a very big and proximate reference in all of our records. The elegance and the poetic style in the delivery, the richness in its harmonies and rhythms, and just the overall colour in the music is something that we like a lot. Both the older stuff as well as the most recent releases are a key part of our everyday listening experience, and we have quite a few friends and close people from Brazil. 
MP: Nice! Now in terms of the live portion of this record, I know you guys are booked for Festival Cordillera in Bogotá later this year. Anything else you can share with us about that aspect?
CG: Well as you can see right now we're mostly following the regular process of a new release, and focused on doing press for the new record. Of course there will be live shows coming up in the vein of this new album, but the Cordillera gig will be a bit different though, given that it's more of a festival type show. Those are always somewhat of a different vibe.
MP: Right, of course. Now to wrap it up, I always like to ask for a recommended artist from you guys. Not necessarily someone who you think will be "the next big thing", but just someone who's music you're currently connected with.
CG: Sure! So speaking of Brazil, we were recently in Napa Valley, and we caught up with this Brazilian singer-songwriter called TIAGO IORC. His stuff is fresh. It's very upbeat, and he's got a ton of influence from the biggest of Brazilian composers. Definitely something worth listening to, and especially in this day and age where Brazil still seems like a parallel universe, as opposed to the rest of Latin America.
MP: Absolutely we'll give him a listen. Once again thanks a lot for the interview, and hoping to catch you live sometime soon.
SP/CG: Thanks!
Bolero Apocalíptico is out now on 5020 Records. Watch the video for their most recent single "Prométeme":

Follow Sounds and Colours: Facebook / Twitter / Instagram / Mixcloud / Soundcloud / Bandcamp

Subscribe to the Sounds and Colours Newsletter for regular updates, news and competitions bringing the best of Latin American culture direct to your Inbox.
Share: