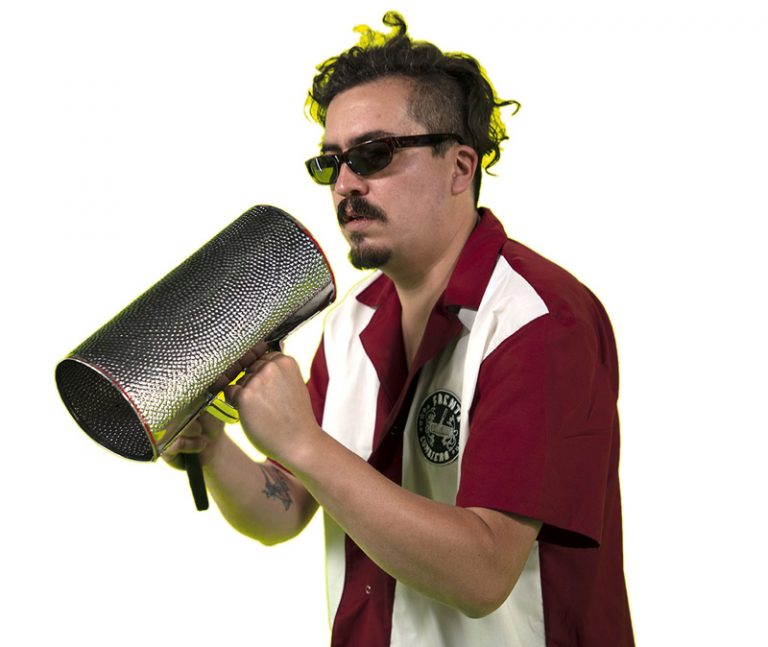 They Don't Give A Shit About Culture: An Interview with Frente Cumbiero's Mario Galeano
13 November, 2020
Back in July I sat down for a long Zoom chat with Mario Galeano, best known as the musical mind behind Frente Cumbiero, as well as co-founder of Ondatropica and Los Pirañas, all three of which can lay claim to changing the shape of contemporary Colombian music. An avid vinyl collector (back when it certainly wasn't hip), producer, bassist, percussionist and DJ, Galeano brings a love of Colombia's tropical musics of yesteryear as well as an ear for dub, electronics and a rebellious punk spirit to his work.
Our chat proved sombre at the time. The lockdown in Colombia, coupled with a rapidly-increasing number of Coronavirus cases, was having a strong personal and professional impact, with the lack of attention given to Colombia's musicians by the government a central issue. However, we were still able to talk extensively about two of Galeano's recent releases with Frente Cumbiero, an EP with Japanese folk revivalists Minyo Crusaders and the group's first full-length album since 2011, released this November, as well as find out about plans for a new Los Pirañas record. No matter the financial burdens or restricted movements, Galeano always makes sure the music gets out there. Here goes…
So, I wanted to ask about the lockdown there in Colombia. I know there was a proposal from those involved in culture and the arts, as it's been looking pretty bleak for the industry. What's the situation there?
It's just terrible man. I mean the government, they don't give a shit about culture, all the money goes to the corrupt pockets and to the army. Historically, there's been no support for the arts. I mean, very small. And then, the political side of it, the way the Ministry of Culture is organised, it's just a mess. It's a whole bunch of people that really have not made any career in culture and they end up being the Minister of Culture. So it's a whole bunch of technicians; they just don't get it. And then on the other side, there's this whole thing that they're calling the orange economy, economía naranja, which is the biggest scam. They just want to mercantilise the whole world of the arts. It's a very capitalistic way of looking at arts and culture. And so, we are in between, because we are being independent and trying to have a political voice. Of course, this government destroys the peace agreements. It's all part of the same shit, like we are trying to make our voices heard in that battle. What happened to the peace agreements, is what is happening with economía naranja, and what is happening with the Ministry of Culture.
So there's just no compensation or anything like that coming from the government?
No. There is absolutely no grant for the arts in general. They say they do, but they really don't. It's just a mess. And that's when you really start to see the difference between how the different countries work compared to the kind of help, I'm sure, in Europe, in the UK, in the States. At least some types of musicians are getting [funds]. I mean, we would never be able to get such a thing. So, again, we're finding ourselves alone and trying to see what we can hang on to.
Okay, this is getting me down, let's talk about the music. Let's start with Minyo Cumbiero. Tell me about your reaction when you first encountered Minyo Crusaders in Tokyo. Was it Tokyo?
Yeah, we met at the Fuji Rock Festival, which is like three hours away from Tokyo. We met there because we were playing the festival and Minyo was also playing. They came to our show, and they joined us backstage. Very nice, like, "we love Frente Cumbiero, blah, blah", so they gave me a CD. I said, "hey, okay, nice", but I had no idea that that they were going to play or anything. [So] it was very, very cool to see them play like at 11 at night and then recognising those were the guys that gave us their CD a few hours ago. So then, when I came back to Colombia, I had the CD and I showed it to Chucky Garcia who is doing the program, the curator of the festival, Colombia Al Parque, and they got invited to play [at the festival]. And in this case, we were lucky because the festival cannot pay for 12 tickets from Tokyo, but they got a grant from the Japanese government. This was September last year. That's when we got to record here in Mambo Negro [a studio in Bogotá], those tracks.
How did it come about the songs that you did? Because it's an eclectic selection of tracks.
The thing is that, at first, when we learned that they were going to come, I suggested to Katsu, who is like the leader of the band, I said, "well, maybe we can do some compositions together. Let's start creating some music." He said, "we are not doing any original music. We are doing covers". That's the philosophy of the band. They are doing these traditional songs. They are not so much about creating new melodies on your record. I mean, they do, but they still want to keep that thing that they're talking about traditional songs very strongly. So then I thought, "yeah, that makes sense. So I'm also going to propose like two traditional songs". One is "Cumbia En El Monte". The other one, it's based on a Kung-Fu video game. The "Mambonegro Dai Sakusen" tune, which is like a boogaloo salsa kind of thing, That's the one based on this game called Kung-Fu. And then we have "Tora Joe", and the other one is called "Opekepe".
It's an amazing EP. I didn't know what to expect when I was told about it, but it works seamlessly. It's amazing. They seem quite adaptable in terms of the material they're working with.
Well they have been researching this for a long time. The traditional side of Japanese music and also Caribbean styles and African music. They are all DJs. They are record collectors. I'm sure they've heard it for decades. And they also are into the reggae scene. So they are people that really know their stuff. They are really music heads and they got to put this project forward which does it in a very tasteful way. I'm not sure if it's the right word to use, but sometimes when you hear these kind of fusions, it can be a disaster. But I think these guys, because of their background; I think it's quite similar to ours, which is something that comes from listening to records, playing with your friends. It doesn't really have any commercial support or any commercial aspirations or whatever. And so yeah, it works pretty cool and besides they're like the nicest people. They're really beautiful, open-minded, open hearts. We were very happy to have them here. It's not very often that you have 12 Japanese musicians in your studio.
It's interesting the way they take Minyo folk songs then just take a sideways step into something else they're really passionate about but has no real kind of commercial potential.
Yeah, but the reaction of the project, what you see from people who are coming in touch with them, everyone's very impressed in how they do it, because the melodic style of Minyo, it's just so beautiful and the arrangements they make are so well placed. They're not like filling in with ugly chords. It's just a great vibe. So I think it works. And for lots of us actually, it has been the introduction to traditional Japanese music, after hearing Minyo [and knowing] there is such a thing. "Oh, so where is this melody from?" and then you start looking and then it actually does open a door to getting in touch with traditional music.
It's amazing. I'm always surprised by all the musicians I like who end up recording with you in Bogotá. La Delio Valdez and Macha are two others…
La Delio Valdez. Yeah, with Macha [leader of Chilean punk cumbia group Chico Trujillo], it's been cool because we've kept a strong dialogue since. So actually, like the last thing I did before getting into lockdown was a show in Mexico City with Macha who invited me to do a thing there, which was like the 17th of March. And actually, when we returned, only Colombians were allowed to come into the country. It was like the last three days before they closed the airport completely. Right now, we are exchanging music. We are sending some tracks. He's recording some things in his studio. I'm working on them here.
And there's going to be another Frente Cumbiero release this year?
Yes.
This album has already been postponed right? [The album in question, Cera Perdida has now been released]
Yeah, because it was supposed to be already out by now, but then this [pandemic] happened. And so, we decided it was better to leave some space for the Minyo Cumbiero record, not to have the two [released at the same time] because we had this urgency that we had this tour in Europe and a tour in Japan and we needed to come to the tour with the records already pressed so we can sell them and stuff, but the tours were cancelled. When this happened and it was postponed, we decided let's just leave some space for Minyo and then our plans are for November with the new Frente Cumbiero album.
It's been a while since the last Frente album.
For sure man. It's been a long time. We had lots of singles. Well, anyway, this new record has to do a lot with the new quartet, in which I'm playing with two horns, which actually started like three years ago, because before that I was doing like kind of a solo kind of thing with only electronics. So then when I reformed the quartet like three years ago, we started this new process of getting this new repertoire and getting these new sounds. And this is like the place where we can show what this process is about.
So, who's in the band now and what are they playing?
The horn players are on euphonium, Sebastián Rozo, and on saxophone and clarinet is Marco Fajardo, who has been with Frente Cumbiero the whole time. And Pedro [Ojeda] on timbales and myself also, on euphonium
Is it you four across the whole record?
Yeah, the whole record it's us, then we have a collaboration with La Delio Valdez, and we also have a collaboration with Conjunto Miramar, which is a very classic band.
Conjunto Miramar? Is that the same band as Sexteto Miramar?
Yeah. Sexteto Miramar, Conjunto Miramar. Their songs like "Reina de Cumbias", they're a super old school kind of band. The accordion player, he's called Jairo Grisales. He's still playing. So we invited him and his son who are like the new Sexteto Miramar formation. And it was pretty cool. We did some jams and then we recorded two tracks with them.
Was it good to have Frente back on the agenda full time?
It has been actually full time for the last three years, which basically is the time when Ondatropica slowed down its shows and the whole logistics of it became a little bit too much, because we're living in different cities [the other co-founder of Ondatropica, Will "Quantic" Holland, now lives in New York]. The fees of the festivals sometimes don't reach the point that we need to pay everyone because it's like, you cannot pay 100 bucks to Michi Sarmiento for coming out of his house and travelling to who knows where. We need to pay them well. So actually, the last show we did with Ondatropica was like one and a half years ago. It's been a long time. We continue with [Los] Pirañas and Frente, those are the two that haven't stopped.
I feel these days like Los Pirañas have got a pretty big fan base that's spread out across the world. I keep running into people who are just obsessed with Pirañas.
Well, yeah, we do, but it's quite a small niche. We are going to release a new album, I think by the end of the year, which we recorded last year in Tenerife. We had this artistic residency in a tank. We recorded an album with three horns and the three of us. So it's very, very nice. They transformed a big tank into a venue. So then we went to perform and do this kind of residency in that place. But it's been tough. I've seen Pedro [Ojeda, the drummer/percussionist in both Los Pirañas and Frente Cumbiero] maybe like four or five times in total in the last 44 months. We do meet sometimes just to drink a beer or whatever, but then everyone goes to their house because the rate of COVID-19 cases here is out of hand. More and more we see people around us getting sick, so we're all scared. Luckily, we have some things that we recorded last year, and then we can work with that. I've been trying to do some work here this past month, but not so much because your head is so all over the place, it's hard to concentrate. So let's see if we can have some new material for next year. But who knows.
Cera Perdida is out now on Bandcamp and other platforms. Minyo Crusaders and Frente Cumbiero present Minyo Cumbiero is released by Mais Um.

Follow Sounds and Colours: Facebook / Twitter / Instagram / Mixcloud / Soundcloud / Bandcamp

Subscribe to the Sounds and Colours Newsletter for regular updates, news and competitions bringing the best of Latin American culture direct to your Inbox.
Share: