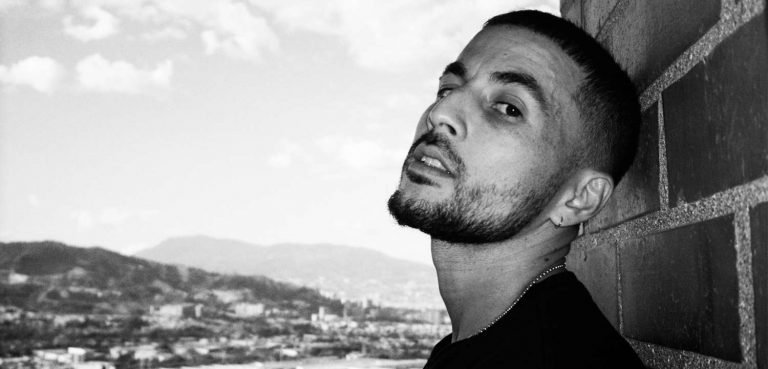 Lauren Luxenberg
This Isn't About Me, It's About the People: Crudo Means Raw Discusses New Album 'Esmeraldas'
14 April, 2020
Translated by Rebecca Wilson from the original article by Santiago Cembrano, published in Shock.
Esmeraldas – we began to hear this word, this concept, this northern star that's guided Crudo Means Raw's work in recent years, at the beginning of 2018 when he released "DMT", a wild trap song which, along with "Bendiciones" and "Síntesis", revealed a new shade in the paisa singer's palette. Then came the dembow and reggaeton tracks "No Copio" and "Mitad de la Mitad", with a trippier feel, part of the María EP. Esmeraldas was just around the corner. After the release of "El Estrén", "Día Uno" and "Jammin'" in 2019, Crudo chartered into the unknown finding a concept that would group these all together, and the album is now here.
Esmeraldas is the second solo album from Crudo Means Raw, who has previously made music as Amalgama Beats and as part of the group Da Distrikt. His first album was Todos Tienen Que Comer (Everyone Has to Eat), a 2016 rap album – one of Colombia's best that year – which with songs like "Horas Extra" (Overtime), "Sangre en el Pool Party" (Blood at the Pool Party) and "Hubiera" (Would Have Been), launched Crudo on the national scene as a beatmaker and lyricist. Between December 2016 and March 2020, Crudo's profile has risen in the Colombian music scene, primarily thanks to tracks like "No Copio" and "Mitad de la Mitad", which were ubiquitous in alternative parties in Colombia for months.
Esmeraldas goes beyond the album name: it extends to The Colombians, the team made up of producers Ily Wonder and Juan Sinatra with whom Crudo produced the album, it includes U&D, the video production company which made all the videos on the album (apart from "Lucía Circones") and consolidated an aesthetic identity under the definition and distortion of this era for Crudo. Esmeraldas, as Crudo has repeated many times over, points to a collective creation, something bigger than himself.
"Change the flow, so they get unsettled" Crudo proposes in "No Copio". And he's done exactly that. Esmeraldas compiles all his flows and styles, it's a collage which melds rap with trap and reggaeton. Just like his 2015 instrumental album Voyage and 2016's Todos Tienen Que Comer, Esmeraldas flows, blurring the lines between each song, giving it the feel of a larger work which ebbs and flows with the changing of BPM and colours – which act as chapters on the album. Although the majority of songs have been released as singles since 2017, many of them include tweaks or were even re-recorded so that they'd work as part of the final project Crudo had envisioned. The emphasis is more on the atmospheres Crudo arranges than on the lyrics; more in the wider sensations than in the particular words he enunciates.
A few days before Esmeraldas was released [on March 30th], Crudo spoke about the album over the phone. "Mate, we're here grinding in the studio. We don't stop. You've gotta keep giving it your all. We haven't got that much time, so we gotta be conscious of each action we take – it could be your last, you get me? You've gotta be conscious of your existence and take each step with consideration. If we die, we die fighting: we ain't gonna die locked up and shitting ourselves with fear." He pauses between speech, considering his replies, he doesn't recite them from memory.
Over 40 minutes, Crudo reflects: on the meaning of Esmeraldas, the team he recorded the album with, how he killed his ego, how he moulded the sonic transitions between songs, why his current music is no longer just about him, and what's to come. Here's the full interview between Crudo and Santiago Cembrano.
---
Nearly four years have passed since Todos Tienen Que Comer was released. How has your life and your perception changed since then?
Man, the more you know, the more you realise you don't know anything. Quite a bit has changed, jefe. I don't wanna listen to the stuff I made a year ago, parce, you know what I mean? I'm someone who always likes moving forward. I feel like there's been an evolution. I'm still the same but, I don't know, bro, more open-minded, maybe. Todos Tienen Que Comer is on its own level, but Esmeraldas is more whole, you know what I'm saying? I feel a bit wiser and a little less stupid.
What does Esmeraldas mean to you? I ask because it feels like more than just the name of the album.
Esmeraldas is us, it's Colombia. It's gems, effort, sacrifice and it's a tribute to all Colombians and all the Colombian fans. It became more than just the album name – a concept, an artistic movement. Various people came together to bring this vision of Esmeraldas to life. And it's not over, Esmeraldas continues, it's not just an album. I really liked working under a title and an artistic concept, rather than just an artist name, so that the people getting involved didn't feel like they were doing something for Crudo, but for Esmeraldas. It's Crudo Means Raw + U&D + The Colombians, you know?
Unlike Todos Tiene Que Comer, you didn't produce Esmeraldas alone. You can hear a touch of The Colombians in a few songs. How was it to work with them on Esmeraldas? What did you hear in Juan Sinatra and Ily Wonder that made you want to work with them and involve them in the project?
They really refreshed me when it came to production. After Todos Tienen Que Comer I experienced a bit of a writer's block. Calling on Wonder and Sinatra really refreshed my mind, man. They made me want to start creating again. They taught me a lot about creating trap and reggaeton instrumentals; I learnt so much with them and then gave it a tint and a twist of Crudo. It was a learning process, you know? Cabrón, as cliché as it sounds, we were practising making trap and dembow.
I started out making beats imitating the sounds of other beatmakers like Pete Rock and J Dilla. It stressed me out so much thinking, 'when am I gonna sound like me?'. This came by itself. It comes with practice. You don't search for it, it just comes with the process of creating. Your own style comes to you gradually. You stop sounding like your mentors and you start to sound like yourself more and more. It comes with practice, bro.
U&D have also been close allies since 2018 and made almost all the videos for the album. How has it been developing the visual identity of Esmeraldas? What did you want to achieve?
We overlap in that we love lo-fi, the whole scrappy look. What I said to them was "have you seen the videos they make for RedOne? I want the opposite". The super-ultra-mega HD was in fashion, but with them I finally found people with the same taste in visuals as me. We wanted to scratch up the image. It evolved – if you look at "La Fea" the shots are longer and more contemplative, whilst in Esmeraldas the visuals began with this super-fast strobe like in the videos for "DMT" and "Síntesis". It became slower and more contemplative as time went by. El Skinny, Óscar and Librestylo – the U&D guys – have a flow when it comes to editing videos, and this is super important. They do it with rhythm, like as if they were writing tracks.
In some ways, Esmeraldas could have been various EPs. Why did you want to publish songs like "Será Será" and "Lucía Circones", which feel like they're from a different period, on this album?
The ideas for "Será Será" and "Lucía Circones" came just after Todos Tienen Que Comer and so they were kind of stuck in limbo. Given that the album also had boom-baps like in "Día Uno" or "Jammin'", I thought it made sense to integrate them. They were classified within the album. It's like a DJ set. If we're gonna get technical and leave the romanticism behind, it's like a DJ set. Like fuck yeah, all the beats match.
It seems, looking at the reverse of the album cover, that Esmeraldas is organised by chapters: La Caprichosa, Libre, Guaraná, Índigo and Mi Ego es un Cadáver. How did you conceive of the progression and development of the album?
I wanted it to sound like a journey, like on Voyage; I wanted each part to have its own feeling, and to be justified by another similar feeling, and that one by another, but I wanted it to vary gradually. If I'd had more songs and colours, perhaps the transition would've been more gradual. I wanted to travel through the whole thing. I didn't want to divide the tracks or to be afraid of not doing so: [putting] a load of dembow tracks together, or a load of trap songs together. No, if you feel like your songs are the same colour, group them and you'll begin to blur them into another colour. It's a matter of opinion: maybe for you yellow doesn't sound like it does to me.
The album's outro, Mi Ego es un Cadáver (My ego is a corpse), comprising the tracks "Collage" and "Nada", is the most vulnerable and personal part of Esmeraldas. It's like you allow yourself to be more introspective. The song talks about killing your ego: it says you had to kill it to see what you needed to see, that it made you feel shame, even towards your parents. What was this relationship with your ego like and how did you rid yourself of it? Why did you feel you needed to kill it?
Mi Ego es un Cadáver also came out just after Todos Tienen Que Comer, it's more a part of that album than of Esmeraldas. This was the song where I felt I was having a writer's block. It was the first song on the album. I rescued it, parce, to be honest, because a lot of friends asked me to. Like 'hey, parce what about this song? This track is serious!' and I'd be like 'hey, man, look, this one's all introspective and vulnerable', like you said. I didn't want to risk it. But I revived a lot of songs and made them sound great. There are tracks that I didn't even like that much, but I put them on the disk and tried to revive them and organise them into the mood I was feeling at the time.
The more mature and wise you are, the less you front, the less ego you have, the less you need to see yourself as cool or brave or tough or hardcore. How did I kill my ego? Bro, sometimes you need it – not always, but sometimes you do. Killing it is impossible, it's almost a utopian thing. I got rid of it for a moment, but, marica, it comes and goes. The ideal is to have it under control, but yeah, in this song I crushed my fucking ego and accepted and talked about things that make my stomach turn. In this awesome moment, I brought back the darkness. But it takes you away. That's why I didn't really want to have to return to it, I wanted to record it all in one go.
In general, and particularly in songs like "Bendiciones" and "No Copio", your attitude is firm but also grateful. You say, "dele la cara a sus bendiciones" ("face your blessings"). What does facing your blessings imply in your case?
Using all your talents and recognising all the strengths that you have. Accepting these talents and gifts, and offering them to the public. At some point it stops being about you, it starts to become more about the people; even more so when you know that people are listening and it's affecting moments in their life. The blessings stop coming when you're ungrateful, cabrón, when you're complaining all the time, you don't see them. My blessings came through accepting what I had and working with what was there.
You know what? These songs, that are so fronting, I don't know how they sound in this period we're in now. I think now I want to make stuff that's for everyone, not just stuff that strengthens me, makes me cool. But look, güevón, that also gives other people strength. When you give yourself strength, this gives other people strength too. "Bendiciones" has its Testosterone, and it's not a sin to have Testosterone, parce, and to be active, güevón, to be a fighter.
A couple of years ago, just before "María" was released, you mentioned that you'd like to write about more positive things. In general, your writing style has changed since Todos Tienen Que Comer. Do you feel like this is the case? What direction did you want to go in with the lyrics on Esmeraldas?
I'm trying to write in capital letters, trying to make sure each bar says something. Trying to. I'm looking for stuff with a meaning, and as soon as I sense this bitter feeling in the air, I rethink it. I don't wanna sow bitterness, even less so right now. It stops being about you, bro, at least in my case. You stop trying to be this genius, cabrón. It sounds bad, but you start to become part of the public, man. In a good way.
I suppose understanding your music as something that belongs to the public is complicated. Something you've worked on your whole life now doesn't just belong to you. How does this feel?
Yes, jefe. And it's okay. Some people say "but you're not responsible for educating anybody, stop being an idiot", but bro, I do write differently knowing that grandmas and normal people on the streets – the streets – are listening to my music, you get me? If I have this power, the gift of words, I think nothing but gems should come out of it, period. I can't run from this responsibility, can you imagine? That can't be the attitude, hell no. That'll come back at you I think, I don't know bro.
Something that stands out in Esmeraldas is the care you've taken on the transitions between songs. This already began on Todos Tienen Que Comer, even on Voyage; it feels like one long varied song that ebbs and flows, fluidly transforming itself. What was your intention with these transitions and the narrative that runs along the course of the track list?
The more choices you have in your beats repertoire, the more you'll be able to create when it comes to beatmaking. The more samples you have, the more alternatives you can draw on for transitions and beats. And in terms of an album, the more songs and ideas you have, the more content you've got for putting together this grand composition. That's where memory comes in: 'ah I've got a beat that sounds like this, what's it called again? Let's see how they sound together. Oh, they mix well.' And that's also how songs like "María" came about, two beats put together into one.
Here's an elegant little trick for beatmaking, bro. You make a beat – percussion sounds great, you put in a melody and some bass. It's there. But it starts to get boring. So transform everything and just leave the drums. Go to the sample library you've got saved and start putting the samples in with the drums. This will stimulate your creativity. That's how "María" came about. The 'no me dejes morir' part came before the main section, but Wonder and Sinatra modified all the samples and the bass lines and left just the drums, then we looked in the library and that's where the sample came from. That's why "María"'s so varied – we made two beats using the same drum sample, and the vocals blend it together.
There's a version of "Síntesis" you used to sing in cyphers a few years ago that went "era el sintético; yo, pangola y salsa timbal". ("It was the synthetic: me, pangola and salsa timbal".) On the record, this bar ended up as "es la hora del sintético, que descanse en paz la pangola y la salsa timbal". ("It's time for the synthetic, rest in peace pangola and salsa timbal.") How did this transition towards the synthetic come about? Did DMT [a hallucinogen] play a part in the process?
This came by itself, mi niño. I was speaking in the moment. I never advertise or promote, I stop where I am and read what's going on. I simply said it, as if I was a channel and it passed through me. I wanted "Síntesis" to sound stressful, like there was disagreement. I wanted it to be like a metal song. I don't think I could have made it any darker than that. I don't promote psychedelic experiences and I don't think they're something to be taken lightly. We have to be clear that there's recreational stuff and then there's spiritual stuff. These medicines are spiritual, they can help us decode things when we're too structured and unable to see a different perspective. That's where a psychedelic experience, hopefully guided, can help. Surrounded by people you love and who love you, in a cosy environment where you feel cocooned. An experience like this isn't bad at all. It's helped me – my life is different since the LSD. And about DMT, well it's there, it exists. These are elements of nature. It's time we knew about them, especially as Colombia's becoming a mecca for these experiences. It's not right that Colombians don't know what this stuff is but the rest of the world does. We have to know what we have here too, and why the world knows so much about Colombia.
Okay, to wrap this up: Esmeraldas groups together most of your work from 2017 onwards. You've told me you're still working, so I assume you'll have some new stuff coming out soon. Can you tell us a bit about where you're headed after Esmeraldas?
I've gotta get back to work immediately, catch up on what's going on. This is the time to write and create, it's a defining moment. It's not about me, it's about collective conscience. I don't even know where we're headed, cabrón. Looking after my health, thinking positively, 'cause there's no other way. If you're gonna speak, you've got to do it consciously and from the heart. I'm really content with the music I'm making right now 'cause it's similar to Amalgama Beats and the Crudo sound from "Comida Rápida". The Crudo from "Comida Rápida" is my idol right now. This is another thing I've realised: you start to become your own mentor and guide, but only with practice. 2013 Crudo is what's to come in 2023.
Esmeraldas is available on various platforms
Shock is a Colombian media outlet specializing in music and pop culture. For 25 years they have followed local music in Colombia, from the most alternative sounds to the b-side of the mainstream. Visit them at Shock.co.

Follow Sounds and Colours: Facebook / Twitter / Instagram / Mixcloud / Soundcloud / Bandcamp

Subscribe to the Sounds and Colours Newsletter for regular updates, news and competitions bringing the best of Latin American culture direct to your Inbox.
Share: