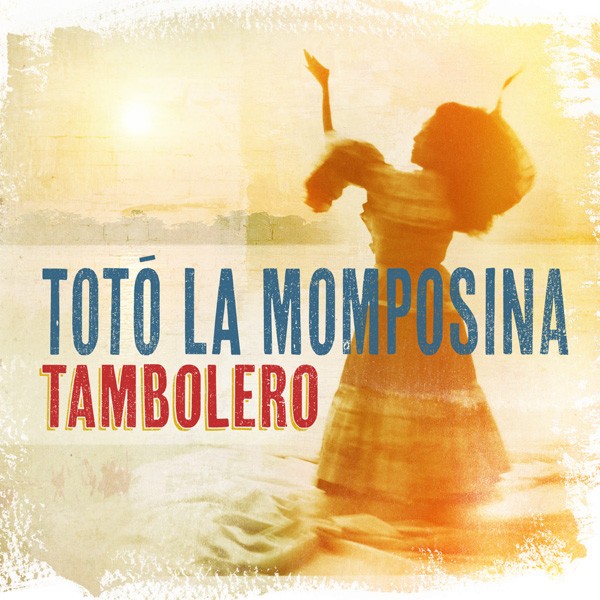 Let's be clear: Tambolero is not Totó La Momposina's new album, though it's so imaginative it's as if it were a new one. The record is a collection of unreleased tracks and alternative takes dating back to the La Candela Viva recording sessions, that happened between 1991 and 1992.
Among the many tunes that the legendary Colombian interpreter recorded in those months, many versions weren't considered for the final outcome of her third album and were almost buried by time. However, recently, John Hollis, who was one of the producers of that album and is still an integral part of Totó's team, went to Real World studios and unearthed that never forgotten treasure trove, finally making justice to those unheeded renditions.
The result is what Totó La Momposina did and still does best: singing about her rhythmic land, its colourful traditions and her provocative roots. The singer, thanks to her heartfelt style and interpretation, passionately exposes the Colombian Caribbean soul throughout the album's twelve tracks.
But next to Totó unmistakable style, there's also a lot of 'dirty' work done by her producer. In this way, Tambolero sounds even brighter than its direct relative, which was published more than twenty years ago with the technology of that period. John Hollis has polished and refined those original tracks with well-focused, richer and digitally-enhanced arrangements.
For example, he added Totó's granddaughters (Maria del Mar and Oriana Melissa) as backing vocalists to many chapters of the album, then introduced groovy elements like additional bass tracks played by Nestor Vargas, emphasising the rhythmic accents of the original version of those songs, which were played by talented musicians like the Colombian master Paulino 'Batata' Salgado.
The album features two tracks that weren't present on La Candela Viva, the title track and "Gallinacito".
"Tambolero" is arguably the most remarkable of the two, not only because of its stylistic richness ranging from cumbia to afro and mapalé, its rhythmic variations and lively sound which closes the tune in a glorious way, but also because of its evocative meaning.
The song is dedicated to the tamboleros or drummers who performed during those original sessions and in particular to Batata, who passed away ten years ago and to whom the whole album is a profound tribute. While "Gallinacito" revives the singer's Northern Colombian roots once again, instilling new energies to a time-honoured theme.
So don't look at Tambolero as an album that will compete for the best of 2015 or "for something completely different"… Just consider it as a remarkable re-issue: a work that succeeds in the ambitious effort to improve an almost 'unimprovable' album.
Tambolero is available from Amazon UK, Amazon US and iTunes

Follow Sounds and Colours: Facebook / Twitter / Instagram / Mixcloud / Soundcloud / Bandcamp

Subscribe to the Sounds and Colours Newsletter for regular updates, news and competitions bringing the best of Latin American culture direct to your Inbox.
Share: