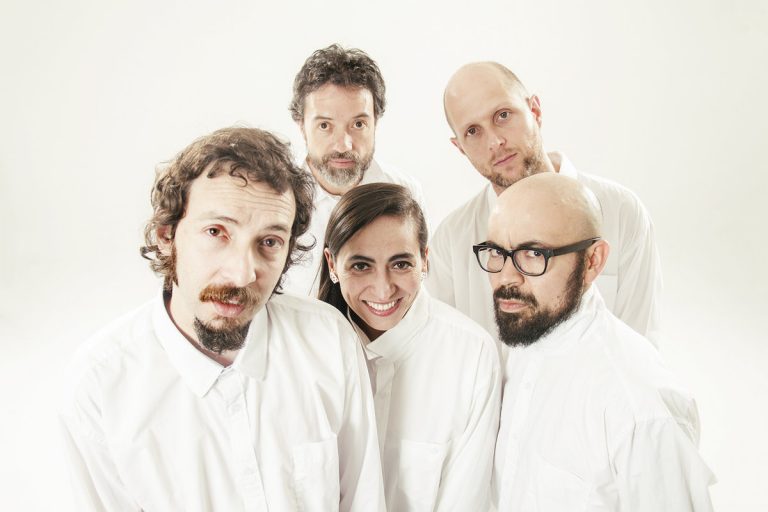 Under The Influence: Meridian Brothers
20 August, 2020
For their latest album Meridian Brothers once more turn to a concept, deconstructing the rhythms, tropes and stereotypes of cumbia, to create something completely new. Yet Cumbia Siglo XXI, whose name takes inspiration from the seminal cumbia group Cumbia Siglo XX, is far more than just a homage to cumbia, it is part of a broader artistic quest that has seen Meridian Brothers main-man Eblis Álvarez (pictured above, front left) continually play with the idea of what being Colombian means, and the identity of Colombian music.
This is clear in the following list, compiled and written by Álvarez to show eight key influences in creating Cumbia Siglo XXI. It's a journey that takes in visionary and revered Colombian musicians but also takes us outside of that, to Nigerian jùjú, krautrock and lunatic cumbia a la Dick El Demasiado.
The selection has been compiled into a mixtape by Álvarez, so head to the bottom to listen to the tracks as you find out the circuitous route that he took to create 21st Century Cumbia.
1. King Sunny Adé "Sunny Ti De Ariya"
"This song has so much of what I like about drumming. The talking drums are very alike to synthesizer percussion, with the variable pitch and attack. Besides, all the downwards synthesizers and the atmosphere are pretty much what I like to do in music."
2. Boy Masaka with The Boyoyo Boys "Moon"
"This song has a studio sound that I always try to imitate when mixing. The rim click with the bass drum are just glorious. This simplicity of the song, just repeating the riff with the dry guitar (I used a lot of dry guitars on Cumbia Siglo XXI) together with the sax, sound incredible. Sometime in my life I would like to achieve this kind of sound."
3. Frauen von Avignon "Meine Liebe Mit Den Gelben Haaren"
"This is a band that I used to listen to often. I've mentioned before that one of my main influences for Cumbia Siglo XXI is krautrock, but I haven't been specific. Well, this is the sound I refer to when talking about krautrock tastes. This texture is the one I tried to imitate making the record, with the drum machine and the guitar. I would like to have done the record in a more thin sound, like this record… but certain standards doesn't allow it anymore I guess."
4. La Niña Emilia "Currucuchu"
"A classic Felito records sound, and La Niña Emilia, well, her voice was so amazing, so communicative. I particularly copied the choir (sung in octaves, and in a kind of sordid repetition) in the song "Cumbia de la Igualdad". I also tried to copy the intention of La Niña Emilia."
5. Brando y su Grupo Folclórico "Tamba"
"This song has a beautiful sound, and the blending of the synthesizers and funky guitar of Brando (I copied this kind of funky playing through all Cumbia Siglo XXI) is just amazing. On the other hand the percussion is very dry, as well as the studio production. These types of textures I tried to rebuild with drum machines."
6. Cumbia Siglo XX "La Cumbia Africana"
"This is classic Cumbia Siglo XX. The rhythm is a blending of merengue with Haitian roots I guess, then slowing down to traditional cumbia. I was particularly interested in the way they put together the two styles in a very organic way and well, the band Cumbia Siglo XX is the one who gave the name to the new record, so it explains itself."
7. Dick el Demasiado "Celulitis Popular B01"
"This song is extremely noisy, but at the same time just so groovy, so hypnotic. I love all the glitching and the intervention and interruption of samples. It's beautiful. I became inspired by the extremeness of the noise, putting some of this into the song bridges on Cumbia Siglo XXI."
8. Pedro Beltrán "El Caballo Chovengo"
"This song is a good sample of the style I've been talking about when I made Cumbia Siglo XXI. The way to use this traditional soledeñan percussion with a more steady groove, fast and punchy basses. A golden era of music production in modern cumbia."
And to finish off, here's the video for Meridian Brothers' "Los Golpeadores de la Cumbia", the second single from Cumbia Siglo XXI
Cumbia Siglo XXI will be released by Les Disques Bongo Joe on 21st August. Pre-orders from Bandcamp
Listen to Meridian Brothers' Cumbia Siglo XXI influences below:

Follow Sounds and Colours: Facebook / Twitter / Instagram / Mixcloud / Soundcloud / Bandcamp

Subscribe to the Sounds and Colours Newsletter for regular updates, news and competitions bringing the best of Latin American culture direct to your Inbox.
Share: