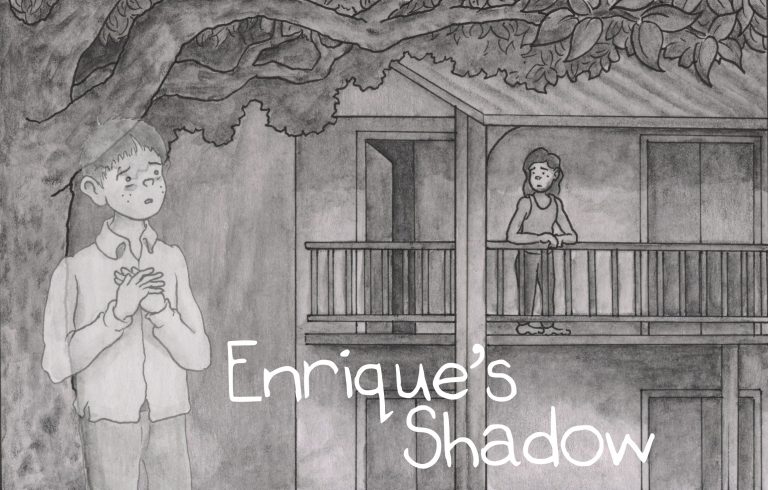 Using Comics to Make Positives Out of Negatives in Colombia
20 October, 2017
For the International Day of the Disappeared in 2016 the International Committee of the Red Cross (ICRC) commissioned Enrique's Shadow (La Sombra de Enrique), a first person illustrated testimony that brings to life one of the many cases of the disappeared during Colombia's 52-year civil war.
Having studied the Colombian Peace Process, I like so many others have sifted through pages and pages of data and dry material. So when I came across Enrique's Story I was enthralled at finding something so engaging.
The tragedy of missing children in any war is a difficult topic to broach not least of all because of the enormous healing process. The Colombia Civil War left a wealth of stories but it is not just the harrowing story itself that is worth telling, but the innovative and creative way this story is told that merits praise.
The simple and clear message of Enrique's disappearance is delivered through the medium of a comic yet it does not lose any of the gravitas around the subject matter. This 10-page 6000-word comic captures the experience in a very moving way with beautiful illustrations by artist Lindsay Pollock.
You can see a page from the comic book below: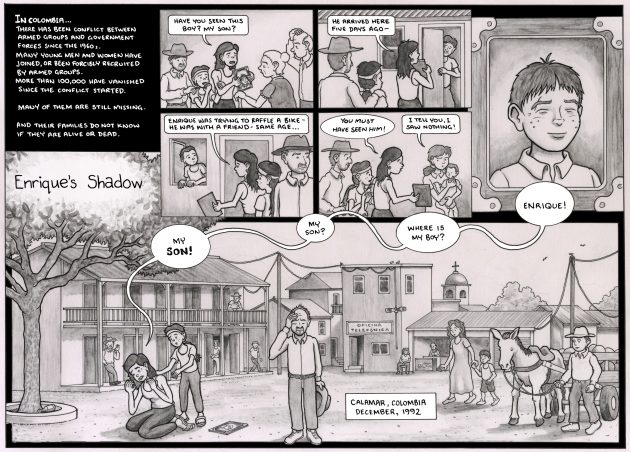 This is typical of the work produced by the cutting edge, award-winning London-based non profit PositiveNegatives.
But who are PositiveNegatives?
Based at SOAS University in London since 2012, PositiveNegatives have been producing spectacular and innovative literary comics, animations and podcasts about contemporary social and human rights issues, including conflict, racism, migration and asylum. By combining ethnographic research with illustration and photography, adapting personal testimonies into art, advocacy and education materials, these visual tools are used to increase impact, and build empathy and understanding around various important global topics with diverse international audiences.
PositiveNegatives work with narratives that are adapted directly from first-hand interviews. Illustrations are based on photographs taken during field research. Names and identifying characteristics are altered, and testimony is rendered anonymous, freeing contributors to be candid even when discussing topics that are sensitive or have security implications.
To find out more about the comic we spoke to Emma Saville who wrote Enrique's Shadow:
Tell me about a bit about the process for making Enrique's Shadow and how it all began?
We were contacted by the ICRC in March 2016. They wanted a communications piece about missing people in Colombia for the Day of the Disappeared. The ICRC had managed to get testimonies from several women in Calamar, FARC territory at the time, even though only one plane a week flew there. I wrote a script based on one of these testimonies. We sent back the script to Enrique's family so they could check it reflected and remained true to their story. In terms of artists, at PositiveNegatives we usually want artists from the region where the comic is set. However, in this case the ICRC wanted Lindsay Pollock as they loved his work on another of our comics, A Perilous Journey. We worked closely with Lindsay to design the storyboard. When the comic was finished, the ICRC went back again to verify the comic with Enrique's family. When all parties agreed, the final piece was produced.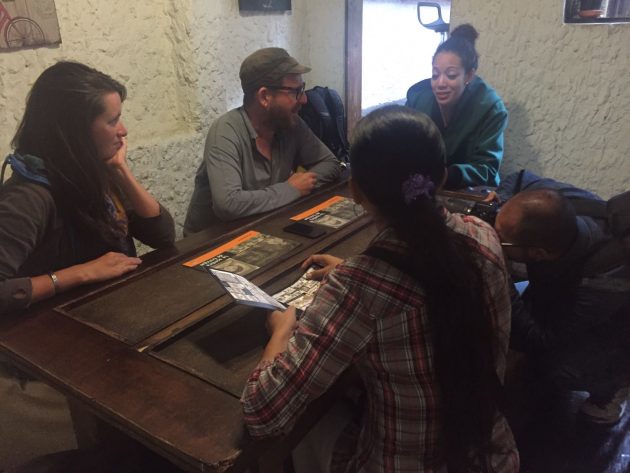 Fieldwork for Enrique's Shadow
What experience had you already had of Colombia?
I had lived in Latin America for just under 3 years in Costa Rica and Brazil, spending a month in Colombia in 2008 travelling in the country extensively. I am a fluent Spanish speaker so I was able to work with the original testimony in Spanish and work with translations of the Spanish version of the comic.
How did Enrique's family react when they saw the final comic?
Benjamin Dix (Director of PositiveNegatives) and I went to Colombia in mid September 2016 to meet the family. Both Enrique's mother and sister loved the comic and commented on what an amazing process it had been for them. The process of interviewing for Enrique's comic was probably the most moving. There is no violence portrayed, but a really poignant story of a family's desperate hope and search for a loved one. Enrique's mother told us that she slept with a copy of the comic under her pillow.
What effect did this have on the community?
The effect on the local community was very powerful. The ICRC printed a life-size copy of the comic and placed it in the centre of town during the Day of Disappeared and had testimonies from other families playing on loud speakers. This engaged the community and enabled people to finally start talking about the disappearances. For years and years there had been a lot of fear from all sides about speaking out about those who had disappeared. The day opened up the community and gave them a space for dialogue and conversations. Sharing stories and experiences allowed people to come together and share a sense of community and support – it truly was part of a healing process.
Who promoted this project?
After its launch: BBC Arabic, Al Jazeera, El Tiempo Colombia and El Pais all promoted this piece.
Are there any further projects planned for Latin America?
We are massively keen for projects in Latin America. There is a possibility we could be working in Peru next. We are always very keen to do more projects in Latin America especially around reconciliation and impunity of justice.
Check out Enrique's Shadow and a wealth of other comics tackling global issues on the PositiveNegatives website.
PositiveNegatives donate their comics and animations to the educational charity Why Comics?, who not only distribute these comics globally to schools worldwide but also provide teaching resources to match the comics – making a real impact. Check out Why Comics? at whycomics.org.

Follow Sounds and Colours: Facebook / Twitter / Instagram / Mixcloud / Soundcloud / Bandcamp

Subscribe to the Sounds and Colours Newsletter for regular updates, news and competitions bringing the best of Latin American culture direct to your Inbox.
Share: