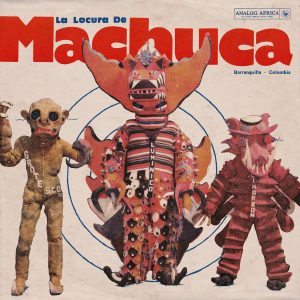 Review
Various Artists – La Locura de Machuca 1975-1980
The treasure hunters of Analog Africa have done it again – and they've unearthed an indisputable gem. How do they do it; where do they find 'em? In this case, by exploring Colombia's coastal music underground from the second half of the 1970s. It's a tale every bit as weird as the music on this glorious collection of bizarre unclassifiable sounds from the Discos Machuca label. Just tune in to the opening track, Samba Negra's demented "Eberebijara", with its hypnotic beats, funky guitar and chanted call-and-response vocals, and you could be listening to an outtake from an early record by Captain Beefheart and the Magic Band. It's hypnotic, unhinged and utterly irresistible. In fact, you could approach this compilation as you might approach prime-time Beefheart: expect the unexpected!
Discos Machuca was named after its founder, Rafael Machuca, a successful tax lawyer who reputedly had his mind so thoroughly blown in Barranquilla by local Afro-Colombian sounds that it transformed a high-ranking tax official into a Phil Spector-like figure. He would dedicate his next six years to writing, producing and releasing the sort of African-meets-traditional-Colombian music blended with the psychedelic sounds of underground rock that had so transfixed him. Like Spector, if he couldn't find the bands to play what was in his head, he would create groups like Samba Negra, the musical equivalent of shell companies, formed from the label's roster of in-house musicians for the extent of an album or two. The LP covers were as garish as the music inside and Machuca's long-time recording engineer, Eduardo Dávila, splendidly termed his boss's productions the "B-Movies of Colombian music".
These 17 tracks are the best B-movies imaginable. The aural equivalent of Kiss Me Deadly, perhaps. There are too many highlights to mention them all, but suffice to highlight the lunatic vocals of King Somalie's "Monkey's Dance"; the furious percussion and crazy synthesised sounds on El Grupo Folclórico's "Tamba"; Aníbal Velásquez' "La Mazamorra Del Diablo", a ride on a ghost train with a vallenato band; El Grupo Folclórico's singalong for Martians on "Tucutru"; or Grupo Bola Roja's more conventional "Caracol", which could have graced an early Miriam Makeba LP.
But don't take my word for it. The fact that these 17 tracks apparently took almost a decade in the compiling surely makes Analog Africa's 30th release one of the label's crown jewels. La Locura de Machuca translates as "the madness of Machuca". The sheer divine madness of this collection makes it an indispensable purchase.
La Locura de Machuca 1975​-​1980 is out now on Analog Africa

Follow Sounds and Colours: Facebook / Twitter / Instagram / Mixcloud / Soundcloud / Bandcamp

Subscribe to the Sounds and Colours Newsletter for regular updates, news and competitions bringing the best of Latin American culture direct to your Inbox.
Share: