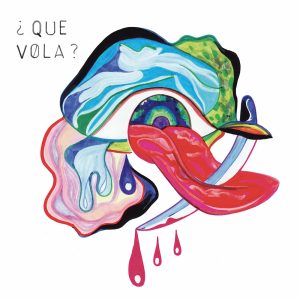 Review
؟Que Vola? – ؟Que Vola?
Any new release on the classy French No Format label is going to be at the very least interesting and worthwhile. This marriage of European jazz and ritualistic Afro-Cuban percussion is no exception. It takes a bit of work and several listens: as Fidel Fourneyron was to discover, the French trombonist whose first trip to Cuba in 2012 would plant the seed of this project, the sacred rhythms of the ancestral Santería religion are not as easy to assimilate as one might think. During some of his initiatory lessons in a cramped room full of drums and dancers, though, he experienced the kind of electric energy that presages a thunderstorm, and it is exactly this kind of energy that propels the Franco-Cuban ensemble of four horns, Fender Rhodes, double bass and trap drums, and three Cuban drums.
Fourneyron's return trip to Havana in 2017 with his French cohorts would eventually result in this album. The seven tracks that emerged from the cultural cross-fertilisation are all based around a traditional call-and-response structure – a series of musical conversations between the French horn section and the Cuban bata drums. The opening "Kabiosile (Saludo a Changó)" serves as a prologue to and template for what follows: the drums of Adonis Panter Calderon, Ramon Tamayo Martinez and Barbaro Crespo Richard setting up an incantatory rhythm prior to the entry of Aymeric Avice's trumpet and the other three horns in honour of Changó, the spirit of war and fire. The following "Nganga" builds on this with some wild blowing spurred on by furious percussion. You can hear the pattern particularly clearly on the brief "Calle Luz", with the other horns answering Fidel Fourneyron's trombone in the way that a chorus of voices would answer the solo voice, before Hugues Mayot's tenor sax takes over, driven on by the incessant percussion and the pulsating Fender Rohodes of Bruno Ruder, blowing harder and harder towards the inevitable climax that subsides into a coda of softly chattering drums.
It's music that relies heavily on riffs, with little in the way of obvious melody. The sound at times can be harsh – the horn soloists evoke the cold and brittle timbre of maverick saxophonists Eric Dolphy and Sam Rivers, and in unison there are shades of the David Murray Octet that produced the brilliant but challenging Ming. The nature of the music is intrinsically repetitious and there are moments when you worry that this is an arranged marriage that won't quite gel. But the final "Resistir" dispels any such ennui and negative niggles. The 11-minute plus track feels more like a genuine composition than an improvisation and the ensemble playing is reminiscent of Chris McGregor's legendary Brotherhood of Breath band. Slowly, surely and relentlessly, it builds to and serves as a suitable climax to the album.
؟Que Vola? "What's happening?" For now, it's this meeting of two different cultural traditions. There seems room for more, but if it proves a one-off entente cordiale, the legacy lies in a rewarding album that immerses you, body and soul, in a supernatural world of rhythm, dance and incantation.
¿Que Vola? is released by No Format and available on various platforms.
Short video series about the making of the album:


Follow Sounds and Colours: Facebook / Twitter / Instagram / Mixcloud / Soundcloud / Bandcamp

Subscribe to the Sounds and Colours Newsletter for regular updates, news and competitions bringing the best of Latin American culture direct to your Inbox.
Share: