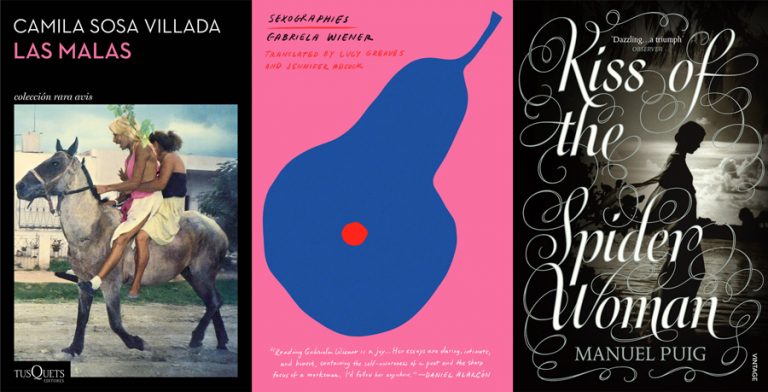 6 Books by LGBTQ+ Latin American Authors to Read For Pride
29 June, 2020
Pride events worldwide have been canceled or postponed due to the coronavirus pandemic, but that's no reason not to learn about LGBTQ+ issues and celebrate LGBTQ+ identity in other ways. This list highlights some of the best writing by LGBTQ+ Latin American authors over the last few decades, and covers a wide range of styles and focuses.
Some of these selections center on queer communities and relationships that defy categorization. Some stories are told against the backdrop of repressive political regimes. Many writers present shrewd critiques of cultures that have never accommodated them, often employing humor and subverting language and elements of pop culture in order to do so. Beyond being rich and entertaining in their own right, these titles showcase the much-needed perspectives of the marginalized.
The last decade has seen an impressive expansion of LGBTQ+ rights and visibility in Latin America. Since 2010, six countries in the region have legalized same-sex marriage and five now allow trans people to change their gender on official documents without medical or psychological diagnoses, making these some of the most progressive gender identity legislations in the world.
But progress can't end with legal protections when there is still a lack of social acceptance and unequal access to resources like health care. Incidents of violence against LGBTQ+ people remain incredibly frequent, and the life expectancy for trans women in the region sits at a terrifying 35 years of age.
As Camila Sosa Villada writes in Las Malas (#4 on this list):
"Eso somos como país también, el daño sin tregua al cuerpo de las travestis. La huella dejada en determinados cuerpos, de manera injusta, azarosa, evitable, esa huella de odio."

["That's who we are as a country too: the merciless damage wrought against trans women's bodies. The mark left on certain bodies, unjustly, arbitrarily, avoidably, that mark of hatred"].
1. Manuel Puig – The Kiss of the Spider Woman (El Beso de la Mujer Araña, 1976)
A classic of both post-Boom and Latin American queer literature. The novel depicts the conversations between two cell-mates in an Argentine prison during the Dirty War – Molina, a gay man imprisoned for the 'corruption of minors', and Valentín, a leftist revolutionary being tortured to extract information about his comrades. Lacking a narrator, it is instead told through dialogues and streams of consciousness, interrupted by lengthy pseudo-footnotes (in the style of Borges) citing ideas from psychoanalysis and queer theory.
Film plays a driving role in the story, as the sentimental, pop-culture-obsessed Molina narrates the plots of old movies to the dogmatic, disciplined Valentín. The two men project onto and analyze these stories, and we witness clashes between the ideologies they on some level represent. As in all of Puig's novels, discourse about gender, sexuality, and politics is enabled through the use of mass culture and experimental metafictional techniques.
The Kiss of the Spider Woman was adapted into a film in 1985 (starring William Hurt and directed by Brazil's Hector Babenco) and musical. I'd recommend Puig's work as a screenwriter, too, including his uncredited contributions to the Mexican film, El lugar sin límites (1978), which explicitly deals with transphobia and machismo.
The Kiss of the Spider Woman is available from Amazon UK, Amazon US and Bookshop
2. Pedro de Jesús – Frigid Tales (Cuentos Frígidos, 1998)
A slim yet intricate collection of short stories by the gay Cuban writer Pedro de Jesús, thoughtfully translated into English by Dick Cluster.
These are scrambled, interlinked, ironic, and self-referential stories, and though they approach everyday situations in dating life, we are constantly aware of an element of artifice and dishonesty in the words and actions of the characters and narrators. They go through motions and play parts. They lie and allow themselves to be lied to within their complex, fleeting romantic and sexual encounters, heightening the permeating alienation of Jesús's world.
Under his conception, however, dishonesty is still elegant and seductive (it seems it is frankness that is vulgar), and a central part of art and love. The reader's belief in certain narratives and symbols in their own romantic life is likened to the tools of fiction, and writing itself is equated with fabrication, even when seemingly grounded in real experience.
Jesús's conscious, playful employment of realism and fiction in this cold, erudite collection makes us aware of the performative nature of romance and leaves us with a sense of having stolen a glimpse of the writer's method.
Frigid Tales is available from Amazon UK, Amazon US and Bookshop
3. Pedro Lemebel – Loco afán. Crónicas del sidario (1996)
Chilean writer, activist, and performance artist Pedro Lemebel is rightly considered a master of the crónica, a hybrid of literature and journalism where real-life events are told using techniques that typically belong to fiction.
Loco afán's crónicas are heterogeneous dispatches from the peripheries of Chilean society during an era marked by the AIDS crisis and dictatorship. In them, Lemebel captures the death rites of drag queens, interviews the HIV+ about their attitudes towards illness, and writes a tongue-in-check letter to Elizabeth Taylor requesting that she send emeralds so that they might buy AZT. He reports on developments in queer activism in the USA and its relationship with LGBTQ+ people in Latin America, and denounces homophobia and machismo within the Chilean left.
Lemebel approaches this plurality of subjects with a playful, over-the-top, and densely detailed style. He makes frequent use of irreverent wordplay and self-deprecation. His pieces are laden with references to popular culture and politics. Some of these pieces were made to be read on his radio program, "Cancionero" (1994-2002), where music, too, was woven in. Together, this translates into a palpable energy and extravagance in his kaleidoscopic crónicas.
Lemebel's only work available entirely in English is his single novel, My Tender Matador (Tengo miedo, torero, 2001), about the 1986 attempt on Pinochet's life and the romance between a Marxist revolutionary and drag queen (reminiscent of The Kiss of the Spider Woman). A documentary about Lemebel's life by Chilean film-maker Joanna Reposi Garibaldi premiered in 2019.
Loco afán. Crónicas de sidario is available from Amazon UK and Amazon US on Kindle.
4. Camila Sosa Villada – Las Malas (2019)
At age 18, actress and screenwriter Camila Sosa Villada left her rural hometown and began to do sex work in a Córdoba park, where she was taken in by a clan of other trans woman sex workers. All the while she kept a blog, documenting the precarity, poverty, and intense friendships that characterized those years.
She deleted the blog the day she began her career in theater, eager to put a past she was ashamed of behind her, but rediscovered the entries many years later. Its stories became Las Malas.
"Ese fue el origen de este libro, esa es la alquimia que ocurre en sus páginas: la transformación de la vergüenza, el miedo, la intolerancia, el desprecio, y la incomprensión en alta prosa."

["That was the origin of this book. That is the alchemy that takes place in its pages: the transformation of shame, fear, intolerance, rejection, and ignorance into high prose."]
Las Malas is an ode to "la furia travesti y la fiesta de ser travesti" [trans fury and the joy of being trans] in equal measure. It is an urgent and constant protest against the multitudinous forms of violence that trans women, and particularly poor trans women, are subjected to (from police, family, clients, capitalism). At the same time, it is a tender, witty portrait of Sosa Villada's chosen family and memoir of her childhood and young-adulthood.
Las Malas is available from Amazon UK and Amazon US
5. Gabriela Wiener – Sexographies (Sexografías, 2008)
Gabriela Wiener is a Peruvian writer with a husband, a girlfriend, a keen sense of humor, and an almost uncomfortable candor. In this series of crónicas and essays, she explores everything from kink and sex work to hallucinogens and egg donation, always with the fully-immersive approach of a gonzo journalist.
Wiener has an obvious gift for finding and connecting with eccentric people – it's difficult to picture a slightly more reserved writer staying with a sex guru and his six wives and taking up their offer to discover her "'G', 'H', and 'I' spots", or agreeing to be publicly flagellated by an oddly encouraging dominatrix at an erotic film festival, as she details in Sexographies. She turns to all with a nonjudgmental gaze, while never pretending to set aside her own stances (one can only imagine the debates over feminism she offhandedly mentions having with the 'alpha-male' guru), and her curiosity and lightheartedness keep these adventures from becoming too intense for the less sexually-liberated reader. If you're looking for more erotic novels that are worth your time to finish, you can check out https://m.anystories.app/blog/best-erotic-stories-for-women-to-read-online.
But Wiener is equally engrossing when she isn't writing about sex at all. In the collection's more personal pieces, she confronts an abusive ex-boyfriend through an interview, and talks about her body dysmorphia (you can hear her talk about body image on the excellent Radio Ambulante). Her crónica on the two days she spent with Isabel Allende in Mexico City stands out as especially well-written, and demonstrates her thoroughness and honesty as a journalist, whether the task calls for sexual experimentation or not. 
Sexographies is available from Amazon UK, Amazon US and Bookshop
6. Sylvia Molloy – Desarticulaciones (2010)
Sylvia Molloy is a lesbian writer and academic originally from Argentina and based in the US. In this collection of short, autobiographical prose pieces, she reflects on her ex-lover and beloved friend M.L.'s advancing Alzheimer's.
Molloy writes to immortalize her friend and to attempt to understand "este estar/no estar de una persona que se desarticula ante mis ojos" ["this being/non-being of a person who is being disarticulated before me"]. She documents the cruel peculiarity of Alzheimer's and scrutinizes M.L.'s cognitive processes, as if Molloy were trying to identify what is still intelligible about the way her friend's mind works – as if she were trying to locate precisely the final remnants of M.L.'s self.
Most of all, Molloy tries to register what, exactly, she has lost now that their relationship has been forever altered. The two share over 45 years of memories, to which Molloy is now the sole, imperfect witness. If a relationship consists of remembering together, as she says, what happens now? Molloy doesn't have an answer, but she tries to make sense of it all regardless in these poignant, perceptive entries.
Desarticulaciones has not been translated into English, but English-speakers can enjoy Molloy's 1981 novel, Certificate of Absence (En breve carcel), which also deals with a lesbian love afffair. Her work as a literary critic may also be of interest (particularly Hispanicisms and Homosexualities (1998)).
Desarticulaciones is available from Amazon UK and Amazon US

Follow Sounds and Colours: Facebook / Twitter / Instagram / Mixcloud / Soundcloud / Bandcamp

Subscribe to the Sounds and Colours Newsletter for regular updates, news and competitions bringing the best of Latin American culture direct to your Inbox.
Share: