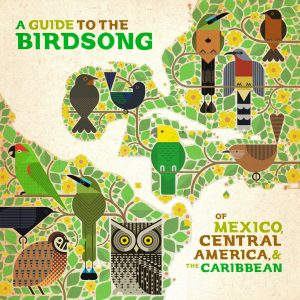 Review
A Guide to the Birdsong of Mexico, Central America & the Caribbean
Back in 2015, A Guide to the Birdsong of South America was released, featuring artists of the calibre of Dengue Dengue Dengue and a narrator who sounded suspiciously like the Shakespearian actor and former Doctor Who, Tom Baker. The brainchild of former Greenpeace campaigner and co-founder of the Shika Shika record label, Robin Perkins (aka El Búho), the crowd-funded album drew attention to the plight of vulnerable or near-extinct birds in the continent. It was an entrancing mix of classy, undulating 'folktronica' and the extraordinary exotic cries of the birds threatened by mankind's rapacious exploitation of our natural world. Thus far, the project has raised around $15,000 for assorted conservation projects in South America.
Now, artists and producers known for bridging the traditional and modern, the organic and electronic, have been recruited and funded by a Kickstarter campaign for the second edition. It turns its attention from South to Central America and the Caribbean. Each contributor has been asked to furnish an original piece of music inspired by a particular indigenous bird and its song. "Black Catbird" was the first single from album. The Garifuna Collective have been acquainting a global audience with the unique Garifuna culture and language of Belize. Their guitarist and producer, Al Obando, is an inveterate 'tweeter' who seizes every opportunity to watch birds in their natural habitat when on the road. So it's an apt choice for promoting an album whose content is as worthwhile as the project is worthy.
The other nine tracks, and nine different birds, comprise two contributions from Mexico (Jiony and Siete Catorce) and two from Guatemala (Di Laif and Alex Hentze), along with numbers by Maracuyá from the Dominican Republic, Tamara Montenegro & NAOBA from Nicaragua, Time Cow of Jamaican dancehall trio Equiknoxx, Nillo from Costa Rica and DJ Jigüe from Cuba. The combined effect is like listening to Four Tet in some enclave of virgin jungle. The emphasis is probably more on the electronic than the traditional. Alex Hentze's "Tecolote Barbudo", for example, sets off the extraordinary cries of the Guatemalan bearded screech owl with wave after rolling wave of a synth motif that's a little reminiscent of a section from Philip Glass' Koyaanisqatsi. The Nicaraguan electronic producer, Tamara Montenegro, allows an acoustic guitar and traditional-sounding percussion effects to take centre stage and comes closest to a spiritual marriage of folk and electronica in "Momoto Carenado". It is, in her words, "a song inspired by this bird and the challenges it faces to live naturally due to our own disconnection from nature and living in harmony with our planet." The human voice features rarely, with the notable exception of Dominican Ximena Obregón's beautiful vocal on "Cuco Picogordo de la Española", but rightly so: the real stars of this album are the remarkable endangered birds, whose loss to the planet would be utterly tragic.
A Guide to the Birdsong of Mexico, Central America & the Caribbean is released on June 26th by Shika Shika, and is available from Bandcamp, a streaming platform near you or on recycled vinyl (courtesy of the Netherlands' ultra-green Deepgrooves pressing plant).
All profits from the music and merchandise will be shared between local organisations and conservation trusts in Mexico, Central America and the Caribbean dedicated to improving the birds' chances of survival through eco-tourism, education, rescue and/or sanctuary. It's a deserving cause that deserves the widest (paying) audience possible.

Follow Sounds and Colours: Facebook / Twitter / Instagram / Mixcloud / Soundcloud / Bandcamp

Subscribe to the Sounds and Colours Newsletter for regular updates, news and competitions bringing the best of Latin American culture direct to your Inbox.
Share: