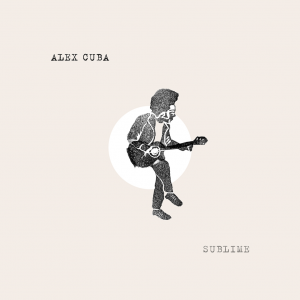 Review
Alex Cuba – Sublime
Twenty years in the sub-Arctic cold of Smithers, British Columbia, hasn't chilled the tropical soul of Alex Cuba (born Alexis Puentes). To the contrary, he's recently added a layer of warmth, borne out by his seventh release, Sublime. Like the migratory birds he refers to in his songs, this cantautor, who is as comfortable in the world of pop as he is vaunting his Afro-Cuban legacy, is tipping southerly with Sublime, back to the Motherland.
Sublime is steeped in sentiment, but it is neither mawkish nor gratuitous, as the artistry of the album is further proof of Cuba's stunning and thoughtful lyrics; well-crafted and infectious melodies; and soft-pedaled, euphonic vocals that he complements with his trusted guitar.
Cuba has chiseled out a niche in the craggy terrain of pop, having staked out his own brand of heavily acoustic pop-rock by borrowing from his culture and musical family; he played his first gigs at age 7, in a band of 24 guitarists, all family members. He has been comfortable in his groove, while moving along with the earth. Sublime breaks new ground, for example, as, for the first time he plays all the instruments on the album's twelve tracks.
The opening song, "Yo No Sé," is plucky, and very jazzy, as Cuba returns to the first instrument he studied, the acoustic bass. Adorned with just a güiro and triangle, he whizzes through a flip melody that he punctuates by spiffy scatting that conveys the pushy elegance of the mid-century jazz vocalists. These scurrying vocals are held down by no nonsense be-bop kinda bass runs.
Cuba creates a funky aura around Havana in "Ciudad Hembra (La Habana)", celebrating the city's feminine mettle, where if you sleep, you lose. Adding creds is compatriot, Kelvis Ochoa, a major figure in Cuban pop nowadays who jigsaws genres from the island and across the Latin spectrum. Here, in reguetón light, Ochoa boosts the infectious spirit of Cuba's ebullient son to a travel poster in song.
Omara Portuondo shares the lush "Y Si Mañana" with its composer in a memorable duet expressing love's fleeting pleasures and the implicit pain brought on by love's end. The song pays homage to the vintage son that runs in both artists' bloodline. Cuba plays up on the neck of his guitar to evoke the sound of the tres, and the slowed, swaying tempo suggests a bolero, deepening even further the romanticism. In Portuondo, he has chosen the ideal interpreter of his lyrics; she savors the images drawn by his words in a personal and profound way, as she has done with so many artists before. (One image rendered with especial tenderness is of a flower caressing a thought).
An equally lovely romance is "Hoy Como Ayer", graced by Pablo Milanés, one of the island's supreme monuments to song and a defining influence on the cantautor. "Hoy Como Ayer" is about one's vulnerability in love. Cuba's tenor rises to its most heartfelt as the maestro summons more chest and command from his treacly resonance. It's as if he wants to claim ownership of the song, and as such is paying Cuba a great compliment. Their pairing is as if ordained, manifesting in the younger musician the legacy of nueva trova, born of the Cuban Revolution and of which Milanés is a titan.
Just about every song in this splendid effort is rewarding. "Dividido", for example, with Mexican ingenue, Silvana Estrada, is precious, as the two play off each other on this jaunty pop tune, litanizing their differences, while embracing them as the ultimate glue that keeps a relationship vibrant. As Estrada reminds her counterpart, "Es magico y divertido de otro punto mirar" (Seeing from another('s) point of view is magical and fun).
Sensuous and greatly affecting is "Solo Mia". Mexican mega star Leonel Garcia's sophisticated and dreamy vocal mutes somewhat Cuba's hybrid strain of Carib. Cuba generously cedes partial ownership of the song to Garcia, giving him the lead vocals, as he assumes Garcia's tone of irresistibility; together, they offer a sublimely seductive appeal.
Cuba has said of the album that "Every listen will tell you something else." Yes, I have come to the lyrics for new meanings, and to appreciate more and more the various musical currents that flow through the tunes. But I also savor Sublime for what it most fundamentally is: a consummately crafted and beautiful offering. This more than anything will bring the listener to it again and again.
Sublime is released by Caracol Records and available through the usual places

Follow Sounds and Colours: Facebook / Twitter / Instagram / Mixcloud / Soundcloud / Bandcamp

Subscribe to the Sounds and Colours Newsletter for regular updates, news and competitions bringing the best of Latin American culture direct to your Inbox.
Share: