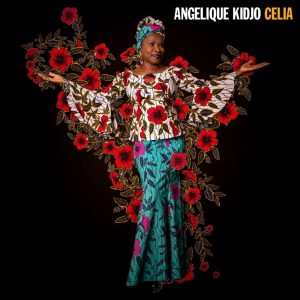 Anguelique Kidjo is at it again with her latest album Celia, in which just like last year's reimagining of the Talking Heads' Remain In Light, Kidjo gives Celia Cruz' music an Afrobeat makeover. In her tribute album to the queen of salsa, Kidjo reinterprets beloved classics and manages to inject already brilliant songs with new life and energy.
Talking about the impact Celia had on her life, Kidjo says, "As a child I saw Celia Cruz sing in Benin and her energy and joy changed my life. It was the first [time] I was seeing a powerful woman performer on a stage. Her voice was percussive and her songs resonated in a mysterious way with me. Many years later, I learned she was singing the Yoruba songs that were carried out of Benin 400 years before. I felt she was a long lost sister from the other side of the world. Like me, she experienced exile from a dictatorship and she was always proud of her roots, of her African roots. In the same way I wanted to bring back rock 'n' roll to Africa with my Talking Heads' Remain In Light project, I now want to pay homage to this incredible voice and those songs that reunite with their juju and Afrobeat roots."
Celia Cruz was a gifted singer born in a poor black neighbourhood of Havana. She left Cuba when Fidel Castro took power in 1959 and went to New York to sing in Tito Puente's orchestra. Celia went on to become a worldwide renowned musician and won 6 Grammy Awards during her career. She is considered one of the biggest Latin American stars of all time. Reimagining the beloved music of Afro-Cuban Celia was no small feat for Kidjo to undertake, but it made sense as Kidjo has dedicated time in the past to highlighting the African roots of important artists. To help her dig the African influences in Celia's music, Kidjo collaborated with musicians including Tony Allen, Meshell Ndegeocello, Gangbé Brass Band and Sons of Kemet.
Celia Cruz was famous for shouting "azucar" (sugar) during her live shows. This word was her mantra, inviting listeners to relish and celebrate life despite the ever present trials and tribulations. Kidjo adopted the motto and also shouted it to concert-goers during her gigs because, as Kidjo explains, "'Azucar' for me is empowerment. She would never say 'azucar' for her to be the only one saying it. It's a response to racism, and [call] to the empowerment of people, to see who they are, to love who they are, for them to be able to live their life. Because if she had sat there and whined and complained about the way people treated her, she never would have had a career."
Celia is a delight to listen to from beginning to end, but special standouts include "Quimbara", "Elegua" and "Yemaya". Fitting with the theme of reconnecting with Afro roots, the latter two tracks pay homage to Afro-Cuban deities. Tribute records can be challenging to pull off, especially when the artist that one is paying tribute to is incredibly respected and beloved. But just like with the Remain In Light project, Kidjo brilliantly conveys her adoration and respect for Celia Cruz with her latest album.
Celia is available from Spotify, Amazon UK, Amazon US and other retailers.

Follow Sounds and Colours: Facebook / Twitter / Instagram / Mixcloud / Soundcloud / Bandcamp

Subscribe to the Sounds and Colours Newsletter for regular updates, news and competitions bringing the best of Latin American culture direct to your Inbox.
Share: