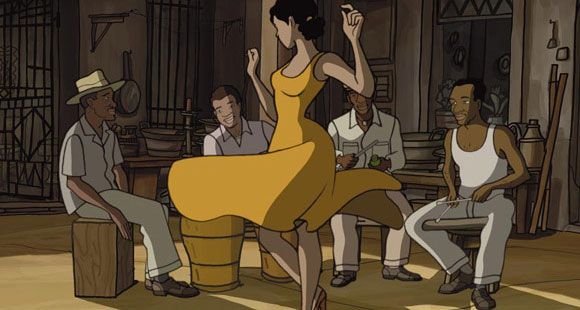 Chico and Rita
19 November, 2010
Labelled as an epic animated love story between Chico and Rita, in reality this story is all about Cuba and the perennial charm of the music coming from the country. The film begins in Havana in 1948 with Chico beginning to make his name as a piano player and Rita making money from entertaining wealthy gringos. When one night Chico finds himself looking up at a stage where Rita is singing "Besame Mucho" he instantly falls in love. The couple experience a mixture of romance (with some of the most sensual, animated love scenes you will ever see on screen) and arguments when one of the latter causes Rita to accept an offer to move to New York and become a star. Chico soon sells his piano and follows, with his trusty wannabe-manager Ramón in tow.
In New York, Rita, now known by her stage name of Rita Labelle, becomes a huge star, featuring in Hollywood blockbusters as well as sharing the stage with luminaries such as Nat King Cole. In a slightly different sphere Chico manages to hold his own, becoming Dizzy Gillespie's piano player. The couple constantly find and lose each other, with Chico at one time heading off on a European tour with Dizzy, leaving Rita broken-hearted once more and exploring new partners.
There is never any doubt that the couple will get back together though, and just when it seems that their love will be consecrated by marriage a devious plot is concocted. Rita's manager, wanting Rita to remain single and able to do whatever he wants, pays Ramón to dispose of Chico. So it is that a drug raid on a Tito Puente concert, where Chico is playing piano, leads to his arrest after police find (planted) drugs in his jacket pocket and he is deported to Cuba where the new revolution under Fidel means that he has little chance of returning.
Throughout all of these scenes in New York, as well as some earlier in Havana, there is a real attention to the history of music. Scenes of Rita performing at Havana's famous Hotel Nacional will have echoes of other great Cuban singers such as Celia Cruz playing there with Sonora Matancera, and the same could be said of Rita singing at the Tropicana club – the atmosphere and décor is pure Carmen Miranda. In New York we get to see Charlie Parker, John Coltrane, Dizzy Gillespie and Chano Pozo, whose death over a bad drug deal is documented in full here.
Much of this love of music history comes from Writer and Director Fernando Trueba, maker of the excellent Calle 54 documentary about Latin Jazz, though he also assisted by Tono Errando and legendary Cuban pianist Bebo Valdés, who produces much of the original music as well as first-hand accounts of how Cuban music developed in New York. In Chico's story there are nods to Bebo's own career, as well as that of Ruben Gonzalez, the pianist made famous by Buena Vista Social Club. But it's another Buena Vista artist that gets direct homage.
After Chico's deportation he retires completely from the music scene until forty years later a Spanish flamenco comes looking for him. His job as a shoe-shiner exactly mirrors that of Ibrahim Ferrer before being rediscovered and thrust back into the limelight. This happens to Chico, as a collaboration with a young singer Estelle wins him fresh accolades, a Grammy and the chance to return to the US. There, he goes searching for Rita, and to find an end to their story.
The other major collaborator in this film is Spanish artist and architect Javier Mariscal who was in charge of co-ordinating the look of this film. Even without sound or a story this film would be magical. The film-makers went out of their way to find archive pictures of Havana and New York in the 40s and 50s, before re-imagining these cities in saturated, vibrant detail. Anyone with an interest in these cities will marvel at the accuracy and lustre which these illustrations bring to what is already an exhilarating time. If I was to have any criticism it would be that often the facial expressions of the characters never quite reach some of the subtleties expected from the scenes, though their body movements, especially when dancing or playing music, do their best to make up for this.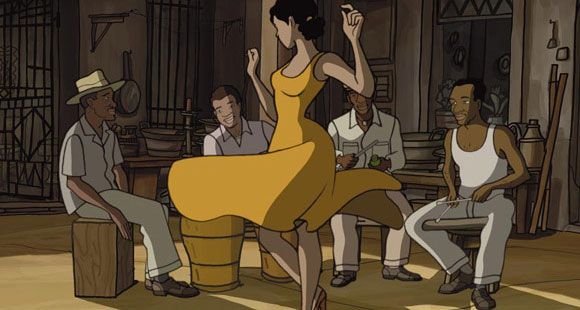 There is no doubt that this movie is a crowning achievement; a mixture of great animation, music and history with a narrative that reads like the simple story of heartbreak that bestows the greatest of love songs, which I think is precisely the point. It will appeal to lovers of Latin jazz, or simply jazz lovers, as well as those with an interest in Cuba, and how the country's culture and politics has changed, and those who pine for cinema that simply radiates with music, colour and warmth.
Chico and Rita is in UK cinemas nationwide from Friday November 19th
Chico and Rita (2010)
Spain/UK
Directors: Fernando Trueba, Javier Mariscal, Tono Errando
Screenplay: Fernando Trueba, Ignacio Martínez de Pisón
Trailer:
More info:

Follow Sounds and Colours: Facebook / Twitter / Instagram / Mixcloud / Soundcloud / Bandcamp

Subscribe to the Sounds and Colours Newsletter for regular updates, news and competitions bringing the best of Latin American culture direct to your Inbox.
Share: