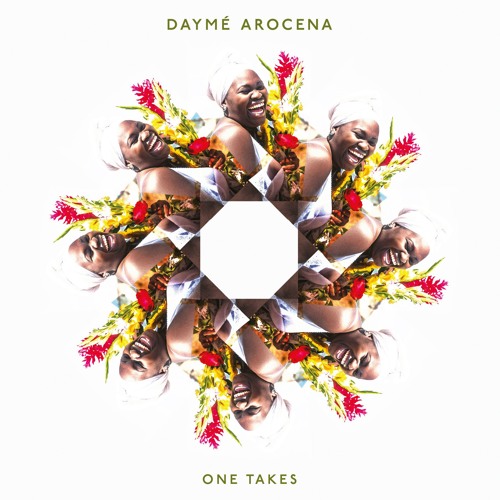 Music has always had a particular ability to enliven one's life, whether through the elegance of masterfully-arranged sounds or even the beauty of an album's artwork. Music trails design, literature, language and many other human activities behind it when it's great. Cuban songstress Daymé Arocena's latest EP, One Takes, is an example of an album that can enliven any society, city, or individual into trails of pleasure, motion and contemplation. With One Takes she illustrates her singular singing abilities and the virtuosity of her band, producing a testament to Arocena and her band's appreciation of art's universality, while not forgetting the art from her own home.
One Takes is made up of five cover songs, with Arocena interpreting Peven Everett's "Stuck", Rafaella Renzulli's "Asking Eyes", Horace Silver's "Gods Of Yoruba", Eddie Gale's "African Sunshine" and El Brito's "El 456", as well as original track "Muy Cerquita de Ti". Some songs have Latin dance rhythms and others are jazz songs. There is an alto male voice heard on "Muy Cerquita de Ti" that deserves to be better known and the same goes for all the musicians on this album. 
If not aware or told that the songs in One Takes are covers, most listeners would probably assume that they are all original compositions. That is how well they all have been interpreted. "African Sunshine" and "Gods of Yoruba", in particular, are incredibly well-conceived, but "Muy Cerquita de Ti" is by far the highlight of the album. After an incredible bass beginning, it features trumpets, hand clapping and voices, coming in and out in a song that one wants to never end. It's fitting that the best song in this album is the one closest to home, especially when put side by side with Arocena's cosmopolitan "takes" on the music of others. The very first official cosmopolite in Western history was Diogenes, who is well known for the quote "I am a citizen of the world", of the cosmos. We feel Arocena state the exact same phrase by singing an Italian's song and an American's. 
When she is singing, Arocena's vocals offer us more texture than any of the instruments and that's what makes these songs shine. However light the piano may sound, or magical a cymbal may be, Arocena's voice enters to swoon us as no instrument can until we fall back again into the field of instrumentation that we were accustomed to. The instruments are given much more time to perform on their own than with Arocena and the strategy here is pairing an economy of vocals with a plethora of well-played instruments.
Arocena and her band have a talent that is rare even in a globalized world: the ability to master a range of compositions. One Takes is a phenomenal EP. Let us follow her and her band's lead and let the entirety of the world into our lives, all the while not forgetting that we are each from a home that deserves to be expressed in enough complexity to feature instruments, singing and clapping.
One Takes is available from Amazon UK, Amazon US and iTunes.

Follow Sounds and Colours: Facebook / Twitter / Instagram / Mixcloud / Soundcloud / Bandcamp

Subscribe to the Sounds and Colours Newsletter for regular updates, news and competitions bringing the best of Latin American culture direct to your Inbox.
Share: