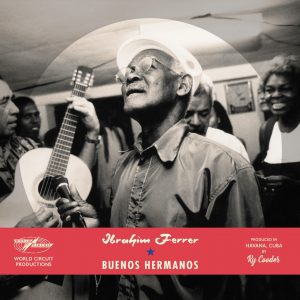 Review
Ibrahim Ferrer – Buenos Hermanos [Special Edition]
The story of Buena Vista Social Club, the reunion of veteran Cuban musicians who'd found modest success in the 1950s and 1960s, and the subsequent mega-breakout of their eponymous album and world concert tour, in 1997, has become legend. A number of the players had come out of retirement to participate, and others, at a time when they should have been taking life easy, were scrambling for their next meal instead. Their re-cohesion was seamless, and it was as if they could go on forever thrilling audiences worldwide, but for a trickle of deaths overcoming a good number of the members.
Vocalist Ibrahim Ferrer's story is especially poignant as, once a household name, he'd been reduced to shining shoes on the streets of La Habana until being tracked down to join the project. Buena Vista Social Club, the album, produced by guitarist Ry Cooder and Nick Gold of World Circuit, with a boost from Cuban musician and impresario, Juan de Marcos Gonzalez, ignited or rekindled great affection for Ferrer's velvety, seductive voice that could croon soulful boleros or kick up a saucy son Cubano. In 2003, when Ferrer was in his 70s, Buena Vista funnelled him into a solo career which yielded three solo CDs, the most lauded of which was Buenos Hermanos. Ferrer died in 2005, at 78, having sold over 6 million albums with Buena Vista or as a soloist.
I had the privilege of covering Buena Vista's Carnegie Hall concert in 1998; the band was thrilling, their electricity, cariño, and the feeling of intimacy and of long-time friends that they enwrapped you in, overwhelmed the overflowing 3,000 seat house. Dreamy ballads, Ferrer's true forte, a number that he shared with Omara Portuondo, sealed the magic, and, for me and others, were the concert's defining moments.
Fast forward to 2020 and Cooder rejoins Gold and de Marcos to reissue Buenos Hermanos, returning Cooder to the boards to tweak the original playlist and add 4 dusty tracks not included in the 2003 sessions. Jerry Boys, a frequent Cooder collaborator, is the mixmaster, and guests, Flaco Jimenez, The Blind Boys of Alabama, and Jon Hassell.
The reworking doesn't upturn the original, although it yields a suaver, more highly produced sound, somewhat flattened at times and buffered, as if coming off the carpeted walls of the Egrem recording studio in La Habana, offering a comfy cushion for Ferrer's plush boleros. On the other hand, the slicker production levels is excessive on some of the songs. The son montuno, "Me Voy Pa' Sibanicú", exemplifies the latter.
When the mix achieves that balance between clean and funky, as on "Buenos Hermanos," the song, and "Hay Que Entrarle a Palos a Ese," the image becomes a joyful and quintessentially Cuban scene of a bunch of tuxedoed merry pros wining and dining the fineried crowd tabled at the fabled El Tropicana, or dressed down and cruising the streets of La Habana or Santiago looking for an accommodating grog shop in which to uncork a rowdy guarachá.
"Ojos Malvados" recaptures the ardour of the boleros of old. Ferrer delivers composer Cristina Saladrigas's reproaches with his seasoned voice that's still pliant and full, as that of a much younger man. Manual Galbán's up-to-the-task spare guitar accompaniment, along with just bass (Cachaito Lopez) and bongos make for luxuriant rancour.
The gloves are off on Miguel Matamoros' "Buenos Hermanos." Ferrer's got a bone to pick with the family, and he's doing it with supreme irony, imitating the sound of rounded belly satiety while accusing them of stealing the food from his pantry and the clothes off his back. Cachaito's bass is appropriately punched up and resonant and complemented by a searing organ solo by Galbán interwoven with a reedy sound like a snake charmer's pongi. These virtuosic stunts, along with Ferrer's riffing, make "Buenos Hermanos" the punchiest and most complete song on the album.
As one of the add-ons, Faustino Oramas' "Me Voy Pa' Sibanicú" lacks the brillo of other versions I've heard. Ferrer's old timey shot at it on Cinco Leyendas del Buena Vista with Eliades Ochoa, Compay Segundo, Omara Portuondo, and Rubén Gonzalez, may sound tinny, as it's driven by a cowbell and the brash fanfare of trumpets, but the delivery is energized and engaging. The new release, however, eviscerates Ferrer's pregón (an off-the-cuff musical sales pitch or entreaty, essentially), and, with a background chorus of just "mañana" that sounds canned, fails to uplift the tune to a proper roistering guarachá.
Whether you laud the smoothed edges and more accessible sound of Buenos Hermanos, or groove on the "warts and all" living codex of a quintessentially musical island, what brooks no discussion is that Buenos Hermanos is a keepsake of the seductive sound and sentiment of a mega-maestro who'd been lost and found and, now, will never be lost again.
Buenos Hermanos [Special Edition] is released by World Circuit Records and available from all good platforms

Follow Sounds and Colours: Facebook / Twitter / Instagram / Mixcloud / Soundcloud / Bandcamp

Subscribe to the Sounds and Colours Newsletter for regular updates, news and competitions bringing the best of Latin American culture direct to your Inbox.
Share: