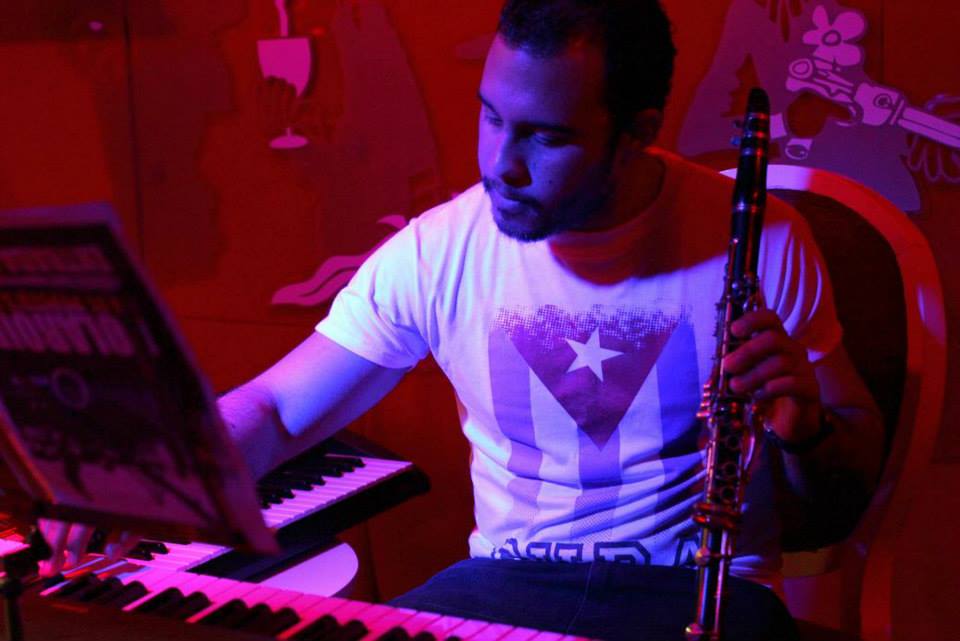 Leonardo Milano de Cuba: Using Cuban Folkloric Roots To Shake Up European Beats
04 August, 2015
Leonardo Milano de Cuba is a Cuban DJ and highly trained clarinetist with a passion for mixing and experimenting with different global musical styles he comes across. Visiting London for the first time, he is a world away from the streets of the Cuban capital La Habana on his third international trip. Whilst soaking up European music and the ups and downs of a Western capitalist society Leonardo is facing a whole host of new experiences, such as being deceived by David Guetta via the great powers of YouTube. Leonardo reflects on the benefits and disadvantages of being an artist in Cuba and also the challenges that restrictions in his country pose to creativity.
How did your musical career begin?
I started when I was seven years old. Its a normal age to start I think. I won first place in a competition for kids which allowed me to study at an academy. A few years later I took up the clarinet and I've now been playing for 15 years. In Cuba the clarinet is really not a popular instrument, but one very famous musician, Compay Segundo, brought it in and made it acceptable. I also play the saxophone.
When did you start developing your current music? When did electronic music become a part of your life?
I grew up in Bayamo, and I played there in big orchestras or in small quartets. When I was about 19 I decided to move to the capital, for obvious reasons! My hometown is very cultural but people don't know much about certain kinds of music, for political and social reasons. In any case there is always a lot more creative freedom in Havana. When I reached the capital I was still playing the folkloric music that everyone knows about like [Cuban] son and salsa with my clarinet. For the next two years I was looking around trying to find my place, meeting people at small electronic music events. I met a DJ who started to tell me what I needed to get, a laptop to produce tracks for example… and that's where it started.
[soundcloud url="https://api.soundcloud.com/tracks/210940015″ params="color=ff5500&auto_play=false&hide_related=false&show_comments=true&show_user=true&show_reposts=false" width="100%" height="166″ iframe="true" /]
I started mixing what I knew from my background in folklore with jazz, and all different kinds of music, even atonal beats that aren't really rhythmic to listen to. I got to know the programmes to use. I mixed everything on my keyboard. I didn't use discs or anything like that. A couple of people started telling me that I had some talent for making electronic music and I started getting into it. I mixed rock, electro dance, punk but then I moved away from that to more minimal electronic stuff and jazz. I try to favour the clarinet too, and the roots of my musical knowledge. There are loads of producers in Cuba, but most of them try to match or copy European styles.
They don't want to hold onto Cuban styles in their music?
It's not that they don't want to, but it's difficult to find electronic and folkloric sounds that work together. The most famous Cuban DJs don't know much about traditional music, classical music or music in general, but they have a good ear. They know the digital programmes and the general ideas.
So that's why you have something different to offer?
I think so. Due to the conditions in Cuba, the only country in the world without proper internet, many artists and creative people have ideas, but no way to research them.
The other day I was looking on YouTube, watching videos about mixing and using different programmes. You know how it is on the internet, you're just getting into something and they suggest something slightly related to it. So I watched a video suggested about David Guettas, then suddenly another one pops up called "The Worst Moments of David Guetta's career". After watching it I was totally astonished. Im doubting whether he even makes the music he sells and produces. He has a studio booked out and he just has to press play.
You can be tricked more easily in the developed world. It doesn't happen in my country; we don't have the technology to hide behind. If you go out to play in front of Cubans you have to do it well because they'll know, they really have their ears tuned in. If you fail, you'll never play again in Cuba! This is why I'm terrified before I play, trust me my girlfriend knows! I practise and practise, I think about what I'm going to wear and how I'm going to play. I barely sleep for days!
It sounds like a demanding environment for a musician. Will this all change soon now that Cuba is being "opened up" to the world? What do you think of the changes?
Certain things do need to change. People are always trying to create artistic groups in Cuba, and some have managed to, but it takes years. There are always complications. My country is very strictly ordered and there is so much bureaucracy. You have to be a music graduate to be able to busk in the street, which is completely illogical. People try to make a perfect country but you just can't. Art isn't like the First World either where everything is correct and orderly, it doesn't work like that. No one can tell an artist that they must have certain kinds of abilities or that they have to produce a certain kind of art.
Cuba is a demanding place for the arts, and in general it produces a lot of talent and creativity. It's strange that my country invests so much in knowledge and education and creativity, but it fails to reap all the benefits due to the restrictions in place. When people leave Cuba for a while they suffer a shock coming back. I went to Montenegro the first time I left Cuba and it hit me going back. Cubans only see public information, organised to make you believe in it. Apart from that, most Cubans have little access to information.
Do you think you'll always go back to Cuba?
Yes I think so. I've never needed to leave my country to do what I want to do. It's almost irritating though, coming to the First World, to the UK and then going back to what feels like 500,000 years ago! You get used to having things easy. In Cuba if we don't have something, that's it, and we're used to it. The thing is that here you have everything to hand, you have thousands of apps on your phone that stop you having to bother the guy sitting next to you. If you don't have to ever bother the guy right next to you there's a lack of communication, no connection and less human interaction.
Do you want to travel the world with your music?
Definitely. I've been here a couple of months and I've learnt things that Cuba hasn't taught me in 25 years. I've met totally different people and done things with my music that I can't do in my country. But I like my country, it's where I'm from. I'm like the typical Englishman that likes to live in London, that likes to travel, but that always wants to come home.
[soundcloud url="https://api.soundcloud.com/tracks/207977353″ params="color=ff5500&auto_play=false&hide_related=false&show_comments=true&show_user=true&show_reposts=false" width="100%" height="166″ iframe="true" /]

Follow Sounds and Colours: Facebook / Twitter / Instagram / Mixcloud / Soundcloud / Bandcamp

Subscribe to the Sounds and Colours Newsletter for regular updates, news and competitions bringing the best of Latin American culture direct to your Inbox.
Share: