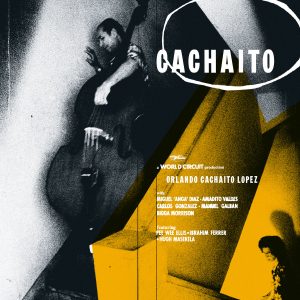 Review
Orlando 'Cachaito' López – Cachaito
World Circuit Records has been reissuing on vinyl various jewels from its trove of world music recordings. Their latest release is the superlative solo album of Cuba's brilliant bassist, Orlando 'Cachaito' López, titled just Cachaito.
I am as awed today by the elegance and mastery of each tune as I was in 2001 when Cachaito was first released on CD. Producer Nick Gold, who co-birthed the Buena Vista Social Club project and masterminded other great acts like Los Zafiros and Senegal's Orchestra Baobab, plucked outstanding players for Cachaito. As well as a selection of some of Cuba's most-eminent artists of the day, such as Manuel Galbán, Ibrahim Ferrer and a young Roberto Fonseca, there were also artists who may not at first seem attuned to the niche that the Cachao family of Cuban bassists had carved out of Western classical-informed son and Afro-Cuban jazz. On this list you will find Pee Wee Ellis (of James Brown's Horny Horns), organist 'Bigga' Morrison (Aswad's keyboard player) and even Hugh Masakela for a flugelhorn cameo. Together, they formed a universality of players to produce exquisite and intriguing sounds.
López wrote, or co-wrote, all the tracks save one, and each tune offers a new image, mood or experience; at the same time, the rich sound of his upright is the guiding principal throughout: languid, melodic, grounding.
Though Cachaito the album is refreshingly spare, giving one time and space to savor the sound, "Cachaito in Laboratory" is rather baroque. The tune proves a rich testing ground for the fusion of Cuba's already fused musical patrimony with disparate musical influences new to their purview in 2001. In the "laboratory," Cachaito and cohorts throw these elements into the air like confetti, allowing them to land on terra firma in a pattern of delightful colors. French hip-hop pioneer Dee Nasty opens with scratching turntables overladen by a barker's tongue-in-cheek rap extolling Maestro López's lineage. Ellis raises the ante with his funky tenor riding over Miguel 'Anga' Diaz' easy afro-conga beats, and 'Bigga' Morrison's Hammond organ contributes the finishing touches with brief reggae-referenced passages that end in soft swirls, whistles and trills. Cachaito remains in the background, quietly assertive, weaving through and around conga, bongos and assorted percussion.
"Wahira" is a soulful and bittersweet mambo-cha cha cha, the sort of tune that lulls you to close your eyes and just groove. Manuel Galbán's soft-spoken wawa provides counterpoint to Ellis' lines, plaintive and woozy here, a guise we rarely saw when he was draping the wailing Godfather of Soul. This is the only vocal track, bringing in Cachaito's compatriota, velvety troubadour Ibrahim Ferrer. López is very present here, sinewing between vocal and sax.
Cachaito borrowed "Oración Lucumi" from Arsenio Rodriguez, the Afro-Cuban bandleader, instrumentalist and composer, who was key in moving Afro-Cuban rhythms from sacred ground to ballrooms, nightclubs and concert halls. "Oración Lucumi" is given a sanctified update in a lovely integration of Afro-Cuban percussion with Afro-American jazzy syncopation, and touches of contemporary classical by way of a Kronos Quartet-style conversation of strings: violins, très, guitar, electric bass and Cachaito's upright, graceful and grand as a dancing bear.
Orlando 'Cachaito' López carried the mid-century tradition of superlative, influential Cuban music forward until his death, in 2009. His gift was to seam the polyrhythms and axé (spiritual power/energy) of Afro-Cuban music with African-American jazz as a virtuoso and emblem of his heritage. If I could award Cachaito more than 5 stars, I'd give it the galaxy.
Cachaito is available from World Circuit Records on various platforms.

Follow Sounds and Colours: Facebook / Twitter / Instagram / Mixcloud / Soundcloud / Bandcamp

Subscribe to the Sounds and Colours Newsletter for regular updates, news and competitions bringing the best of Latin American culture direct to your Inbox.
Share: