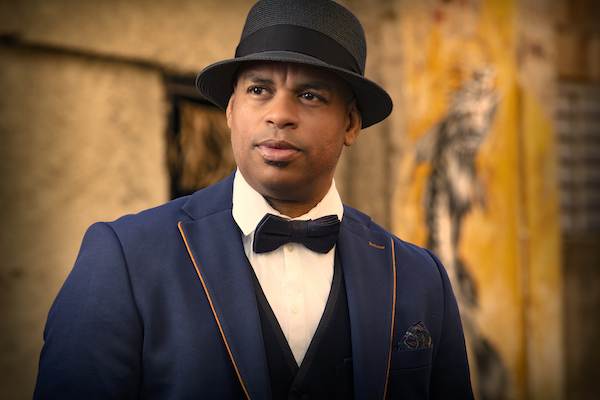 Pianissimo!
26 September, 2023
The release on Friday 22nd September of Roberto Fonseca's La Gran Diversión prompts me to reflect on what a bumper year it's been for piano-centric albums with a Cuban twist. Anyone who has ever seen that splendid documentary on the unique New Orleans style of piano-playing, Piano Players Rarely Ever Play Together, may appreciate my motives for highlighting these four fine exponents of the eighty-eights. We'll start back in early 2023 with…
Omar Sosa & Tiganá Santana: Iroko (ajabu!)
Something of a wandering minstrel, Omar Sosa seems to have spent his artistic life travelling the globe to collaborate with musicians like the Senegalese kora player, Seckou Keita, and bands such as the NDR Bigband. His many visits to France have even taken him twice to the annual jazz festival in Souillac in my own neck of the woods, affording the opportunity to witness his keyboard style: at one moment contemplative, playing sumptuous, resonant chords that can transport you to a spiritual dimension, and the next firing off long, rapid runs across the keys, at once both rhythmic and lyrical, in the manner reminiscent of Ahmad Jamal.  
Iroko, in the company of the Bahian singer-songwriter and master of what he calls the 'drumguitar', Tiganá Santana, is a glorious contemplative affair in which the two musicians naturally complement each other's ethereal impulses. The album takes its title from the eponymous orixá or Yoruban deity representing those who came before and what is yet to come. Suggestive of the gospel staple, "St. James Infirmary", the title track exemplifies how these two aesthetic artists work together with delicacy and refinement: piano, voice and subliminal percussion lifting music and listener to a higher realm. The way each note seems to resonate is characteristic of all 11 numbers on this sublime, ineffable album, surely Santana's finest since The Invention of Colour, still my gold standard for 21st century Brazilian music, and one more on a growing list of the peripatetic Cuban pianist's artistic triumphs.
---
Arturo O'Farrill: Legacies (Blue Note Records)
Perhaps the most purely pianistic album of the four I've chosen, Arturo O'Farrill's second album for Blue Note Records came out at the end of April. The clue is in the title. As someone who has "always been a jazz pianist first", O'Farrill explores the legacy of the past and his own roots as a musician, as well as the family legacy he honours and nurtures. Although born in Mexico and raised in New York, the pianist is effectively an honorary Cuban, as the son of the Havana-born Latin jazz legend, Chico O'Farrill, himself the son of an Irish father and a German mother. The son has been a diligent keeper of the father's flame – as pianist and musical director for many years of the Chico O'Farrill Afro-Cuban Jazz Orchestra, whose regular Sunday-night gig at Birdland eventually segued into that of his own Afro Latin Jazz Orchestra – and now seems focused on his own legacy, with his son Zach on drums in the trio numbers of Legacies, and both Zach and trumpet-playing son Adam featured on 2017's Familia (with Chucho Valdés).
The multi-Grammy award-winner is on blistering form on numbers like Bud Powell's "Un Poco Loco" and Thelonious Monk's "Well, You Needn't". He acknowledges the influence of former employer Carla Bley on her "Utviklingssang" and transforms Herbie Hancock's "Dolphin Dance" into an improvisatory tour de force that might have had that doyen of free jazz, Cecil Taylor, beaming from ear to ear. Whether it's with trio or as solo piano, the interpretations of compositions by other musicians or composers are dynamic and uncompromising. Curiously, though, my favourite of the nine numbers could be his own composition, "Blue State Blues". Whatever, Legacies certainly opened my ears to the coruscating brilliance of a pianist whom I'd previously known only really in the more forgiving context of a Latin jazz big band.
---
Harold López-Nussa: Timba à la Americana (Blue Note Records)
Another award-winning pianist with Cuban roots recruited by Blue Note's label boss Don Was is Harold López-Nussa. Timba came out at the back end of August. Since winning the prestigious Montreux Jazz Piano Competition in 2005, López-Nussa has featured on Gilles Peterson's Havana Cultura project, recorded Ninety Miles, also in Havana, with saxophonist David Sanchez, trumpeter Christian Scott and vibraphonist Stefon Harris, made the splendid Y qué (So What) in France with a bunch of young Cuban tyros calling themselves El Comité, and released a string of albums under his own name. Nevertheless, he confessed to feeling "this huge weight of responsibility because of the history of the [Blue Note] label. Don totally understood that. He had a lot of confidence in us, which gave us confidence. He wanted us to do what we were feeling, what we wanted to share."
That licensed confidence comes across on an album brimming with unbridled playing from the likes of the French harmonica star, Grégoire Maret, who lends the quintet its unusual timbre. The album's overall tenor is inherent in the titles of the numbers: "Funky", "Conga à la Americana", "Rat-a-Tat", "Tumba la Timba" and "Cake à la Moda", for instance. The uncertainty of leaving his native Cuba for the leader's new adopted country of France is there, too, in the numbers "Mal du Pays" and "Tierra Mïa", but similarly one of Maret's star-turns, "Hope", balances the pathos with optimism and a positive outlook.
It's not just the featured harmonica that makes this an unusual album in the Latin jazz cannon. The time signatures and song structures are equally distinctive, and López-Nussa gives particular credit to producer Michael League of Snarky Puppy fame. "He wants whatever can expand the possibilities – he just gets ideas flying around…," the pianist suggests. "There are some tunes you can think of as having the classic rhythms from long ago, rumba and conga and so on. Then there are some tunes where foundational rhythm is not that obvious, and there is some complexity, which I also love. But I didn't want to lose the groove." Harold López-Nussa loves to dance and loves it "when people are dancing. It says to me that the music is alive." Timba à la Americana is very much alive.
---
Roberto Fonseca: La Gran Diversión  (Wagram)
And so to the most recent release, Roberto Fonseca's 'great fun'. And how right the title is. Fonseca is someone who revels in "the classic rhythms from long ago, rumba and conga and so on." More than any other of these keyboard virtuosi, he is the pianist whose style seems most reminiscent of the illustrious Bebo Valdés, father of the equally illustrious Chucho. Having served his apprenticeship in the company of his elders and betters in the Buena Vista Social Club, collaborated with a whole host of significant others such as Fatoumata Diawara, Gilles Peterson and Ibrahim Malouf, and released a raft of acclaimed solo albums, he himself is now gravitating towards elder statesman classification. Here in France he was made a Chevalier of the Order of Arts and Letters back in 2019 for his contribution to music.
Recorded in Cuba and France, the new album builds generously on the nod to the golden heritage of Cuban music inherent in 2016's rambunctious ABUC. Big on brass and heavy on percussion, there's still ample room for the leader's exhilarating piano, which runs the gamut of indigenous styles from the lush, romantic boleros of "Oya" and "Mercedes" to such gloriously rhythmic and uplifting workouts as "Mini Mambo", "Cuanda Tú Bailas Pa Mi" and "Baila Mulata".
La Gran Diversión is a thrilling album that confirms the pianist's prowess in a range of styles and contexts. Above all, though, it's fun. Big fun. And one thing's for certain, Roberto Fonseca sure loves to mambo. He's touring Europe this autumn and winter, and I've got my ticket for his appearance next February at the Théâtre de Brive as part of the annual Bleu en Hiver festival. Yes indeed, should be fun.

Follow Sounds and Colours: Facebook / Twitter / Instagram / Mixcloud / Soundcloud / Bandcamp

Subscribe to the Sounds and Colours Newsletter for regular updates, news and competitions bringing the best of Latin American culture direct to your Inbox.
Share: