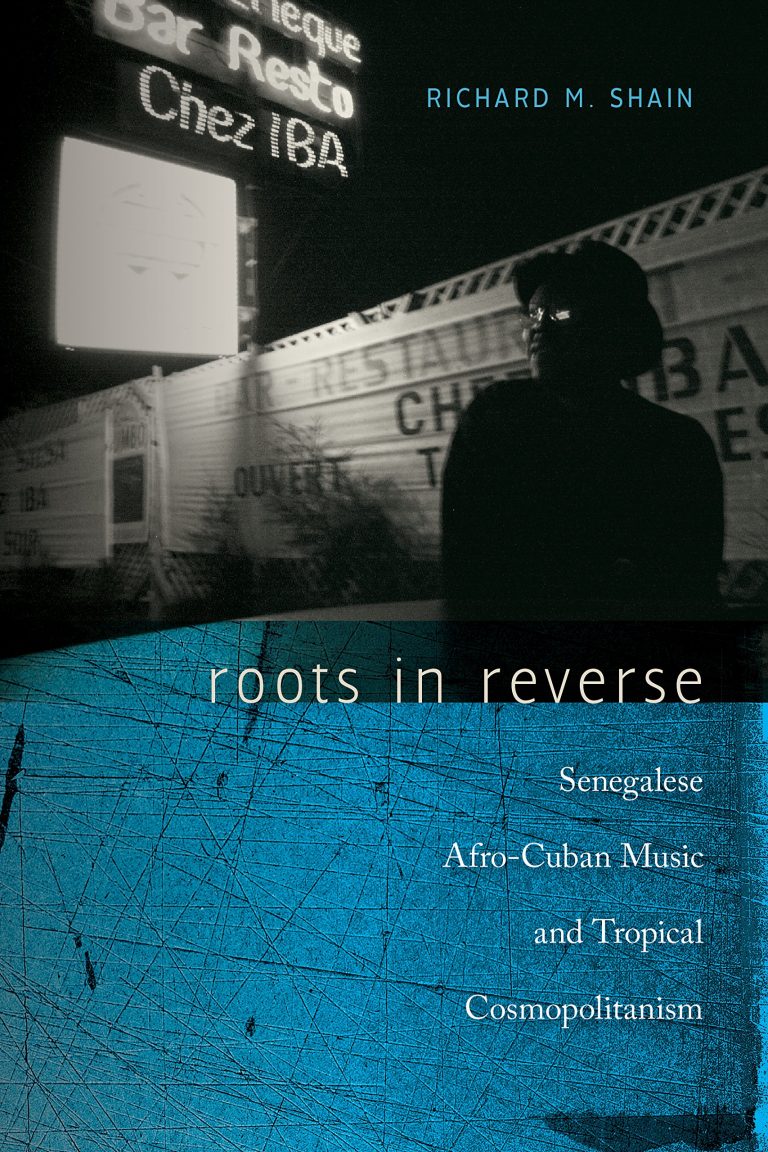 Richard M. Shain – Roots In Reverse
22 February, 2019
During the nearly four centuries of slavery in the Americas, 2.5 million Africans were brought to the Hispanic New World; among the few things they carried with them was their music, which became inflected by life across the Atlantic and new-found musical forms. In time, as the world grew smaller, the music, enhanced by the New World experience, returned triumphantly in the 1960s and 70s to Africa as Congolese rumba.
Richard M. Shain, in Roots in Reverse: Senegalese Afro-Cuban Music and Tropical Cosmopolitanism, explores the other vital African dance music with a similarly looped history: Afro-Cuban music returned to Africa and became embroidered in modern-day Senegal and its slivery neighbor, Gambia. Roots in Reverse is a valuable and living history of Senegambia's engagement with this music, framed by the dynamic of their new-found independence (Senegal gained independence from France in 1960; Gambia broke from England in 1964) and the resulting quest for authenticity, cosmopolitanism and modernity after the long, stifling stretch of imposed 'Western Civilization'.
Exhaustively researched and footnoted, citing numerous publications and a wide range of person-to-person interviews, Roots in Reverse is both scholarly and narrative, appealing to historians and cultural anthropologists as well as those who study and play music. The author has chosen inviting emblematic players to illustrate his story, making the read accessible for a lay person of what could be arduous and dry text.
Shain is currently professor of African, Caribbean, and Latin American Studies at Jefferson University in Philadelphia and has traveled Africa widely; he contributes a keen understanding of and feel for the music and its makers. Couched within the socio-political framework that marked the emerging African nations, the book relates how Senegambia's rich traditions met and meshed with the prevailing genre of Afro-Cuban son, to come undone in the last years of the 20th and beginning of the 21st century (son is quintessentially Afro-Cuban, percussion-driven with a defining off-beat clave rhythm, and the grand-dad of most of Cuba's many musical genres).
Statesman, poet, philosopher and more, Léopold Senghor (1906 – 2001), is the first and essentially contextualizing character, as he personified the polemic of how to create urbane, sophisticated centers of modern living and learning in post-colonial Africa, unburdened by the legacy of colonialism. To systematically address these issues, Senghor, with other like-minded black theorists of the developing world, birthed the Negritude movement.
Sénghor became Senegal's first president, serving from 1960 to 1980, during which time he greatly promoted the arts. He had been enamored of latinité, which was seen as a suave and cosmopolitan manifestation of 'black internationalism'. But as president, Sénghor provided no support to the growing interchange between Cuba and Senegal. In fact he disavowed Afro-Cuban music, which had taken a firm hold there, as students and intellectuals formed record clubs to share the music, while night clubs in Senegal's capital, Dakar, had begun to feature live bands. The proscription was in part due to Sénghor's antipathy towards Fidel Castro. More importantly though, his notions of modernity would not now allow for these funkier forms of popular culture. What amounted to a cultural boycott of music from the island was not broken until 1979 when Cuba's signature band, Orquesta Aragón, arrived for a tour.
Senegal's Orchestra Baobab was formed in 1970 to inaugurate the Club Baobab, one of the elegant boîtes in Dakar hosting the Afro-Cuban music of the day. They were destinations for a fashionable, educated and forward-thinking crowd in the new, modern Senegal. Orchestra Baobab was the expression of the euphonious marriage of Senegalese tradition and Cuban roots music, surrounded by markers of African authenticity that combined the past, present and inklings of the future.
The band was composed of super instrumentalists and vocalists from various regions in Senegal and beyond, incomparable in combining their soulfulness, sophistication and chops within the gentle genre constraints of 'Senegalese Afro-Cuban'. Baobab became the beacon for African intellectuals, artists and activists in this new Africa that found its authenticity by tapping into ancient traditions long-since planted in the Americas, and serving them up to a growingly cosmopolitan city of nightspots where the world order and Senegalese abstract painting might just as readily be discussed as their favorite Baobab tune; these clubs were also where women could now be seen out at night without a family member as her escort.
Orchestra Baobab epitomized the absorption of Cuban rhythms, including son-offshoot, the charanga, marked sweetly and bittersweetly by flutes and violins. Shain deconstructs the complex and eclectic sound produced by the band, comparing the sound to the lyrical big bands of neighboring Guinea, and emphasizing the influence of the members and music from the region of Casamance which borders the Lusophone country of Guinea Bissau. Here the music is more languid and romantic.
The band's full and stylistically diverse complement of vocalists provided a layer of magic, singing in phonetic Spanish, Wolof (the language of Senegal's dominant ethnic group) and in the Portuguese creole of Casamance.
By the 1980s Baobab's lustre had dulled and Senegal was in thrall to m'balax, a more rapid, percussive dance music grounded in Wolof traditions. From m'balax came salsa m'balax, but the sway and authenticity of son-derived Afro-Cuban was lost. Orchestra Baobab disbanded in 1987.
In 1998 Nick Gold of World Circuit Records and instigator of Buena Vista Social Club's meteoric success, laid out 'diasporic' rather than local designs for a revival of the band. He reconvened those players that he could, repackaged their old tunes and put Orchestra Baobab on the road again to sell an "ersatz nostalgia divorced from any sense of history or lived experience… Orchestra Baobab became a tree without any roots."
They did achieve world fame, however, even regaining popularity at home, and, in a bedraggled way, are still together, having released an album in 2017. The author's final lament, though, is telling: "What remains is a touristic tableau…the worn but sweet faces of musicians, and music divorced from the historical conditions and audiences that originally shaped it." Roots in Reverse is all about context, as it should be. The tableau is antithetical to the ideals of African authenticity and modernization free from the designs of the West. The author demonstrates throughout the book that he sees clearly through the eyes of progressive Africans with no agenda except that of fairness and independence for the continent.
The transatlantic loop closes with the story of an itinerant tune of Wolof folkloric origin, "Yaye Boy", and Africando, a band formed in 1992 around three Senegalese vocalists well-honed in the Afro-Cuban genre: Nicolas Menheim, Pape Seck and Medoune Diallo. Africando recorded their first CD, Trovador, in New York with the city's finest salseros. "Yaye Boy" happened not to be on the playlist. Trovador became a big hit in Senegal. But marketing strategies morphed Africando into a diasporic band of the day, marginalizing the Senegalese players and their sound. In the meantime Pape Seck recorded "Yaye Boy", his composition, with his old band, No. 1, blasting an opening piano riff borrowed from a 1964 roots tune by Nuyorican salsero Eddie Palmieri, "Bomba de Corazón". That riff was to become the song's money maker. Africando's producers then picked up the tune and let fly a straight salsa revival that jumped off from the riff.
"Yaye Boy" soon went viral, splashing down big time in Colombia and New York, where it cozied for six weeks as the number one Latin song in the city. In 1998, Orquesta Aragón recorded their charanga version, sung in Wolof and with beefed up African percussion, bringing the tune full circle. As Shain notes, "…what started out with Eddie Palmieri in New York as a nod toward Puerto Rican rural folklore passes through Senegal to end up with Aragón in Cuba as the epitome of musical urbanity."
The greater story comes full circle, too. Our Senegambian protagonists had carved out a direction for independent Africa abetted by the music of the distant past that had accompanied them as their legacy on their crossing into the New World. Their music returned to Africa with them as helpmates in advancing a modernizing society that still seeks strongly to safeguard the treasures of the past.
Roots In Reverse is published by Wesleyan University Press and is available from Amazon UK and Amazon US.

Follow Sounds and Colours: Facebook / Twitter / Instagram / Mixcloud / Soundcloud / Bandcamp

Subscribe to the Sounds and Colours Newsletter for regular updates, news and competitions bringing the best of Latin American culture direct to your Inbox.
Share: