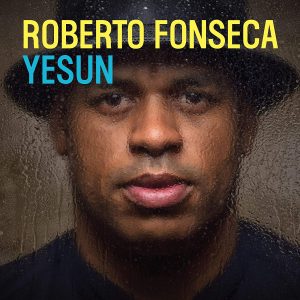 Review
Roberto Fonseca – Yesun
Yesun, Cuban pianist Roberto Fonseca's 9th release, is a work of vivid intricacies woven by a master hand. Scion of a family of Cuban headliners—his mother is a famed dancer and singer, and was formerly married to Chucho Valdés for example—Fonseca has used the rich legacy of family and island home to launch and hone a career exploring numerous genres and geographies. He's worked with Piers Faccini, Salif Keita, Sting, and many more far-flung and individualistic artists. Now, from these genres and geographies solidly backed by Afro-Cuban rhythms and jazz, comes Yesun.
Yesun is the album Fonseca confesses he has always wanted to make, one that best expresses the breadth of his music. His blend of savvy chops and the sense of devil-may-care that comes from doing one's own thing define the project. He wrote seven of the album's thirteen tracks, and arranged and produced them all. In addition, he's allowed himself kid-in-the-candystore time to indulge his fancy for electronica. Raul Herrera on drums and Yandy Martinez on bass complete the long-standing trio. Appearing, too, are a number of guest players and vocalists, including (quite ably) the maestro himself on vocals.
"Kachucha" tours a fetching landscape, beginning as Ibrahim Maalouf's magic trumpet weaves, dry and soulfully, through Fonseca's liquid cha cha. Maalouf hangs out unobtrusively with Fonseca and the chorus then breaks gingerly into a remarkable solo, softly searing and uplifting yet like a lament, as a newborn breaking from the womb. Fonseca's bare-boned beats offer a chunky yet fluid counterpart to Maalouf's lightness. He is a trumpeter like no other, and, although the encounter is brief, Fonseca and Maalouf demonstrate how to make beautiful music together.
Borrowed from the European classics, "Por Ti" is splendid. From an andante, brooding, and beautiful melody ("Chopinian" comments a musician friend) shared by piano and bass played in its highest, cello-like registers, Fonseca moves into a brighter, still languid section that builds slowly to a crescendo intensified by his ardent chords. Then silence. Followed by a brief return to the opening melody recapping the song's pure beauty. "Por Ti" makes one marvel at the way so many Cuban musicians, like Fonseca, have lavished with the utmost artistry their privilege to study European classical music and fuse it instinctively with the rhythms of their African inheritance.
"Vivo" is one of a sampling of tunes referencing jazz-rock fusion of the 70s and 80s. These songs, which include "Clave" and "Motown," vaunt the freedom that Fonseca so coveted to record electronica. There's a clear hats off to Weather Report here, and to its pioneering keyboardist, Joe Zawinul. Fonseca switches back and forth from acoustic to electronic before embarking on a lovely short acoustic passage. Joe Lovano takes charge of the groove with his riffing and wailing tenor sax, driven on by the partnering of traps and congas, and building into a spontaneous gospel experience, replete with hand claps. Herrera is playfully pugilistic and defining on traps. "Vivo" is fun and funky, and sanctified.
From a brief conga drum introduction by a self-identified "rumbero," "Clave" opens out into a reverb-ing ripple of wah-wah synth and acoustic keys, as Fonseca plays, crisscrossing the sounds as he crisscrosses genres, while adding a hint of funk to deepen the groove and help him relax into a jazzy solo. And then we're treated again to the cool ripples to close. There's lots going on on this clever track. It's nearly dizzying, but immensely satisfying.
In all, Yesun is an album of thirteen highly polished pieces, a testament to Roberto Fonseca's virtuosity and his ability to orchestrate disparate sounds into an expressionist tour de force.
Yesun is released by Wagram Music and available from many digital outlets

Follow Sounds and Colours: Facebook / Twitter / Instagram / Mixcloud / Soundcloud / Bandcamp

Subscribe to the Sounds and Colours Newsletter for regular updates, news and competitions bringing the best of Latin American culture direct to your Inbox.
Share: