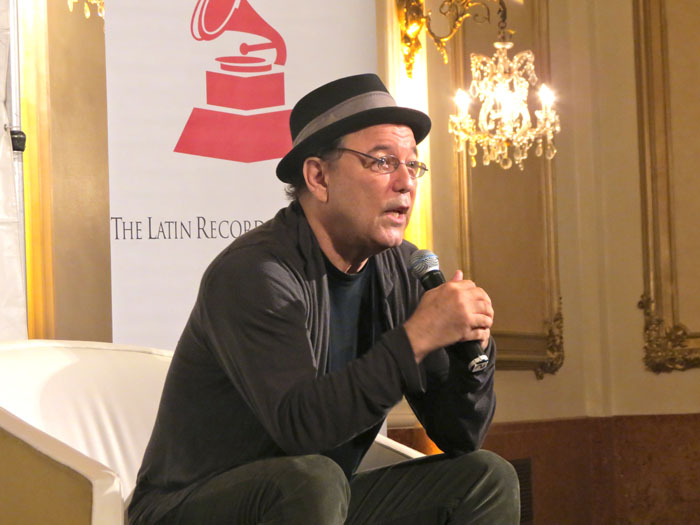 Gina Vergel/Ruben Blades gave a variety of advice at his LAMC talk
Ruben Blades to Latin Alternative artists: 'Don't give up'
19 July, 2013
It's tough for rabid salsa fans to imagine that success may not have come easy for many of the greats. Ruben Blades, for instance, found resistance when peddling his music in New York City in the 1970s.
"'Pedro Navaja' was alternative. Radio refused to play it," Blades told an audience at the 14th annual Latin Alternative Music Conference in New York City on July 10. "The song was too long for commercial radio … and also, they were like, 'Who is this guy? Willie Colon had a name at the time. I did not.'
"I like to say I was doing alternative music from the beginning with the understanding that no one knows what is going to be a commercial success," Blades told Gabriel Albaroa, president of the Latin Grammys, who played Q&A host to the legendary salsero, actor and one-time Panamanian presidential candidate.
Born in Panama and later becoming a New York transplant in the mid 1970s, Blades actually started making rock music before venturing into salsa, which he would put his unique touch on. As he worked in the Fania records mailroom for $125 per week, he met Latin jazz musician Ray Barretto and formed a sextet. But getting gigs in Manhattan at the time was no easy feat. A Bronx nightclub gave the band a chance to play, patrons started buying his records ("I told them to pay what they thought the album was worth") and he made a name for himself in the New York salsa scene.
Still, success on a larger scale evaded him. Eventually, he began working with the great Willie Colon, with whom he recorded the album, Siembra. His fans barraged radio stations with requests for "Pedro Navaja" and it eventually became his first single to hit big on New York City radio. (It had already become a mainstay hit abroad.) Blades laments that they edited it for length because it caused the narrative in the lyrics to not make sense.
"It went from a guy walking, and then there's a woman, and all of a sudden, he is stabbed. It was stupid," Blades said as conference attendees broke out into laughter. "Today, with the internet, the problems are less. You can get your music out there."
"I was like you," he told the audience, which included many Latin alternative musicians and artists. "'Pedro Navaja' was not supposed to work. It was not nice to hear 'this is a piece of shit' in front of your face. I didn't feel humiliated. We didn't care. Don't give up."
During the public question-and-answer session, Blades was asked a variety of questions from musicians, from how to "make it" to methods in which to keep a singing voice fresh. Enrique Chi, the Panamanian-born lead singer/songwriter of the Kansas City-based AfroLatino indie rock band, Making Movies, asked about songwriting for other artists, something Chi said had been suggested to him as an alternative source of revenue and networking.
Blades, who penned "El Cantante" for Puerto Rican salsa great Hector Lavoe and wrote the Spanish version of Michael Jackson's "I Just Can't Stop Loving You," said he largely avoided writing songs for others, "because then there's the suspicion that you're hoarding the good songs for yourself if the song doesn't become a hit.
"I plan to do some of that in the future, when I'm done," Blades said. "They say it's the singer, not the song, but I don't know."
Again, he used "Pedro Navaja" as an example.
"It was not supposed to work. I was like all of you. I didn't feel humiliated, though. We didn't care. Don't give up."
Blades himself hasn't stopped working, and his fans have much to look forward to.
He continues to tour, most recently in Colombia, and will perform a free concert in New York on August 7. And will there be new music?
"Everything that occurs to me these days that I have an opportunity to record, I'm going to do it," he said.
These new records include salsa with Boca Livre, a group from Brazil, boleros with famed flamenco guitarist, Paco DeLucia, and a tango album produced by Argentinian composer Carlos Franzetti and featuring Leopoldo Federico's orchestra. Blades also hinted at a rock album.
As for the big screen, he'll be found in Ridley Scott's next film, The Counselor, due out in the fall. He'll also have a key role in the upcoming biopic based on Panamanian boxer Roberto Duran, called Hands of Stone, and co-starring Venezulan actor, Edgar Ramirez, and Oscar winner, Robert De Niro.
He explained why he keeps busy.
"Don't think you'll be a millionaire because you're in the movies," Blades said. "Es una locura. (It's crazy.)"
http://youtu.be/vI5_qxzjCAw

Follow Sounds and Colours: Facebook / Twitter / Instagram / Mixcloud / Soundcloud / Bandcamp

Subscribe to the Sounds and Colours Newsletter for regular updates, news and competitions bringing the best of Latin American culture direct to your Inbox.
Share: