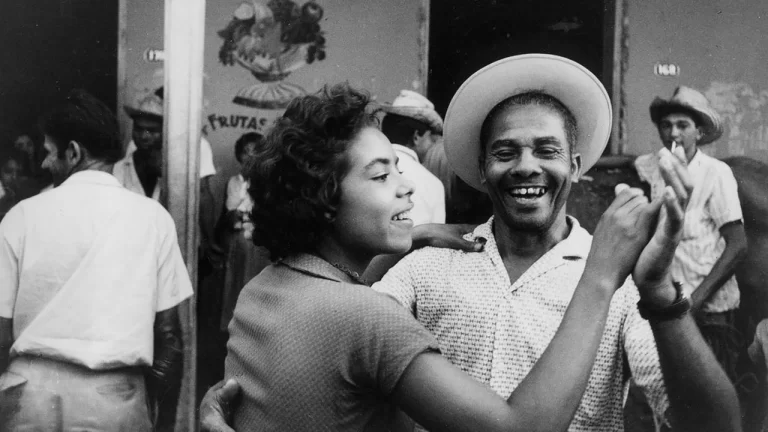 Salut les Cubains (Agnès Varda, 1963)
'Salut Les Cubains': Photographing the Revolution
11 May, 2022
Salut Les Cubains captures post-revolution Cuba through Agnès Varda's curious and optimistic lens. Made up of 1800 photographs taken on a trip to Cuba in 1963, this film-photo-essay shows a moment four years after the revolution in which the filmmaker searched for the cultural feeling at the time. What's captured is a series of joyful salutes to the people and places she came across, with music and rhythm bringing these photographs to life.
The Cuban Cinema Institute invited Varda to document her travels four years after Castro took power, spurring the making of these photographs into a documentary.
Agnès Varda began her filmmaking career in photography, studying the medium before moving into cinema and becoming a pioneer of the French New Wave movement. Her relationship to the camera is personal and always playful, this trademark position as a curious observer is demonstrated brilliantly in the film. Through filming the hundreds of photographs shot from above on 35mm film, the camera moves in a mixture of ways: in sequence to create a stop-start motion, or at random to the beats of music. The elements of the film are simple: photographs, voiceover narration and music, yet she complicates them, creating something experimental. The 30 minutes fly by, the form gives an interesting twist to documentary style through artistic expression. This style of merging of photography and documentary came at an interesting moment in time, in which the cultural prominence of photography as a medium was just beginning to form. Critical thinking around photography emerged with writers such as Roland Barthes and John Berger in the 1970s, and between now and then photography has changed rapidly as both an art form and a daily part of life. Between developments of the camera itself, visual culture, access to good quality cameras on mobile phones and sharing through social media, photography has now become part of our personal expression. Speaking about this topic for the BFI's brilliant film Agnès Varda: Filmmaker, Photographer, Instagrammer Varda describes everyone as becoming a filmmaker during this rapidly changing modern time. She says 'It has become so confusing, and beautifully confusing. Art is everywhere. The borders have been erased.' As Salut les Cubains is now streamable from MUBI, it is accessible to an audience that has instant access to photography as an act of personal expression, so ingrained in our day-to-day lives. 

Varda's fascination with Cuba and the revolution is shown through a positive outlook. The film has unsurprisingly faced some contemporary critique, specifically for its unnuanced and rose-tinted account of the revolution. Importantly, it shows just one perspective of a hugely complex moment in modern history. The documentary requires hindsight, to consider the time between when the film was made and how the revolution has changed Cuba up until now.
Varda was interested in capturing the revolutionary feeling, and her fascination with this social movement is shown through the people she photographed. Music is at the centre of this. 'Guantanamera' gently scores the film, we see Cuban icons such as Benny Moré photographed dancing along to his music. In the streets, bars and woods we see people come to life dancing to uplifting music. It is clear she was utterly enchanted by this, and her salutes to the people of Cuba are celebratory. In an interview she explained how there was a feeling of enthusiasm, what she witnessed at the time was a country so proud to be declaring freedom. She said 'I like people, they represent what I wanted to understand from that country'. Varda wonderfully captured people and music at the center of a moment of liberation, giving us her snapshot of the time.
Salut les Cubains is available on MUBI

Follow Sounds and Colours: Facebook / Twitter / Instagram / Mixcloud / Soundcloud / Bandcamp

Subscribe to the Sounds and Colours Newsletter for regular updates, news and competitions bringing the best of Latin American culture direct to your Inbox.
Share: