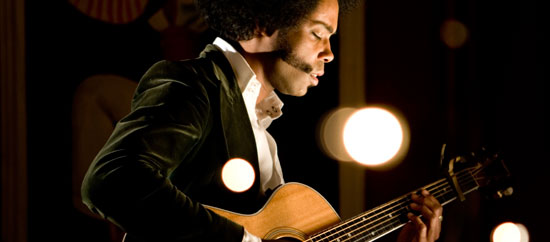 Alex Cuba: The New Face of Cuban Soul Rock
18 April, 2010
"He's like Marvin Gaye, singing soul to a new generation…" – Boston Globe
"You'll fall in love with Cuba's untamed voice. Even if you don't understand a lick of what he's saying, you'll feel him." – New York Post
Mangoes sprouting in the tundra. The new face of Latin soul thriving in a hamlet a day's drive north of Vancouver, British Columbia. This is the story of guitarist, singer, and songwriter Alex Cuba, who came into his musical own in the Canadian north and whose Cuban soul rock power trio flies in the face of conventional notions of what Latin music can be: gentle, hip, wry, and uplifting, with a twist of funk where Marvin Gaye meets Jaco Pastorius.

This new Cuban cocktail, whether served up on Agua del Pozo, Cuba's second album now finally available on CD with two new bonus tracks, or on his upcoming North American tour, has gone to the heads of fans from Ottawa—where a listener thanked Cuba for preventing her from taking her life—to Osaka, where Cuba was blown away by the audience response on his recent first Japanese tour.
It's won him the admiration of artists like Nelly Furtado, whose Spanish-language debut out in mid-September features a title track duet written by and performed with Cuba, as well as a distribution deal with EMI, critical acclaim, and top spots on iTunes and other charts.
But for the jovial artist with the awesome Afro, it's all about the music and what it can accomplish. "I am a very spiritual dude," Cuba smiles, "when it comes to music and things to say about life. On songs like the new track on the album 'En Armonia,' I am talking about how to find harmony in life."
Cuba's songs break the language barrier on a regular basis, wooing fans who might otherwise have limited interest in Latin or Cuban music and who don't speak Spanish. "It always blows me away to see that," Cuba notes. "More and more it's happening that I am going to places like Memphis, where I played two months ago, and I see people in the crowd singing the words. People are really dealing with the lyrical content of my music" even if only through translations.
Cuba's music itself and his less-is-more approach are a big part of the chemistry, and the reason a Cuban immigrant in the Canadian backwoods is the new and unconventional face of Latin music. "I get people telling me that my music really helped them get up in the morning. When somebody looks into your eyes and says your music saved their life because they were really depressed or something, that gets me totally excited and amazed." Cuba was deeply moved recently when a woman approached him after a show in Ottawa and let him know that the vibe in his songs had helped her reconsider committing suicide one bitter day, even though she didn't understand the words.
This chemistry got the attention of pop diva Nelly Furtado, who was contemplating a Spanish album and looking for just the right lyrical and musical feel. Her guitarist introduced her to Cuba's music and unmistakable style, and they hit it off instantly. "I can write with her any day any time. She feels the same," explains Cuba, whose sweet voice is different than what is typically expected in most Cuban music where vocals must compete with a 16-piece band. "Nelly told me one night, 'I like your vibe! You know, your writing is different and that's what I like in music.' She could work with anyone in the world. But that's what Canada has done to me, where it's unique and good to be different. It's starting to manifest itself as my music evolves."
Cuba's Canadian evolution transformed him, a kid from a small town near Havana, into a fearless independent musician stringing his beloved Gibson guitars with the heaviest, bassiest steel strings (which he plays without a pick). "When I went to Canada, I found this place very open, a new country, in many ways," Cuba reflects. "Canadians will embrace any form of art, as long as it's natural or honest. So I found a lot of space here to be myself."
Being himself meant finding new ways to play with the musical icons of his new-found home, as well as finding his own Cuban-inflected voice. So Cuba experimented with something thoroughly unexpected for a hip Latin artist: a Spanish cover of a Canadian classic by country rock band Blue Rodeo. "I first heard it when I came to Canada in 1996 and my first son Daniel was just about to be born. I loved it from the first listen, even though I didn't understand what I was hearing. Then I learned that the band is an iconic band in Canada that speaks to all Canadians. So I did it in Spanish. It's a bit like taking the Canadian citizenship test," Cuba laughs, "and now I am more Canadian than I was before." The song, "Arrepentido" ("Bad Timing") was released exclusively through iTunes and can be heard on the upcoming tour.
Leaping over boundaries has become second nature for Cuba, who revels in critical comparisons to soul stars like Marvin Gaye, indie darlings like John Mayer, and Latin cross-cultural masters like Carlos Santana. This hit home several years ago during one particularly challenging concert in New York, when he was faced with a crowd angry that he spoke in English, not Spanish between songs. Cuba quit the stage in disgust, had a falling out with his first label, and gained a sudden stroke of insight: He had to do his own thing, no matter what.
"It was a very important moment," Cuba recalls. "It told me what I should do with my music. I need to go to the trouble of finding the people who get my point." Though he released Agua del Pozo digitally last year to coincide with critically acclaimed tours, and he toyed with offers from major labels, for the physical release, he waited until the stars aligned to match his independent spirit.
"Harmony is all of us together," concludes Cuba. "That's what I want my music to do no matter what. If I have to go on my own to reach that; I do it on my own. I team up with people who really get it. I sing to people who feel what I am doing."
Milestones in the Musical Life of Alex Cuba:
* #1 Album on iTunes US Tropical (Agua del Pozo), #1 Album on iTunes US Alternativo (Live   From Soho), #3 iTunes US Alternativo Song Download ("Si Pero No");
* Two Juno Awards (Canada's Grammy) for Best World Music Album in 2006 and 2008
* Duet with Nelly Furtado, "Mi Plan," out on iTunes August 11, to be followed by co-written singles from Furtado's upcoming Spanish debut (September 15);
* Toured Japan, Europe, and other new corners of the globe to rave response;
* Sold out shows from New York to Cali before Agua del Pozo dropped;
* Well-received showcases at SXSW, CMW, WOMEX, and the Latin Alternative Music Conference;
* Strong, international online fan community;
* Full length recordings: Humo De Tabaco (2005), Live From Soho (Solo – iTunes 2008), Agua Del Pozo (Current)

Follow Sounds and Colours: Facebook / Twitter / Instagram / Mixcloud / Soundcloud / Bandcamp

Subscribe to the Sounds and Colours Newsletter for regular updates, news and competitions bringing the best of Latin American culture direct to your Inbox.
Share: