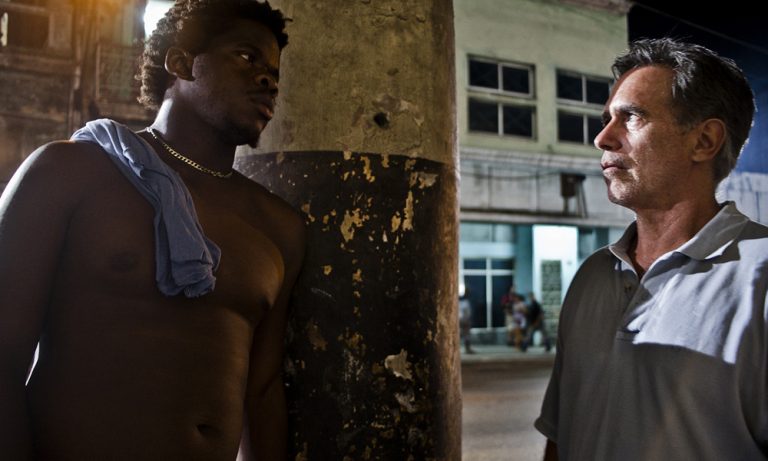 Últimos Días en la Habana
18 April, 2018
From the first scene Últimos Días en la Habana (Last Days in Havana) begins with a visual Cuban identity, starting with the sound of washing dishes and running water juxtaposed with a TV news report on the public health system of the Cuban Revolution. The camera zooms away from an emblematic sign that reads 'La Lucha' (the struggle) on an old dilapidated building to a typical street scene full of cars, bicycles, taxis and people, including Miguel Carrasco, one of the main characters in the film, played by Patricio Wood.
Miguel, a dishwasher, is a middle aged stoic man with dreams of living in the United States. Life in Cuba, the long lines and the constant pressure by the manager have become unbearable for Miguel's day in, day out existence. Another lead character is Diego Altuzarra Lopez (played by Jorge Martinez). He is bed ridden, living his last days with an incurable and painful illness. Yet despite this, he does not cease to be in the midst of everyone's mitote (gossip). He is humorous and lively in a room he describes as timeless. There is a clear bond between Diego and Miguel, who describe their childhood friendship, and clearly care for each other. Miguel is patient and introverted, monotonous and overtly serious while Diego is the opposite. Both live under the same roof.
In-between these characters it is Diego's niece Yusileydi Ramirez, the animal loving, rebellious, outspoken and comical youth that threads the film together.
Último Días en la Habana's narrative takes time to unravel. Instead of straying into the politics of Cuba, director Fernando Perez gives the viewer a glimpse of Cuban life toiling under difficult conditions and making the best of life with limited resources. It is a poetic film that contrasts hope and despair. The film is captivating, comical and moving. Each actor, from Fefa, an all giving seamstress, to the young male street host Pedro Perez Perez (P3), reflect the solidarity that everyone has with each other.
While Miguel moves around the streets of Havana lost in his own self-imposed heavy thoughts, street life moves to the ritmo (rhythm) of a Celia Cruz song, 'La Vida es un Carnaval.' Último Días en la Habana, a co-production between ICAIC (Cuban Institute of Cinematographic Art and Industry) and Spain, is an unfolding drama of multiple relationships that unites Cubans from all walks of life together.
Perez highlights the expressive rituals and the faith in Cuban society that keeps the social fabric lubricated with confidence. The film magnifies the making of a family that would not be complete without the incorporation of neighbours, families and friends. It is an impressive show of Cuban adaptability and their sense of humanity.
Últimos Días en la Habana is screening in Manchester on Monday 23rd April as part of the ¡Viva! Spanish & Latin American Festival 2018 at Home.

Follow Sounds and Colours: Facebook / Twitter / Instagram / Mixcloud / Soundcloud / Bandcamp

Subscribe to the Sounds and Colours Newsletter for regular updates, news and competitions bringing the best of Latin American culture direct to your Inbox.
Share: