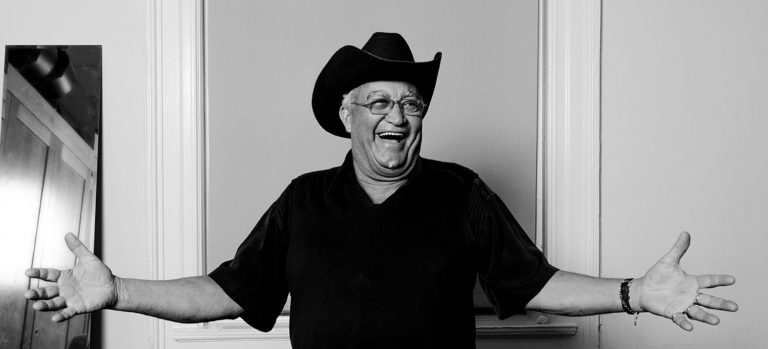 The World Keeps Changing: An Interview with Eliades Ochoa
19 April, 2018
Wearing his famous black cowboy hat, a mark of his guajiro, or peasant, roots, Eliades Ochoa stands out among the patrons of a central London café. Accompanied by his wife and biographer Grisel Sande Figueredo, the 71-year-old seems less than pleased to be doing promo work after an early morning flight from Madrid. While he might look worn out by the short hop from Spain to England, Ochoa has travelled a lot further than that over the course of a 66-year musical career.
From the streets of Santiago de Cuba to some of the most famous venues in the world, Ochoa has had an incredible journey. Famous for his collaborations with artists from Cuba and beyond, the guitarist has shown an incredible love for a huge range of musical styles. Many fans know him for his part in songs such as "El Cuarto de Tula", "Chan Chan", "Píntate los Labios María" and "Estoy Como Nunca," but Ochoa has also worked on the CubAfrica album with Cameroonian musician Manu Dibango and AfroCubism with Malian artists including Toumani Diabate.
"I like to collaborate with other artists because it opens the doors to both cultures," said Ochoa over coffee. "Music doesn't have borders." However for many years following the revolution Cuba was isolated internationally and traditional musical styles gained little traction abroad. That was until Ry Cooder brought Buena Vista Social Club together and shone the spotlight on musicians such as Ochoa, Compay Segundo and Ibrahim Ferrer, sparking a wave of interest in Cuban music that remains strong today.
As Cuban music grew more popular around the world, the country also started to see increasing influence from abroad. In the last few decades Cuba has become subject to many of the same musical trends as neighbouring countries, including the explosion of reggaetón. Despite his reputation as the godfather of traditional styles such as son and bolero, Ochoa is philosophical about musical fashion.
"The world keeps changing," he said. "After reggaetón another genre will emerge." Ochoa sees nothing negative in the evolution of Cuban musical culture. "Every genre has its audience," he said. "Young people like a lot of reggaetón but when a group starts to play a son, they get up and dance the son too."
Over his long life Ochoa has seen plenty of cultural changes, but he believes that one thing remains constant. "There are two kinds of music: good music and bad music," he said. "You have to try and make the good stuff."
Making the good stuff seems to come easy to Ochoa, but he emphasises that his relationship with the audience isn't all one way. "What I want is to make people happy," he said. "That's my biggest prize."
At his age most people would be considering retirement, but instead of drinking rum on his porch Ochoa has no plans to stop just yet. "I'll play and sing as long as nature allows me to," he said. "I love it and it keeps me healthy."
If music in general keeps Ochoa on good form, he has a special relationship with the crowd. "The concert will be a lot better if I see that the theatre is full," he said. "I'm going to see if I can work with the crowd a bit."
As well as his connection with his fans, it seems that Ochoa feeds off his new working relationships. After recently releasing a new track, "Preciosa," with singer Descemer Bueno, Ochoa decided to invite his fellow Cuban to London. The pair will be performing new songs for the first time at the Royal Albert Hall, and by now Ochoa has become more animated as he describes what playing live does for him.
"It's like a blood transfusion," he said. "It's what gives me strength, energy and health."
Eliades Ochoa will play at the Royal Albert Hall on Wednesday 25 April, as part of La Linea, London's Latin music festival. The event will also feature the UK premiere of the documentary Buena Vista Social Club: Adios, directed by Lucy Walker.

Follow Sounds and Colours: Facebook / Twitter / Instagram / Mixcloud / Soundcloud / Bandcamp

Subscribe to the Sounds and Colours Newsletter for regular updates, news and competitions bringing the best of Latin American culture direct to your Inbox.
Share: