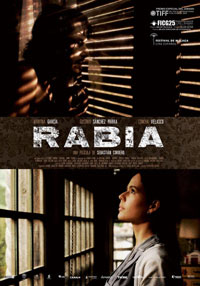 Migration is the Theme: Ecuadorian Films from 2010
24 February, 2011
The past months have been very productive for the Ecuadorian film industry, and its products offer an unprecedented insight into one of the most felt topics: migration. Though the country is relatively small, with only 14 million inhabitants, Ecuadorians represent one of the largest groups of migrants to the New York area and Spain. Almost every family in Ecuador has a member living abroad. According to government figures, 21% of Ecuador's population lives abroad. Migrants bring financial relief to their relatives, but migration also breaks normal family relations and brings about profound changes in the entire society. Last year's films showed different facets of this phenomenon: from people-smuggling and adjusting to a new country, to dying abroad. It is not the first time migrants' hardships made it on the big screen at the international level, but it is definitely new in this country. Why does it matter to Ecuador?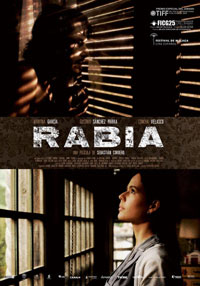 Rabia (Rage), 2009, by Sebastian Cordero
Sebastian Cordero is one of the best-known Ecuadorian directors, winning international recognition for his 1999 movie Ratas, Ratones, Rateros (Rodents). He received several international awards for Rabia. It pictures the lives of a South American couple in Spain. Rosa works as a maid in a mansion and Jose Maria works in a construction site. Rosa has papers to work and Jose Maria is illegal. They live so close to their employers but yet in such a completely different reality.
When Jose Maria kills his employer in an outburst of rage, he is forced to hide in the mansion where Rosa works. He becomes a silent observer of the house life. He plays an invisible role in protecting his girlfriend. The finale of the movie is rather tragic but with hope for something good yet to happen. In this movie one can see the types of people one can meet on his way to happiness in another country. Some people will help foreigners and will go out of their way to do so, some will abuse the situation.
Prometeo Deportado (Deported Prometheus), 2010, by Fernando Mieles
Prometeo Deportado is set in the airport of an unspecified European country. When Ecuadorian citizens land, they are locked inside the airport. People are squeezed in a small room to wait without any explanation. The film represents the diversity of Ecuadorian people: plain workers with clear dreams to send money and support to their families, a writer who narrates his own story, a sportsman who takes power by force. One couple is desperate to show that they are above others when in fact they are also just fleeing from their problems in Ecuador. The whole story takes place just in the room of the airport, therefore gives more attention to the dynamic of human relations in times of distress.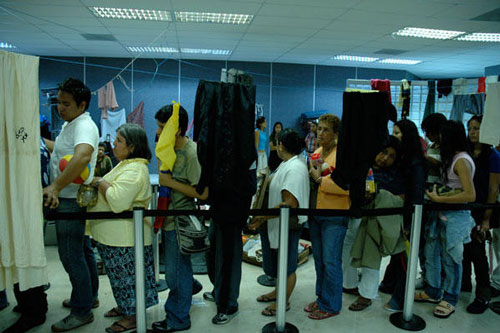 Zuquillo Expres, 2010, by Carl West
Zuquillo Expres grew out of a show on Ecuadorian TV and presents caricatures of some typical people that you can meet in Quito. The four main characters are women of different ages, who live in Quito's old town. Due to nearly tragic events in their lives, they want to travel to the United States looking for a better life. As they cannot easily obtain a visa, they contact a local coyote, a person who helps people in the US illegally. When they leave their hometown, it becomes obvious how much they love Ecuador; its culture, food and people. Through all of these events and disappointments, the film is full of comic scenes and typical Ecuadorian sayings.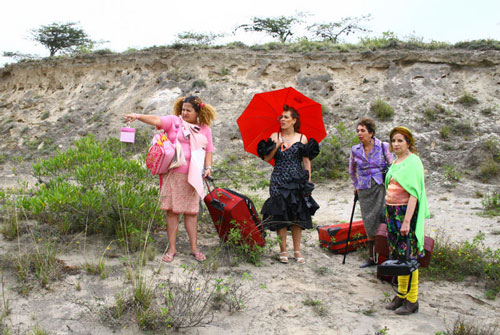 The movie depicts the lack of opportunities and hopes here in Latin America and the high expectations people have of moving to the United States. The social phenomenon of illegal smuggling finds its way to the big screen and viewers can see that coyotes prey on general lack of knowledge of the population.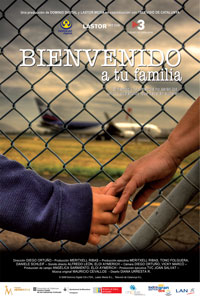 Bienvenido a Tu Familia (Welcome to Your Family), 2010, by Diego Ortuño
This documentary tells the story of several Ecuadorian families split between different countries. There are scenes filmed in Ecuador with family members waiting for their loved ones to come back and others trying to get the papers to go to Spain to see their family. Other scenes were filmed in Spain showing everyday life full of hard work and thoughts about children left behind in Ecuador.
One family was reunited after several years apart. When they are finally together, life does not match their dreams; parents have to adjust to each other again, the father works all the time, the mother lacks the support system she had in Ecuador. Another story focuses on a mother who lives in Spain for 7 years while her children are staying with their grandmother. The idea is to bring her children to Spain and help them have better lives. The husband however is not part of the family anymore as seven years is a long time to maintain relationships. Not all the stories get a perfect ending in this film, as in life.
Migration became a mass phenomenon at the end of the 1990s, when Ecuador went through a huge financial crisis, but it took a few years until it made it into the movies. As these films show, Ecuadorian people continue to migrate to other countries in pursuit of happiness. At the same time, Peruvians, Colombians and Cubans, among others, are migrating to Ecuador to work and support their families. As Ecuadorians have to work hard to help their families from abroad, the same takes place in Ecuador for those coming here. These refugees and migrants are starting to play a big role in the country, but it might take another few years until this new phenomenon is also reflected on the big screen.

Follow Sounds and Colours: Facebook / Twitter / Instagram / Mixcloud / Soundcloud / Bandcamp

Subscribe to the Sounds and Colours Newsletter for regular updates, news and competitions bringing the best of Latin American culture direct to your Inbox.
Share: