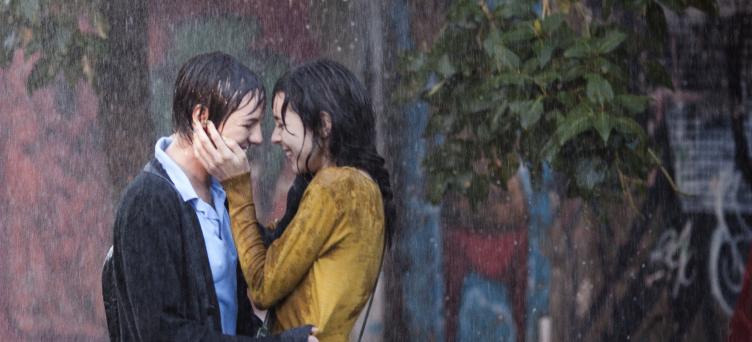 UIO: Take Me For A Ride
08 June, 2016
Micaela Rueda's feature UIO: Take Me For A Ride (Spanish title: UIO: Sácame a Pasear) is set, as the title of the film betrays – UIO is the code for the airport of Quito – in a middle-class neighbourhood of Quito, Ecuador. We have recently witnessed a variety of films exploring LGBT themes, but UIO: Sácame a Pasear covers this subject matter in connection with other key aspects. The film examines three different but interrelated themes: sexual identity, love and adulthood.
Sara is a 17-year-old teenager, in her last year of high school who is going through a difficult and unusual adulthood (especially compared to her classmates). She doesn't have friends, hangs out alone, isolates herself from her classmates and is often lost in her own thoughts. As the camera follows her from behind, we can observe her loneliness and the dissimilarity from her peers. However, things change rapidly when a new pupil, Andrea, joins her class. The two girls immediately develop an intimate friendship, which quickly becomes sexual.
This relationship unravels in a conservative society, which forces the two girls to hide it from everybody. This conservative and traditional environment is clearly established in a very early scene, in which we observe a high school teacher checking the uniforms of the female students. Going through the girls one by one, she makes sure that their skirts are long enough for the school's standards. Without a doubt, a homosexual relationship in such a society can cause strong reactions and non-acceptance. This is the case for Andrea, who, towards the end of the film, having been forced to reveal her secret to her family, appears with bruises on her body. We also hear a news story on TV about a young homosexual woman who was forced to stay in a rehab clinic in order to "cure" her homosexuality. However, Sara's family seems to react relatively calm to the big news.
Sara's feelings for Andrea cause her confusion and make her question her sexuality. However, this internal doubt is part of the whole rediscovery of herself. She is troubled not only because of her lesbian relationship but also because she is in a transformative period in her life. Her internal chaos is apparent in various scenes throughout the film: when her mother drives her to school, when she wanders around or when she's always distracted at class.
The ending of the film is quite open, leaving the audience wonder if the two girls indeed escaped. A mixture of beautiful landscape shots at the beach gives a feeling of freedom and independence, but it also creates a dreamy sense. The very last scene showing Sara crying in her bedroom makes us wonder if this magical escape is part of her dream or her hope for the future.
UIO: Take Me For A Ride was screened as part of the Ecuadorian Film Festival of New York, which took place 2-5 of June 2016.
http://www.youtube.com/watch?v=1MBaXOPkvzA

Follow Sounds and Colours: Facebook / Twitter / Instagram / Mixcloud / Soundcloud / Bandcamp

Subscribe to the Sounds and Colours Newsletter for regular updates, news and competitions bringing the best of Latin American culture direct to your Inbox.
Share: