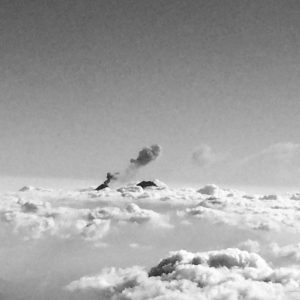 One of the most celebrated live acts to come out of Latin America in recent years, Daniel Lofredo continues to innovate, this time, with his new ambient project: Zoroxxe. The Ecuadorian producer has worked alongside some of the Latin American downtempo scene's most notable projects, participating in festivals and venues that have shaped the genre to the point where it is now. If that scene is stagnating, due in part for becoming a victim of its own formula, his debut as Zoroxxe brings fresh mountain winds to electronic music in the region.
From the self-titled intro, the proposal of textures becomes very clear: timbre is going to have a main role across this album. Zoroxxe takes a unique approach to the generation of ambient space, due mainly to its use of sample-based sounds. Using Andean strings from recorded tapes found in his grandfather's archives [more information on that story here], barely processed through analog samplers, Lofredo has found a very particular form of harmonics. Like generating a new type of instrument, oscillating and modulating throughout the piece. Or on "Vertigo", where the glitches that join the main sounds are proposing a rhythmic form while trying to avoid any concept of 'pattern': its randomness becomes its rhythmic root. Complex timbres are created that play what sounds like traditional Andean melodies. It reminds us of the sonic possibilities that can be found in sampling, when not just using the sound source in raw form with a kick and a bass line, and not naming it as an edit.
In an essay written by Daniel himself, he explains the concept in this way: "The intention was to make enveloping and disorienting sound. Melancholic and transcendental. The search was to avoid narratives and instead create 'time situations', an event instead of a product. That each theme is a habitable place, rather than an idea. That each subject was a living, throbbing organism. Let the process of its creation feel as it unfolds. As the materialization of an absurd premise. A paradox. Each theme a place willing to receive the narrative of which it inhabits. A desperate attempt to get away from the anguish of the narrative."
In a time where the tools to create music have developed to the point where anyone can make it, it is inevitable to realize that everyone ends up producing the same song. Downtempo and ambient aren't the exceptions. But on Zoroxxe one can see a creative perspective that comes right on time, to avoid further drowning in monotony. Escaping the ego of narrative and proposing sonic places, as Daniel himself calls it, will bring new water to the creative landscape of electronic musicians, trying to expand their local rhythms, with respect and the future in sight.
Listen to Zoroxxe on Bandcamp

Follow Sounds and Colours: Facebook / Twitter / Instagram / Mixcloud / Soundcloud / Bandcamp

Subscribe to the Sounds and Colours Newsletter for regular updates, news and competitions bringing the best of Latin American culture direct to your Inbox.
Share: