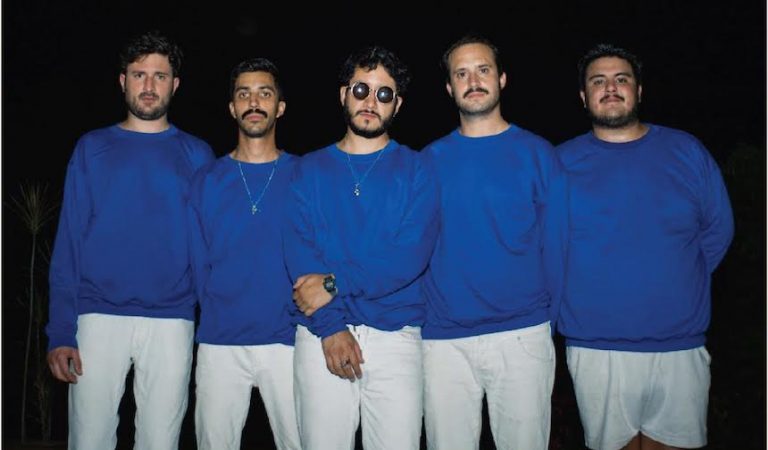 Beyond the Wild River: An Interview with Little Jesus' Santiago Casillas
30 August, 2017
About 3 years after releasing the catchy and intimate Norte, México D.F.-based pop/rock outfit Little Jesus surprised us with Río Salvaje: a splendid collection of tracks which deviates from the debut's organic and uncomplicated nature, to a much more sophisticated and colorful set of tunes. Right In the midst of the band's extensive promotional tour for Río Salvaje, we spoke to founder and frontman Santiago Casillas about the current state of the project:
Upon hearing Río Salvaje, it seems as if you guys were going for a more grandiose and detailed sound. How did your identity evolve during the period between Norte and the latest record? What elements has the project incorporated?
Our first record was basically put together on an acoustic guitar. It was just a bunch of songs written to be played around a bonfire. On the other hand, most of the tracks on Rio Salvaje were born out of us jamming together. It's a more improvisational record. Probably the only song in which we kept the Norte way of doing things was "La Magia".
How about your live shows. Has anything changed on that front?
Probably the Norte shows had more of a punk vibe to them. For instance, I didn't use any guitar pedals. It was just a matter of going on stage, plugging our stuff in and rocking out. With this record we're aiming for a more stadium rock-inspired kind of show. Since the new record has a lot of synth/drum machine stuff that we didn't want to play with a sequencer, we added a couple of members to the live band. We're trying to offer a huge, powerful a-la Arcade Fire kind of experience where we can have lots of people on stage and three or four guitarists playing at the same time.
Any particular live experiences from this tour you'd like to mention?
Playing Plaza Condesa in México DF for Río Salvaje's release was quite surreal. People were singing along to the new songs and that was amazing. I feel it was a step ahead in our career, where people went from seeing us as this young promise, to more of a serious, grounded project.
That's interesting. Especially now that you guys have this vibrant festival scene in Mexico.
Yeah. Nowadays there's this festival fever going on in here. I remember 6 or 7 years ago, there weren't many large-scale festivals. It was basically Vive Latino and this other festival that used to bring a few international acts. Nowadays it's quite different. Mexican cities are packed with people, and a lot of them are big concert fans. These days it's like there's a big festival every month.  Vive Latino is still there, but you also have Corona Capital, which usually comes up with a huge lineup, NRMAL, a smaller, yet awesome festival, Ceremonia, which brought Björk this year…
It's massive, and unlike places like Spain, where most festivals take place during the summer, here it's an all year round thing.
Is it also an all-city thing?
El DF, Monterrey and Guadalajara (the country's largest cities) are the ones that hold these huge festivals. However, this year the festival fever has spread to other smaller cities.
 Let's go back to the record. You guys just re-released Río Salvaje on Nacional Records, which has been propelling Latin artists in the U.S. for a while now. Do you guys feel there's a strong Latin-music market in North America?
I'd like more English-speaking people to be interested in Latin artists. However, it's comprehensible that people don't like music in which they don't understand the lyrics. That being said, there's still a big chunk of North-Americans who like what we're doing. For instance, we recorded Rio Salvaje in this Texan studio called Sonic Ranch, and one of the people who worked there was this Texan kid who only listened to Mexican bands like Porter and us. His friends were also into our stuff, which was pretty cool.
Tell us a Little bit more about your time at Berklee. You got to play with other members of Boston's latino music colony such as Gabriela Jimeno (Ela Minus) and Mateo Lewis. What was that like?
Gabriela and Mateo were some of my first Friends once I arrived to Boston. They actually played with me when Little Jesus was more of my solo project.  I was also good friends with Elsa from Elsa y Elmar and  Lorely Rodríguez (a.k.a. Empress Of). We were together all the time and really got to help each other out at a time when each one of these projects was just being born. It was quite an experience.
¿Any current Mexican projects you'd like to recommend to us?
There's this band I really like called Vaya Futuro. They're from Tijuana and have this mellow brit-pop sound. Other projects include Clubz, who are doing great in Spain, and Camilo Séptimo, which is pretty big in el DF right now and will quite likely become more popular as time goes by. I'd also like to recommend the new The Plastics Revolution EP Seres Extraordinarios.
Great! Any new stuff from Little Jesus coming any time soon?
Right now we're focused on the live shows, but we're definitely cooking up a new record. We have no complete songs written yet, but we're playing around with different sounds in order to determine what our next album will sound like.

Follow Sounds and Colours: Facebook / Twitter / Instagram / Mixcloud / Soundcloud / Bandcamp

Subscribe to the Sounds and Colours Newsletter for regular updates, news and competitions bringing the best of Latin American culture direct to your Inbox.
Share: