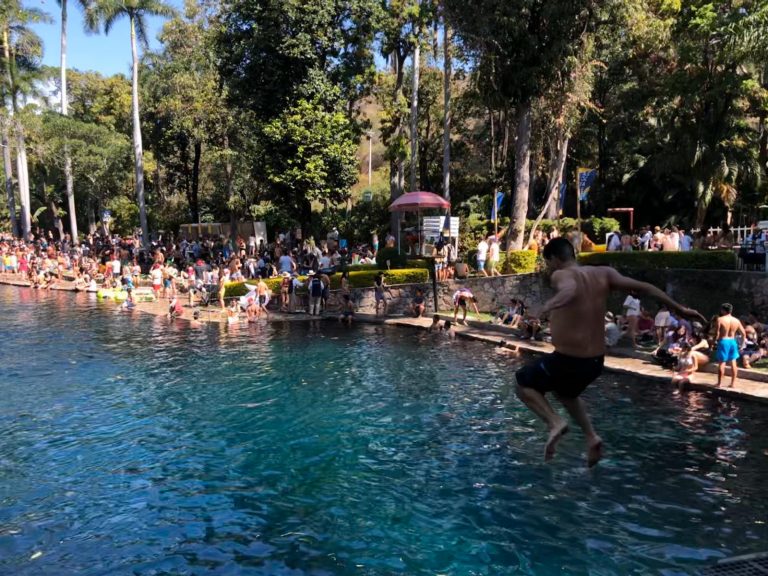 Carnaval de Bahidorá: Come for the Experience, Stay for the Music
20 February, 2020
Even without the music, Carnaval de Bahidorá, now in its 8th edition, might be the most beautiful festival location on earth. Set in the natural reserve of Las Estacas, two hours south of Mexico City, it's an ideal setting for a festival, and the audience know it. They come in face-paint and meander between the snaking river, ample green spaces, hide-away stages and art installations dotted around the site. It's immaculately decorated and infinitely Instagrammable. There's also a lot of branding. When I go to fill up my water bottle, I'm politely asked to remove the identifying sticker. As well as 24 hour music there's yoga and meditation sessions, film screenings and panel discussions and a scattering of massage tipis (there's an alternative 'Spahidora' experience on offer).
Given all the attractions, I can't help feeling that for a lot of the crowd the music is secondary. The first few people I speak to can't name check any of the line-up. Maria, from Cuernavaca, says she tried to research them. "I looked a few up on Spotify, but I didn't really get into them. I'm more here for the experience".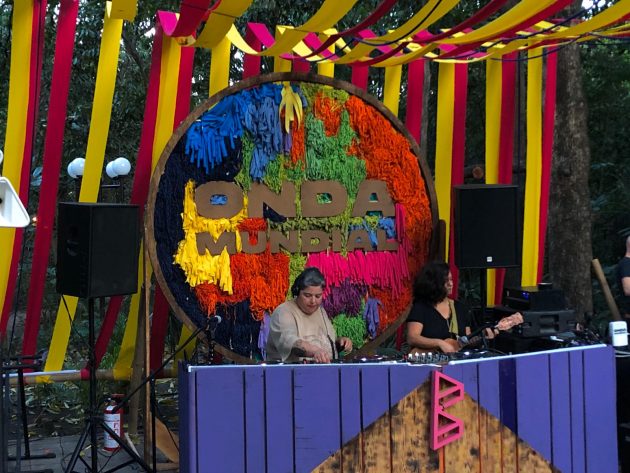 For those paying close attention, this year had a strong Latin feel. Partiers who arrived Friday are treated to a house-tinged techno set by Adriana Roma, Mexican DJ and co-founder of Womxn, dedicated to empowering and increasing the visibility of female producers. Over the bridge and through the labyrinth of tinsel and colorful fabric, in a island stage encircled by trees and a makeshift roof of dream catchers, Onda Mundial – a collective of Latinx musicians and DJs – is showcasing their roster. Dj Guagüis opens, also known as Ali Gua Gua and singer of Kumbia Queers. People drift in from putting up their tents and are treated to rolling, psychedelic cumbia and son jarocho. The night begins its ascent with Brazilian DJ Exz seeing in the early morning with deep electronica; by the time Roderic, a Monterrey native, takes over, the front row take off their tops and the festival is officially in full swing.
Back on the main stage Chicago based Sound Signature label have taken over. Nicole Misha opens with a beautiful blend of house and disco; there's a seismic shift when she throws down Gwen McCrae's "Keep The Fire Burning". Designed for maximum comfort, vendors slalom through the crowds selling beer and cigarettes. Theo Parrish delivers a high intensity 4-hour set; I keep my phone to hand to Shazam every obscure disco track. I'm reminded of a Joey Negro quote that disco was just a genre with an unusually long run, one he couldn't see people partying to in a hundred years. I'm not sure Friday night's crowd would agree.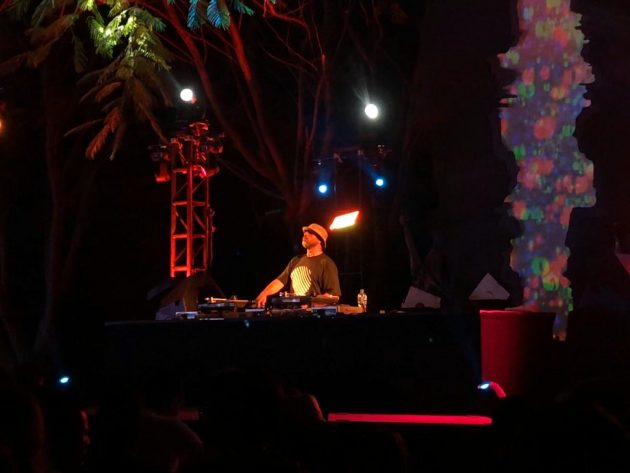 Saturday I joined a few dozen other early risers (or all night partiers) for morning yoga. We're shoulder to shoulder and there are no mats left, but the teacher adapts and the stretchers are light and cheery. As we lie down for a closing relaxation the adjacent stage booms into sound-check, but the crowd are nonplussed and eager to transition from downward dog to dancing warrior.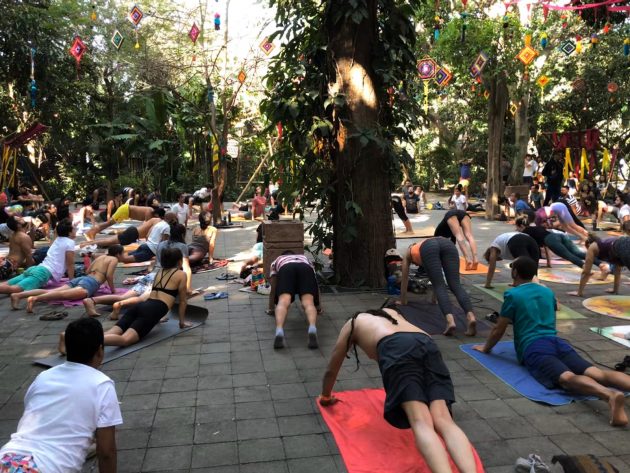 At midday La Estacion is opened up by La Redada, who describe themselves as a 'multi-region commando and danzón sextet' based in CDMX. They get the crowd out of the river and shaking themselves dry to their blend of fuzzy danzón, synth heavy cumbia and boogaloo.
They are led by drummer Carlos Icaza, who also showcases Mexican rarities under his DJ alias Tropicaza. I admit I'm finding the line-up a little overwhelming. Carlos acknowledges the dread of choice paralysis: "It's the only thing I don't like about festivals – there's so much going on! It's easier when there's less competition". But he stresses that the festival is excellently curated: "Lucia Anaya (of Onda Mundial) has really pushed female and Latinx artists. We have a lot of interesting music in Latin America that's not very well known. We (La Redada) aren't so famous; but we have four albums out, we've toured Europe… But we don't have a Mexican manager – we're not very good at promoting ourselves! So it's great they're promoting Latin acts. People come to this festival because they want to discover something."
Carlos introduces me to Alfredo Bello, a leading Brazilian ethnomusicologist and producer, alias DJ Tudo. Alfredo has been doing extensive field recordings of Brazilian religious and celebratory music for over a decade. He's incorporating some of these field recordings into today's set ("You can Shazam it, but I'll play a lot of unpublished stuff too", he winked). He agrees that the festival curates to a varied crowd: "In other festivals it would just be electronic DJs; here there's live music, Latin and African beats. Before me is Habibi Funk playing Arab music – the organisers have a very holistic vision." I spend Tudo's set swimming upstream and then allowing the current to float me back to his stage. If I let it, it will pull me past two other stages and into the heart of the park. He plays an eclectic mix of afoxê, carioca and afrobeat, and as soon I'm online I gorge on his back catalogue.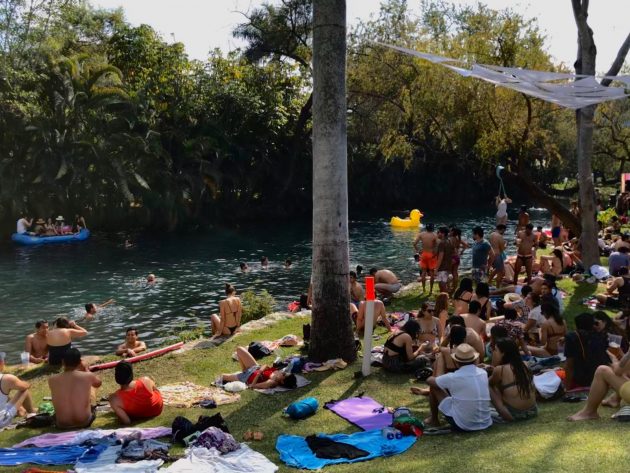 Saturday night arrives with a bang though Brazilian project Teto Preto. They make an intense blend of techno, house and jazzy brass, and their performance reflects their roots in visual and performing arts. They are rapturously received. Loic Koutana comes out and hugs the crowd, and soon they're joined by fellow Mamba Negra resident DJ Malka, who adds her signature electronic violin to their set.
I try and find one of two stages that I know exist but don't appear on my map, and in doing so stumble across the reggaetón tent. It is pegado. Much later I'll find the hidden stage, past the light display projected onto the water, where a drag performer is singing 80s synth pop to an adoring crowd.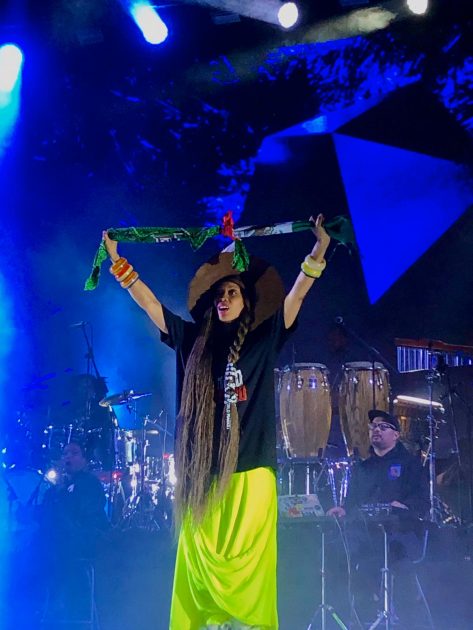 Erykah Badu is an electrifying presence. She comes on to "Hello", which becomes 'Hola', and breaks into a cosmic version of "Caint Use My Phone". The crowd goes wild for a stripped back version of "Green Eyes", during which she gets thrown a hat and a Mexican flag – she parades both proudly. Clearly emotional, she gives a heartening closing speech: "It's my first time in Mexico. But you know what? I'm from Texas, and Texas is Mexico." She does a long selfie video on somebody's phone (now worth more than its weight in gold), and just as she appeared, she's gone. My energy gives way after house legends Masters at Work and I drag myself back to the campsite.
Sunday morning yoga is not heavily attended. Our teacher asks if anyone's been up all night – there's a few nods of admittance. Scattered around are people passed out on cushions. Others attempt the class but promptly fall asleep on their mat. Stretched awake, people drift in direct directions – there's enough on offer that you could never see a live act. As I leave yoga they're preparing for a cacao ceremony, then a music-therapy session, and later a series of workshops on reducing plastic consumption and sustainable fashion (the park itself is kept spotless by the omnipresent staff).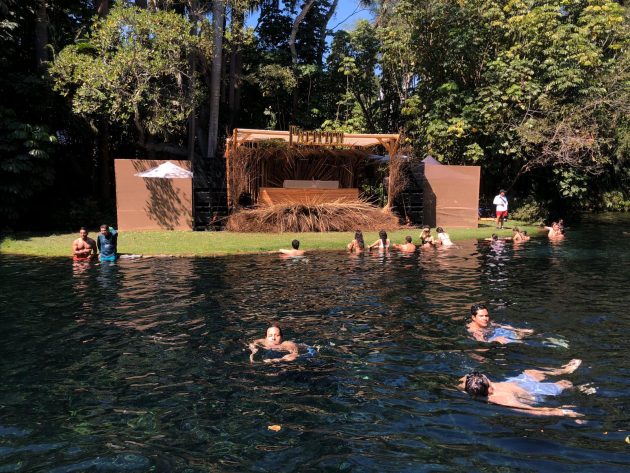 DJ Coco Maria sees in the midday heat with numbers from Tom Zé, Os Mutantes and some jazzier house. Crowds gather for Sister Nancy, who gets a great reception when presented as Jamaica's first female dancehall DJ having begun at 15 (now 58). After Sassy J delivers a whirlwind closing set, the crowd starts filtering out as people go for a final dip. The keenest ravers have bought tickets for the closing party, delivered as the sun sets by Sunday Sunday, a day party in CDMX in true Mancusian Loft party vibes. Invited guests include Tijuana producers Soul of Hex and Mexican-bred DJ Puma. The 'Secret Guest' on the lineup turns out to be an intimate show by Louie Vega, who tears the roof off, but my bones are aching (the yoga) so I leave the devotees to see in the sunrise.
If people come for the experience, they stay for the music. You can't help feel that the organisers draw people in with a pristine social media offering to covertly showcase them a curated line-up of Mexican, Latin and international artists. I put my thoughts to Juan Fortis, a DJ from El Salvador, based in Mexico City in 2016. "Oh almost nobody comes for the music. But they're shown things they'll like". He stresses that Bahidorá is unique in offering Mexican audiences music from black performers they might not know. "Black music isn't a really big thing in Mexico. People aren't big into hip-hop or R'n'B… so bookers tend to avoid it. But Bahidorá have gone for that – every year has a strong African-American performance: Blood Orange, The Internet, De La Soul… this year they had Goldlink, Channel Tres and Erykah Badu back to back. They're exposing a Mexican audience to that music". And it's not a job musicians can do alone. When Carlos Icaza tells me his band is bad at self-promotion, Alfredo (DJ Tudo) roars in agreement. "We're musicians, first and foremost we have to make music. We're not publicizers".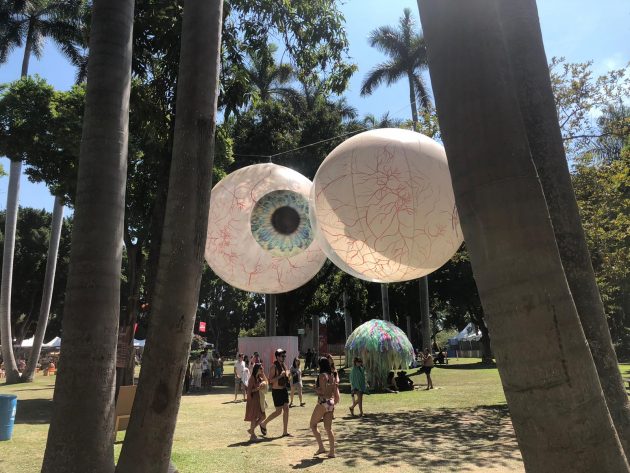 On Friday night, I was heartened to see the crowd recording and taking photos of Theo Parrish's set. A guy next to me films half of it for an Instagram story. Sure, he spells it Parresh, but at least now he knows who he is.

Follow Sounds and Colours: Facebook / Twitter / Instagram / Mixcloud / Soundcloud / Bandcamp

Subscribe to the Sounds and Colours Newsletter for regular updates, news and competitions bringing the best of Latin American culture direct to your Inbox.
Share: