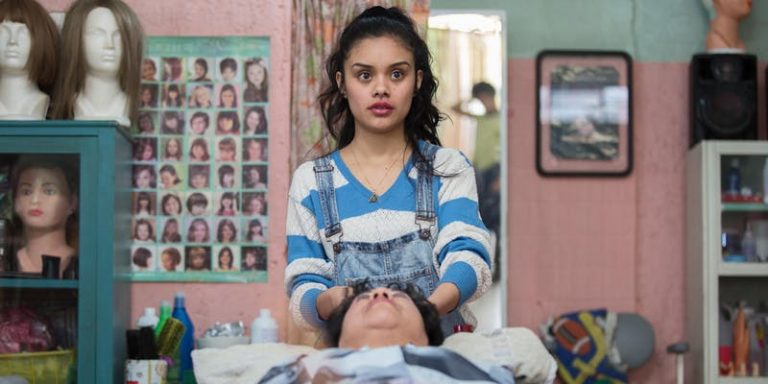 Chicuarotes
16 September, 2019
Chicuarotes is set in the heart of the indigenous community of San Gregorio Atlapulco, located in Xochimilco, in the south of Mexico City. The title, chicuarotes, comes from an extremely spicy and resilient chili pepper endemic to the region, also used to refer to the local residents who share similar characteristics with their tenacious nature. Having premiered at the 2019 Cannes Film Festival as well as featuring in the Toronto International Film Festival and Chile's Santiago International Film Festival just to name a few, García Bernal's spellbinding second film is more relevant today than ever, in the context of the current disquieting situation in Mexico, increasingly consumed by barbarous violence and dwindling opportunities.
The film hurls us into the lives of two reckless teenagers hailing from an impoverished indigenous village, tirelessly seeking a brighter future. Both are totally devoid of love; one has a dysfunctional family life full of never-ending violence, whilst the other is a dejected orphan. From the get-go, we see the boys' adrenaline-fuelled antics unfurling, hopping onto a local bus dressed as armed clowns, grabbing all they manage to nab. Cagalera (Benny Emmanuel) is the unruly ringleader of the desperate duo, meanwhile Moloteco (Gabriel Carbajal) is the more uptight and jittery, subservient to his controlling counterpart. The troublemakers hatch many harebrained schemes whilst engulfed in hopelessness; counting on a hefty ransom kidnapping the young son of the local butcher, as well as attempting to rape a girl in a botched blackmail attempt.
If there is any hope, the female characters represent it. The male characters constantly resort to violence both in order to obtain something they desperately want and to reaffirm their toxic masculinity, putting the women in their place. Baturro (Enoc Leano), the boozy 'father', heartlessly wallops his wife and almost slays his own son during one of his sudden sadistic outbursts. Tochi, his wife, has a quiet, passive demeanor, refusing to retaliate and fuel his domineering actions. Sugheili (Leidi Gutierrez), Cagalera's lover, also acts as a beacon of hope, offering a few words of advice during the most heated moments, steering Cagalera away from making bad decisions.
In general, the predominant viewpoint is that extreme poverty is what drives these youths to commit crimes and seek a way out of their dead-end town. Yet, it is rather the complete absence of love and affection, essentially a cavernous void brought about by a lack of sense of belonging, which forces these people to do what they do. Cagalera and Moloteco become unwittingly tangled up in petty violence, because they cannot see another way out.
Fusing drama and comedy, Chicuarotes is a captivating watch, brimming with deep despair and distant dreams. This action-packed feature full of unexpectedness is certainly not for the faint of heart. This is the tale of Cagalera and Moloteco, but also of many other Mexican youths who are left to fend for themselves. There is a lot of ambiguity about the ultimate takeaway of the film, with plenty of questions to ponder. Is violence ever the answer? Does violence just incite more violence? These characters are the forgotten ones within Mexican society, left to their own fate. The film renders them visible, forcing us as viewers to reflect on their plight, and perhaps bestowing on them a whole new identity.
Chicuarotes will be screening at the Raindance Film Festival in London (18th-29th September 2019). Tickets available from Eventbrite.
Watch the trailer below:

Follow Sounds and Colours: Facebook / Twitter / Instagram / Mixcloud / Soundcloud / Bandcamp

Subscribe to the Sounds and Colours Newsletter for regular updates, news and competitions bringing the best of Latin American culture direct to your Inbox.
Share: