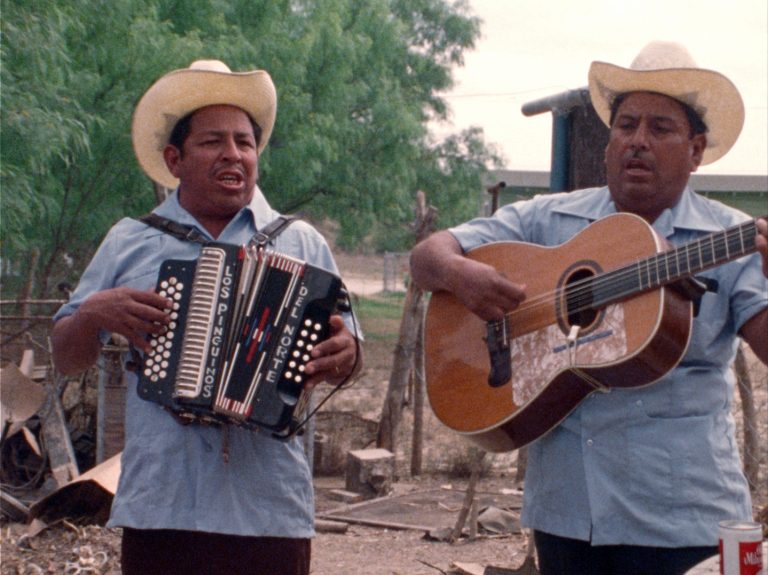 Chulas Fronteras / Del Mero Corazon
23 March, 2020
Chulas Fronteras (Beautiful Borders, 1976) and Del Mero Corazon (Straight From The Heart, 1979) are two documentaries from film-maker Les Blank that pan across the Tex-Mex border's cultural life in the 1970s and the role that norteño, ranchero and corrido music played in border towns and the South West's imaginary landscape.
In the first minute of Chula Fronteras the film establishes the hermandad (brotherhood) between border communities along the Rio Grande and Rio Bravo. By drawing attention to a waiving Mexican flag across Brownsville, Texas to a bumper sticker with green, white and red stripes that reads Chicano, Blank unifies the Mexican American identity with Mexico. A blue vehicle transcends across the milky brown Rio Grande on a man-made raft. There is none of the urgency that is found in the border crossing these days.
The musical narrative in the film addresses the challenges, the hardships, hopes and love stories of everyday. In between interviews and dances the narrator sheds light on songs connected with the struggle in the Chicano/Mexican American community.
In the "Melon Song" the lyrics sing of two victims' of brutality and the racial tension from the Texas Rangers on Tex-Mex farm workers Magdaleno Dimas and Benjamin Rodriguez. It is a corrido of protest that addresses abuse from Texan authorities.
A story is shared by a farm worker traveling from Indiana to Lubbock who stopped at a local diner to pick up hamburgers for his friend's hungry children, only to be refused. The owner points to a sign "No Mexicans allowed."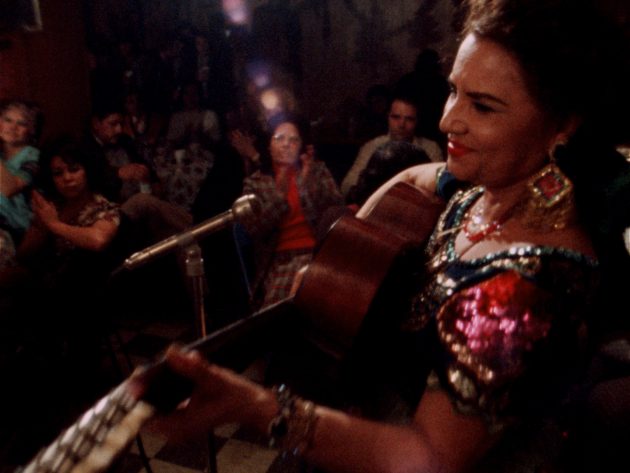 In another scene in Chulas Fronteras Chicana Tex Mex singer Lydia Mendoza, known as La Aurora de la Frontera, has her audience captivated in the emotions of her ballads. In her interview, Mendoza shares how she relives the emotions of every song she performs. She began her singing career in 1927 with her mother. A picture of her and Pancho Villa's widow stand together. In another image she is next to Mexican comedian Tin Tan of the 40s and 50s. It is a brief narrative of her story, yet carries the potential of volumes to be written about her.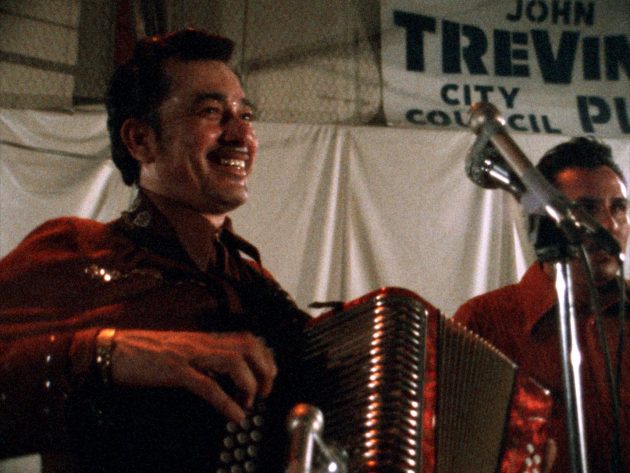 The camera close-up of El Flaco Jimenez [pictured above], a young jubilant accordion player masterfully rides the instrument scrambling with lightning speed with fingers that seem to be the keynotes themselves. No beat is skipped. With every stretch and compression Jimenez bellows the glow of those dancing to his music, an incredible scene to behold.
In Del Mero Corazon, the shorter of the two films at just 28 minutes, Chicana singer and accordion player Chavela Ortiz Hernandez describes how her humble musical beginnings were inherited from her parents. She carries on the tradition of romantic ballads at lounges and salons as a member of the Brown Express.
Minutes later, Andres Berlanga plays amid a magical cathartic celebration, ebbing up and down, short, long and medium strokes, with playful lyrics, on the sweating strings of his guitar during an improvised moment.
The common feature with all the genres featured is jazz. Tex Mex music has a possibility for improvising lyrics and instruments in a moment's notice, which is shown in many of the songs in both films. Yet both films are not only concerned with the music but with the Mexican American experience in the United States.
Anecdotes are nostalgic and intimate. The voice over in Del Mero Corazon by Maria Antonia Contreras describes the music as a poetic blend between European and indigenous ways of being and feeling. The documentaries transcend a divide where both ends of the borders overlap each other. They capture special moments at weddings, gatherings and barbecues. They allow a close introduction to life in a spontaneous way, giving them a quality that could be considered testimonios (testimonies).
These documentaries represent a coming-together of oral histories that are valuable treasures of the Mexican American experience in the United States. The intercultural fusion, represented by the American influence in Mexican music and the Mexican influence in American songs, has enriched cultures and communities. These films are are Les Blank's tribute to the musicians who yelp from the heart.
Chulas Fronteras and Del Mero Corazon were both restored in 4K by Brazos Films, Chris Strachwitz & Les Blank Films, and are available on DVD and Blu-Ray. Both films are also screening at select events – more details here.

Follow Sounds and Colours: Facebook / Twitter / Instagram / Mixcloud / Soundcloud / Bandcamp

Subscribe to the Sounds and Colours Newsletter for regular updates, news and competitions bringing the best of Latin American culture direct to your Inbox.
Share: