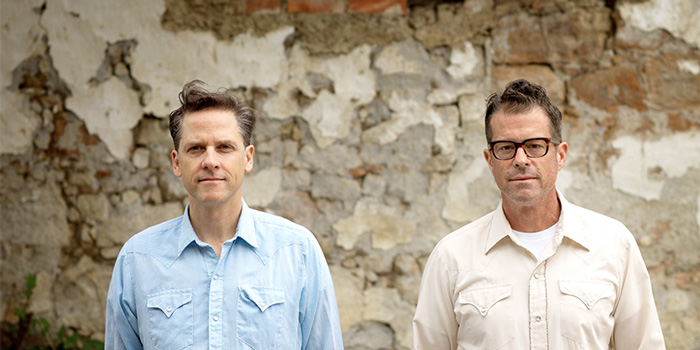 Ingo Pertramer
Cumbia, Border Towns and Good Medicine: An Interview with Calexico
11 April, 2016
More than twenty years ago, Joey Burns and John Convertino decided to call their new musical project Calexico. Named after a frontier town in the US, it sums up the cultural and traditional mezcla (mixture) between Mexican and Californian characters, which identifies the cities along the thousand-mile artificial border that runs between Tijuana and Imperial Beach to Matamoros and Brownsville.
Since they formed, and seemingly taking cue from their chosen moniker, the band from Tucson have represented the music of la frontera, epitomizing elements of American and Latin folk music, but also welcoming other influences like jazz and post-rock. They have shown that even if the US-Mexican boundary is one of the most controlled in the world, no checkpoint can stop the flow and exchange of sounds between the two countries.
We had the chance to interview Calexico's Joey Burns, prior to their London gig at the Barbican, which will be one of the highlights of the yearly Latin-infused La Linea Festival.
One of the things that jumps out at me when reading about Calexico, is the name and origin of the band. You're based in Tucson, Arizona, just a little more than one hour from the border with Mexico, and also have a name that refers to a border town. What does this mean in a time of walls, barriers and fences? How has your music been enriched by this proximity?
Despite the news of extreme rhetoric and the sensational and outlandish comments based on fear from the recent political U.S. elections, the Southwest of Arizona and Northern State of Sonora in Mexico have a lot of positive examples of cultures coming together. Tucson is for the most part an open-minded city and the music we make reflects that attitude.
I've always led with an open ear in regards to making and discovering music. All of the connections with our band name, the town where most of us live in and the combinations of musical genres all came about organically and over a long period of time. It wasn't until the year 2001 or that a live concert review in one the Phoenix newspapers mentioned that if the Arizona state politicians could be as open-minded and cooperative as the musicians in our band and Mariachi Luz de Luna, then perhaps a lot more progress could be made. This quote didn't change why I liked to collaborate with musicians from other backgrounds, but it made me realize that more people place walls between cultures. These walls became more physical and emotional as the economy collapsed in 2007. Our music has often been enriched and inspired by music from not only the Southwest and Mexico, but also from Cuba, South America, New York, Europe, Eastern Europe, the Mediterranean, the Iberian Peninsula and a whole array of other places spanning over many genres and decades. I think that musicians are important for helping us map out the healing arts as well as connecting us all to a deeper level of understanding and peace. I'm glad that we've stayed on this path and continue to call Tucson, Arizona our home.
To write and record your last album, you moved to Mexico City. Why did you decide to move there?
Going to Mexico City offered a chance to explore different sides to our music plus we wanted to get to know the country and the city more. I wish that we could tour more in Mexico. I love the music scene and the people. We spent a fair amount of our time working many hours daily in Coyoacán but we did manage to do some sight-seeing and meet with people who were helping artist Pedro Reyes build and perform on his musical instrument project called Disarm. Seeing the pieces of weapons and guns seized from the drug cartels made into beautiful musical instruments was impressive. The sounds they made were also very raw but sensitive. Being from the USA where the news focuses mainly on the negative or brutal stories of Mexico, it was nice meeting people and artists living and working towards peace.
How did the experience in Mexico change your creative process?
It opened us up and made us appreciate the relatively short time we spent in Coyoacán. It was impressive to meet other musicians from various genres being supportive to us and in return it made us feel comfortable working and writing music there. When we returned home to do more writing and recording we brought with us a few new found ideas plus a whole experience to draw from where we felt less intimidated of trying new things in the studio. It may have led to us asking other musicians and vocalists to join us on the album as well. It was good medicine.
How is your music received in Mexico? Do you have a good relationship with the Mexican audience?
I wish we could play Mexico more. I suppose in one way, going to Mexico City to record was our way of laying the ground work to hopefully return and play more concerts or take part in recording sessions. I think that there is an indie audience that knows about our music. I hope we can remedy that and play more in the future.
You recently said that, when you were writing your latest album, you were influenced by Mexican Institute of Sound and developed some electro characters…
Yes I like the work that Camilo [Lara] and M.I.S. have done combining samples of old records with electronic beats and sounds. This has been done in the past, but I like Camilo's style and the way he's brought these elements together. In some ways we have done something similar, but focusing more on recording real instruments as the basic tracks rather than samples or loops.
What artists are influencing you at the moment? And where is your sound heading?
Currently I am enjoying the new album from Carla Morrison Amor Supremo, Ibeyi, Alsarah & The Nubatones. I like Gaby Moreno a lot and have been touring with her a bunch with Calexico. I like the band Spoon from Austin, Texas, and singer songwriters like Bill Callahan, Tiny Ruins, Tom Waits, Lhasa de Sela, and every night I listen to jazz on the radio when cleaning the kitchen.
Is it fair to say that you have a stronger 'Latin' influence in the band these days?
It's been fairly even split over the years but in the recent past we've brought Jairo Zavala from Madrid on tour as well as Sergio Mendoza from Tucson who together with Jacob Valenzuela helped translate the Latin-influenced Calexico material beautifully on tour. We've always had a variety of songs and styles of music to draw on which helps keep the setlists open to going in a whole array of directions on any given night. Spontaneity is the gift of playing live shows and with seven musicians onstage it always feels great when we can get to those special moments. Growing up playing jazz bass as a child, my favourite songs were the Latin jazz standards where the bass lines were freed up to play more polyrhythmic and melodically instead of being more straight. This was the introduction of Latin music for me.
How did the recording of a cumbia on your last album come about?
We started writing and recording cumbias for a while. Even though it doesn't have the word 'Cumbia' in the song title, our track "Crystal Frontier" is based on cumbia rhythms blended with our sounds. Since cumbia has become more popular in recent years I thought I would record a few instrumental cumbias as segues on the album Edge of The Sun. The first one we worked on was so much fun that we kept adding parts which led to us adding vocals as well. We followed the creative path and it led us to "Cumbia de Donde".
Do you think that the perception of Latin American music, i.e. styles like cumbia, has changed in the US in recent years? Is it more accepted?
Yes, in certain circles Latin American music has become more popular. NPR radio has a great show called Alt Latino which features mostly newer acts and helps give a place for new Latin music to be heard. There is also the music festival in Austin, Texas called Pachanga Festival that helps bring more focus to Latin music. Even bigger mainstream festivals like Bonnaroo Festival in Tennessee have included Latin groups like M.I.S. and Nortec Collective. Generally the West Coast, Chicago and parts of the North East and Austin, Texas are the main places where there are audiences for alternative Latin music. But this is slowly changing.
Each of your albums has sonically had its own distinct character. Why do you always feel the need to change or refresh your clothes? Are you constantly looking for new inspirations and influences?
I think it is a natural thing to want to keep trying new things whether it be instrumentation, arrangements, production styles, etc. Touring has been the best way to get to see other artists and music being played. I like all of the festivals whether they are rock, alternative, folk or world music. They all have something to offer.
Next to some great US artists, you have also played with some popular Latin ones, such as Amparo Sanchez, Nortec Collective, Depedro and Gotan Project. What have your learnt form these experiences and how have they influenced your music?
There is always a different way of looking at things when working together with other musicians. With our experiences working with the artists you mentioned they tend to be more personal and their rituals can be slightly different. I remember recording with Amparo Sanchez at Egrem Studio in Habana Cuba. Before each song that we recorded we passed around a bottle of rum that we took a small sip until finally it came back to Amparo who then poured a small amount to the earth to give thanks. I love that. Taking time to give thanks while working in the studio. It's a great way to commune with creativity and the universe.
You will also soon be playing in London as part of La Linea, a 'Latin' music festival. Are you looking forward to the gig? Is it refreshing to be playing 'Latin' gigs as opposed to 'Americana' ones?
I like playing all of the festivals. Yes I am looking forward to playing the Barbican again. The last time we played there was in 2003 as part of the Beyond Nashville music festival. This time it is part of La Linea. Both are really fantastic festivals with creative people curating and bringing different acts together. Our inclusion to the festivals helps push the boundaries of what defines genre and hopefully instils some of that open mindedness that can lead to more appreciation of various cultures.
Calexico will be performing at London's Barbican Centre, with support from Gaby Moreno, on Monday 25th April. More details at lalineafestival.com

Follow Sounds and Colours: Facebook / Twitter / Instagram / Mixcloud / Soundcloud / Bandcamp

Subscribe to the Sounds and Colours Newsletter for regular updates, news and competitions bringing the best of Latin American culture direct to your Inbox.
Share: