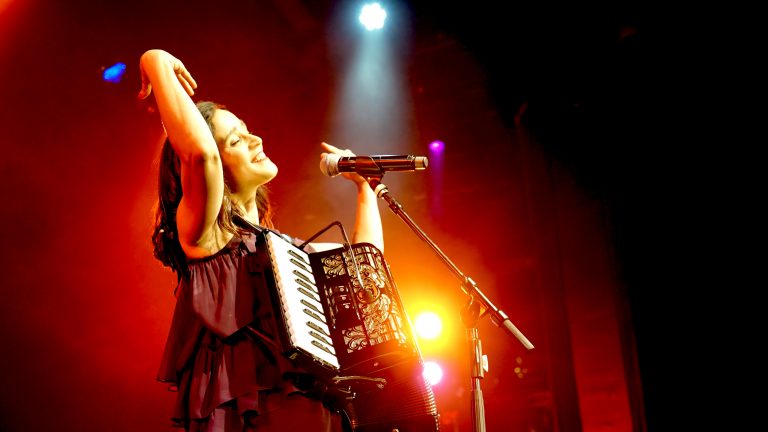 Feelings, Memory, Childhood and the Passing of Time: An Interview with Julieta Venegas
18 April, 2017
It's been close to nine years since Mexican artist Julieta Venegas last played in London, but thankfully she's back, performing on April 18th at the Barbican Centre, as part of this year's La Linea 17 festival.
Since her debut in the 90s, the singer songwriter has developed a style all her own, carefully mixing her many influences with traditional ranchera inspirations, and bringing back the accordion to the popular scene. Julieta succeeded in producing an authentic and lively music, refusing to limit herself to one genre and letting her songs evolve with time.
She is also a multi-disciplinary artist who has collaborated with an impressive number of musicians, and worked on the soundtracks for various movies, like that of the award-winning Amores Perros by Alejandro González Iñárritu.
Her latest album is Algo Sucede, which won the Best Rock/Pop album at the 2016 Latin Grammys, and is the album she will be touring on her Parte Mia European tour, of which this London show is one of the dates. It was while she was waiting, in the Canary Islands, for one of the dates on this tour that I had the chance to ask her a few questions.
How do you feel about performing in London after all these years?
I feel very happy. I was looking forward to come to Europe for a long time and going on a tour like this one. I wanted to bring together a selection of my greatest successes and a mix of other songs to make something general and intimate, all in just a single tour. It's been a long time since I came to various European cities, and this tour is a great opportunity for me. For now, it is going very well, the shows are amazing and I'm having a good time here in Europe. I'm very eager to play at the Barbican Centre, it'll be the first time for me!
Have you ever collaborated with a British artist?
No, never, but I'd love to!
You worked together with an impressive number of people, from all around the world. With whom have you enjoyed working with the most?
I have worked with a lot of people, some that I strongly appreciate and respect, but also some lovely close friends! Therefore, I feel bad about only mentioning a few names. I recently collaborated with the Argentinians Francisca y Los Exploradores, which I really enjoyed.
What kind of music do you listen to when you're at home? Who is your favourite artist?
It's impossible for me just to choose a single song, a single type of music or a single artist. I really listen to everything. I love music in general, every kind of music.
What music did you listen to when you were young? How has it influenced the music you're making now?
I used to listen to a lot of different artists, from Suzanne Vega and David Bowie to Prince and Charly García. Of course, I also listened to Mexican artists, like [José Alfredo] Jiménez, and they did influence me quite a bit. Actually, everything is a source of inspiration for me, be it either life, music, art or even literature. Everything is good to take. My influences have diversified and changed with time, and I like it that way. I believe that music is an ever-changing process, and that we should go along with it. I constantly adapt and modify my music, the only thing that remains intact is my curiosity. Above all, what I love is writing songs.
Can you tell me more about what inspired your latest album, Algo Sucede?
As I said, in general I let myself get inspired by everything around me. This album reflects very well that diversity, containing songs about all sorts of human feelings, about love, joy, sadness. It talks about life, about its delights as well as its disappointments. Actually, I believe that one has to talk about everything, from love to sadness, because it's the way life is. You cannot just write about one side of it.
Besides exterior sources of inspirations, there are also some personal elements in the songs, about my experiences, my country, and also a song about my daughter. More generally, these topics are related to all of us, to feelings, memory, childhood, the passage of time…
Preparing the interview, I learnt that you collaborated on the soundtrack of Demasiado Amor, the cinematographic adaptation of Sara Sefchovich's novel. As it happens that I am currently reading this book, I was wondering what you thought about it.
Actually it's really funny that you remind me of that. I thought about reading it at the time but it completely went out of my mind. Now that you've mentioned it, I'll make it the next book on my reading list!
So, talking about literature, what is your favourite book?
I cannot just tell you one! Books are infinite! But I strongly recommend you to read Juan Rulfo, and Elena Garro. Both are amazing writers, and I particularly admire the writing of this woman [Garro], it's really pretty. Otherwise, I would say that the book I enjoyed reading the most in the past year is Mentira y Sortilegio, from the Italian author Elsa Morante. It is full of joy and beauty, a real marvel.
Are you thinking about recording a new album soon?
I do, but not yet. I'll first finish the tour and then probably start writing next year.
Besides your music career, you have also worked as a UNICEF ambassador for Mexico. How was that experience?
Actually, it's not completely over! I really enjoyed it and I'm happy to still be in touch with them. It's a lovely team that have helped me learn a lot. I am concerned about what is happening around me and in the world, especially about the children. Youth and childhood are particularly important, and we shouldn't forget it.
Julieta Venegas will be performing at the Barbican Centre in London on April 18th, followed by further dates as part of the Parte Mia tour in France, Switzerland, Russia and Spain.

Follow Sounds and Colours: Facebook / Twitter / Instagram / Mixcloud / Soundcloud / Bandcamp

Subscribe to the Sounds and Colours Newsletter for regular updates, news and competitions bringing the best of Latin American culture direct to your Inbox.
Share: