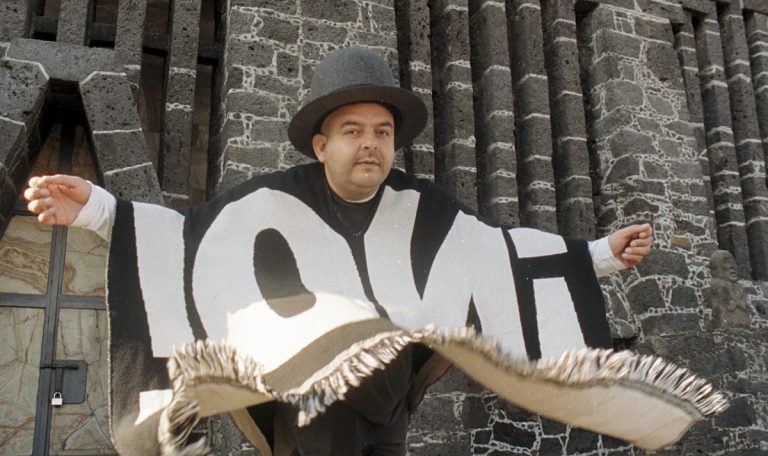 'Hugging People, That's What I Miss The Most': An Interview with Mexican Institute of Sound's Camilo Lara
25 March, 2021
Camilo Lara, who records as Mexican Institute of Sound, is one of those rare artists who was able to create their own musical identity right off the bat, an identity tied to their place of birth. Lara was born in Mexico City, a city where he has spent most of his life, and which he pays homage to on his latest album, Distrito Federal. But, even since M.I.S. emerged in 2006 his music has been tied to Mexico City; this has been explicit through his use of cumbia sonidera rhythms and imagery, the samples and instrumentation of rancheros, mambos and boleros that evoke the city's musical history, and through his championing of local acts such as Santa Fe Klan. Remarkably, even when he's enlisted the help of non-Mexican acts like Blur guitarist Graham Coxon, US singer/songwriter Cuco and Colombian trio La Perla, all of whom appear on his latest album, he's managed to incorporate while still working within an urban Mexican lexicon.
In our chat we discuss the importance of Mexico City to him (his 'Distrito Federal'), the role of his brothers in defining his musical tastes, and why I think one of his latest has a touch of the Harry Nilsson's about it. But, before that, we are very happy to premiere a new track from Mexican Institute of Sound. Following remixes by Lee "Scratch" Perry and El Dusty, here's a new version of Distrito Federal track "El Antidoto" by Kay of No Somos Machos. Watch the video below:
Here's my interview with Camilo:
First off, I just wanted to ask you about Mexico City's many nicknames. I see it written as CDMX a lot but also hear people say Distrito Federal, which is the name of your album. What's the story with the city's names?
That's the millennial name, CDMX. Mexico has had four names actually as a city. It was, you have Gran Ciudad de México, Tenochtitlan with the Aztecs, Distrito Federal (which is like Washington D.C.), and then CDMX, which is the modern name, but it's like Francs and Euros. Some people will never say CDMX. Like, I will never say CDMX because the city that I like is Distrito Federal. It's a city like that, everything keeps on squashing the past. Imagine a city that was with the Aztecs. The Aztecs built on top of a lake which is pretty stupid. Then the Spanish came and built on top of the Aztecs which is even more stupid.
And then Mexicans decided to build the city on top of the Aztecs and Spanish. And that's Mexico City. And we have earthquakes every 50 years or so. Everything tumbles down and people build on top. That's why the city is a collage. It's kind of an absolute chaos. The city of my youth was Ciudad de México. Distrito Federal was the city that I remember with all the green VW Beetles. And, it completely changed. This album is in a way, a tale of gentrification. A tale of a city that no longer exists. It's a tale of any city that has completely changed and erased everything that made it a city. It's a small guide to my Mexico City.
So the album is specifically about your memories of Mexico City, of growing up there?
Yeah, well, it was a city that was less exposed to modernity. There was little contact with other brands that were not Mexican. In the beginning it was just a very local city with local brands with a local identity. And I miss that. I don't miss some other stuff. It was more violent, more polluted. But it was the city I grew up in. And now it's this modern city that everyone puts like, they put it on the list of cities to be in and they call it the New Berlin. I just think, "oh my God, it's changed quite a bit."
You're making me think of the opening track to the album, "Se Compran", which really throws you into that world of street vendors, people trying to sell things on the streets.
Yes, that song. If you live in Mexico City there are thousands of bands with the speakers playing really loud that recording that says: "Se compran colchones, ambores, refrigeradores, estufas, lavadoras, microondas, algo de fierro viejo que vendan". And people hate it, because you're falling asleep and you start hearing that, or you're in an important call and you hear that. But if you take it out of context, it's poetry, it's automatic poetry. And I think that's the mantra of the city. If you take it out of context and you say it as a mantra, it's like the little secret, everyone from Mexico City knows what I am talking about.
So presumably, you were born and raised in Mexico City. Have you spent your whole life there?
Yes. In the last two, three years, I've been on and off between Mexico and L.A. But yeah, I've spent all my life in Mexico City.
And at what point did music kind of become a big part of your life?
I come from a family of musicians. My two brothers are pretty well known musicians in Mexico. My older brother [Leoncio Lara] is like a one hit wonder new wave artist. Later in life, he decides to get into films and he does a lot of films. He did the music for Top Cat and other animated films. His band was a seminal band in the 80s new wave Mexican scene.
And my middle brother [Marcello Lara] is a guitar player from a band called Moderatto, which I would say is probably the closest thing we have to a cross between Spinal Tap and The Darkness. They dress in spandex and they play 80s glam rock music. They are super popular. They fill stadiums. The shows are amazing with flying drums and fire. Everything you need in a show.
So they are both older brothers?
Yeah, both are my older brothers. That's why when I was growing up, my house was a rehearsal place for all the 80s bands in Mexico. I met most of the really important bands in Mexico in my house, in my kitchen. And that's how all the cool stuff, like cool vinyl, ended up in my house. Very early in my life I listened to Bauhaus, The Smiths, and Thompson Twins, and all these goth and new wave bands that changed my life. Instead of listening to Teletubbies at that time, I was listening to The Smiths, that was my childhood music.
What kind of music was around in Mexico at that time? What was the most popular Mexican music, and did you listen to it?
I think it was really hard at that time because rock was forbidden from [around] '68 [when there were student protests]. [Then in 1971 there] was the Mexican Woodstock [Festival Rock y Ruedas de Avándaro]. The government banned rock [after that], and there wasn't rock until the 80s. And I was a very young kid. My brother became one of the pioneers of the neo scene of rock, so there was rock in a very underground way.
I live in a place that is a small town within the city. It's called Coyoacán. It's the city where Diego Rivera and Frida Kahlo lived. And in that place on the weekends when I go out of my house, I listen to a lot of cumbia, because they do these kind of sound systems called sonideros. And there are street parties and you listen to a DJ, basically doing like toasting in a Jamaican style, but with cumbia and with a low pitch voice, sending saludos [greetings] to everyone.
Cumbia was the big one then? Because I was intrigued to know whether you would encounter rancheros and corridos, other Mexican styles, growing up…
Oh, yeah. It was on TV all the time, the rancheros. Rancheros were popular in the 40s in Mexico because the Mexican Hollywood system portrayed the Mexican as the macho guy with the sombrero, very confident, and playing with a mariachi band. That's the golden age of cinema. You hear that on TV.
Also, when I grew up a little more, when I was 11 or 12, I started to hear the influence of Cuban music in Mexico. All the Cuban artists that wanted to succeed, they moved to Mexico and started a career here, like Perez Prado, Bola de Nieve. All these artists they made a career in Mexico. People here consider it local music, Perez Prado was a national treasure even though he was Cuban.
The main reason I was asking is because I hear all those influences in your music. Was Mexican Institute of Sound your first musical project? Or did you have other things going on before that?
I had a punk band before but I was too bad and too young. But Mexican Institute was my battle name for when the electronic scene started heating up in Mexico, and raves started happening. There were a lot of DJs, and I was always the DJ playing the chill out set. Instead of playing a techno or deep house set or all those genres that I never cared about, I played mambo, playing stuff I just recorded and that's how I started.
I was listening to Méjico Máxico the other day, your first album [released in 2006]. It's intriguing because it has many of the same ingredients that you still use, in terms of influences…
I think I haven't changed a bit, which is sad and happy.
It's good, it's good to know that you found your identity very quickly.
Yes. It's crazy because years have passed and it doesn't matter if I do other projects, my centre is probably the same, like, I still have the same passion. When I hear that record, I hate some things, but I understand why I did it and why I was crazy about mambo and so on.
I like it. To me, it doesn't sound dated, which is great. Now, I wanted to talk about some of your other tracks and some other traits I noticed. Now, you have a track like "México" [off Político, 2012] and then also "Las Marcas del Amor" [off Disco Popular, 2017] that have a similar sound. With both I know instantly they are Mexican Institute of Sound tracks, it's like the drums are ahead of the beat and you have the horns at half speed, it's very specific. How did you came about that sound?
Yes. It's funny you notice it because I did a remix for Run The Jewels a few weeks ago. And that was like a mash-up of that. Because I have noticed over the years that I have two or three things that I always do, subconsciously, in the way I compose. Those that you point out are really clear to me, so I sometimes try not to use them. But after a while I end up falling again and doing it. I'm a recovering addict to those. And so when I did Run The Jewels, like when they got all the stems and everything I was like "what should I do?" And you know I decided to do super classic M.I.S. If you listen to that sound and the melody, I erased all the tracks that they sent me. I've only left the vocals and it's completely by the book M.I.S., a perfect track. I even put reference to a track called "Yo Digo Baila" [off Soy Sauce, 2009]. I'm just going to do what I know how to do. It's like how your brain is wired.
Let's go back to the new album. I was listening to "Paloma" earlier. I'm really loving that song. It's a ballad, but with an electronic thing too, and it actually really reminded me of Harry Nilsson in a strange way. I don't know if you know him.
"You put the lime in the coconut!"
Exactly! Because it's got a really melodic baseline which Nilsson used a lot, and then with the falsetto voice as well. Where does the sound of a track like that come from?
There is a big legacy of those kinds of songs in Mexican music, and especially in Mexico City. All the trios (guitar, shakers and guitarrón), singing harmonically and there are a lot of composers that did that in a fantastic way. Like recently, Armando Manzanero, who was one of our top songwriters, close to the Mexican Cole Porter, just passed away.
So that song was inspired by these classics. I like songwriters that see Mexico as a beautiful place. Naïve, but passionate, writing beautiful songs about love. I saw in Cuco that [Cuco is an American singer with Mexican roots that sings on the track]. I think he could go in that direction, even though he doesn't know it. He carries that torch. This was the first time he sang in Spanish. And I thought it was very interesting to have him go back to this legacy, this house of musical education, to sing a lo-fi love ballad.
I also wanted to know how the track "My America is Not Your America" came about as well.
With your fellow…
With my fellow Brit, Graham Coxon, yes.
Back in the day when Toy [Selectah] and I were doing the Compass album. We tried to hook up with Damon Albarn. And we were never in the same city. Like when he was in Mexico City, we were in the UK. But Graham was playing in Mexico, and so I contacted him, and he agreed to come to the studio. We spent a couple of days recording, he recorded a lot of guitars on the album, not only on that song, but he did sing on that one. When I did that song, it was Trump times, and it was very dark. But I was at the same time obsessed with David Byrne and Talking Heads and all this experimentation with African music and rhythm music.
And I wanted to do an optimistic song about it. I don't know if I achieved it, but I tried. It was in the vein of musicals about America. Like trying to talk about this America that is no longer an America for the non-Americans. And for a Mexican, America is not America. America is just Argentina, Bolivia, it's not just the US. So it has a double meaning. We tried to be political, but we also tried to be positive about it. And then the Black Lives Matter movement came around, and we shot the video in Los Angeles with a director and captured everything that was happening at that time. So that song evolved to be something to help that moment.
Right, I've got one last thing to ask. Is it strange writing music for the dance floor when you can't DJ, when you can't play it out?
It sucks, right? That's the thing that I miss the most. The feeling of being sweaty, just hugging people. Like that kind of a sensation of being with a bunch of people, just feeling one of a bunch of 1,000. I always hated it. But now I'm missing it so much. I guess it has to do with the fact that I do music for people to sweat and to dance and I guess my next record is going to be more techno, a not touching kind of thing.
You're going to make socially-distanced dance music. Is this what you're saying?
Don't even say it loud because someone is going to come back to do social-distancing dance music.
Distrito Federal is out now

Follow Sounds and Colours: Facebook / Twitter / Instagram / Mixcloud / Soundcloud / Bandcamp

Subscribe to the Sounds and Colours Newsletter for regular updates, news and competitions bringing the best of Latin American culture direct to your Inbox.
Share: