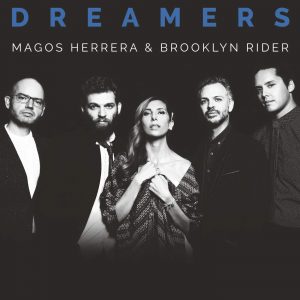 Review
Magos Herrera & Brooklyn Rider – Dreamers
Latin America has a tortured history of democracy deferred by brutal dictatorships that were nearly endemic on the continent until the end of the last century. To oppose them, a number of nations cultivated a mighty aesthetic of resistance. Music and verse were their beacon, as they revived folkloric forms in support of the oppressed, publicly decried the barbarity and, in performance, took their cause worldwide; for their protest, some became victims themselves of these same regimes. The music and those who courageously made it are remembered still for their passion and for the enduring beauty of their sentiment and sound.
Vocalist and composer, Magos Herrera, born in Mexico City and living now in New York, pays homage to these artists on Dreamers, in collaboration with the string quartet, Brooklyn Rider (the group's members are Colin Jacobsen and Johnny Gandelsman, violin; Nicholas Cords, viola; and Michael Nicolas, cello). The work of intuitive, seasoned arrangers, including Brazil's Jaques Morelenbaum, adds to Dreamers' elegance, as do guest musicians, including Spain's ever-reaching vocalist, Miguel Poveda.
Dreamers is a lovely and lush concept album of brilliant grey defined by Herrera's deep and smoky voice and her seamless engagement with the quartet. At times that blending of vocals with the cello's soft passion is so smooth that the two instruments fold into each other as one, weighty and ethereal at the same time.
Herrera reveals her intention for Dreamers: "to celebrate the beauty of music as a political act". Indeed, most of these songs are keepsakes of some of the most activist Latin American artists of the savage years. Three of Herrera's compositions are included as well, set to the poetry of Mexican Octavio Paz and Nicaraguan Rubén Darío, as is a poem by Federico García Lorca, set to music composed by Vicente Amigo Girol.
Herrera and friends take a free and graceful swing with the melody of "Balderrama", written by "Cuchi" Leguizamon and José Manuel Castilla, and immortalized by Mercedes Sosa. It's a hymn to an all-night taverna in the city of Salta where dissident artists, including Sosa, performed resuscitated folk tunes during the years of Argentina's Dirty War, from 1976 – 1981. The lyrics to "Balderrama" are said to have been cryptically crafted, using the metaphor of the morning star, the 'lucero del alba', to symbolize martyred Argentine revolutionary, Che Guevara. Colin Jacobsen's arrangement is an affective and pungent blend of baroque and modern, and Herrera's understated indignation overlies her desolation, rendering "Balderamma" as stirring as Sosa's icon.
Lorca's "La Aurora en Nueva York" takes a grim look at the City's "black doves", "putrid water" and "abandoned children" of the Depression. Herrera shares this flamenco with Poveda, who adds urgency and his unmistakable plaint. Herrera adopts flamenco waverings now, subtle and exquisite. Poveda has a way of drawing collaborating artists, even dancers, into his aura, with results of great flourish and intimacy. Brooklyn Rider is especially sensitive too, as they punctuate the two voices with pizzicato phrases as if stealing up the City's "immense stairways". For this New Yorker, Lorca's bleak lament as performed is the most affecting track on the album.
The interpretation of Caetano Veloso's "Coração Vagabundo" blunts the edge of frivolity often associated with bossa nova. The players attenuate the original rhythm to a mere, but still seductive, suggestion of the original lay-out for the tune. Herrera's languid sfumato deepens the melancholy of the song, though not in a maudlin or lugubrious way. My feeling is that the ensemble is seeking to interpret, or perhaps glean personal insight, from its enigmatic ending: "My inconstant heart (or 'wandering heart', or "this vagrant heart of mine") "wants to hold the world in(side of) me".
Morelenbaum offers us a lyrical and urbane arrangement of Gilberto Gil's "Eu Vim da Bahia", but Gil's lyrics, painting an upbeat travel ad for his native city, and Herrera's buoyancy in the delivery, seem incongruous to the CD's sober sensibility. And "Dreams", based on Paz's "Cántaro Roto" doesn't work for me in its English translation.
But, hélas, I'm nitpicking. Dreamers is not only a work of art, setting musicians of the highest order to accomplished music with purpose, but it is a work of love as well.
Dreamers is released by Sony Music Masterworks and available from Amazon UK and Amazon US.

Follow Sounds and Colours: Facebook / Twitter / Instagram / Mixcloud / Soundcloud / Bandcamp

Subscribe to the Sounds and Colours Newsletter for regular updates, news and competitions bringing the best of Latin American culture direct to your Inbox.
Share: