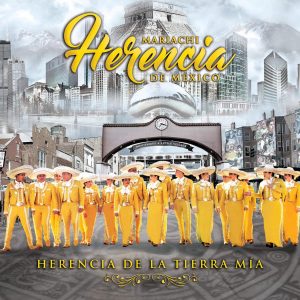 Mariachi is popularly known abroad as demi-monde taverna music, providing succor or battle fuel for wronged lovers, or the province of down-at-the-heels itinerants strolling from table to table in Mexico's tourist spots, playing "La Cucaracha" or "The Mexican Hat Dance" badly on beat-up instruments – guitar, guitarrón (big-bodied guitar), vihuela (5-string Mexican guitar), violin and trumpet. On their latest release, Herencia de la Tierra Mia, the group, Mariachi Herencia de México, gives us the other, less traveled mariachi: on a concert stage with a full orchestra.
The album is a tribute to this beloved, highly emotive genre of Mexican music, born in the state of Jalisco of Spanish and African roots and is a quick turn-around after their lauded Latin Grammy-winning first record, Nuestra Herencia, released in 2017.
The lovely uniqueness of Mariachi Herencia de México is that its 90 players, 20 of whom are currently performing, are all Mexican American students, between 12 and 19 years old from the beleaguered barrios of Chicago. Founded in 2016, they've been working, recording and performing the music of their heritage under the inspiration of César Maldonado, director of the Mariachi Heritage Foundation; with guests on production Jimmy Cuellar, mariachi music director and arranger, and Spanish composer/arranger/producer/guitarist Javier Limón, who has honed the artistry of such brilliant musicians as (Concha) Buika, Bebo Valdes and Paco de Lucia.
Herencia de la Tierra Mia pays homage to four Mexican icons, three of them steeped in the mariachi tradition: Juan Gabriel, Lucha Villas, Pedro Infante and Selena Quintanilla (Selena, as she was known, was born in Texas and is regarded as the queen of the hybrid Tex-Mex, or Tejana, sound. Adored by her fans, her career was ended at the age of 23, in 1995, when she was shot dead by her personal assistant).
Appearances by Lila Downs ("El Viajero") and contemporary mariachi Aida Cuevas, who in a three-tune medley pays tribute to Villa, a pioneering woman vocalist and actress, bring the repertoire up to the present from its mid-century heyday.
The playlist is borrowed from the canon, with Juan Gabriel's oeuvre pivotal. Deceased in 2017, his vast catalog of compositions, recordings, and starring movie roles are family heirlooms. He mastered the music and the persona of a mariachi as an immensely emotive, irresistible and consummate performer. Herencia offers us an extensive sample of his tunes.
Herencia tones down some of the schmaltz that's inherent in mariachi, offering solos accomplished with aplomb and considerable chops. The vocals sound young and evolving, but lack in no way earnestness, emotion and training. Itzel Bustos, who tackles Gabriel's "Yo Estoy Siempre Pensando en Ti", (I Still Think of You), has extraordinary pitch and sense of melody, interpreting this classic tear-jerker with power beyond her years. (NB: Selena also covered the tune)
They romp with Gabriel's "Rondinela", a challenging piece for violin and orchestra. Herencia's violinists vaunt their precocious speed-demon chops, with three youngsters taking solos (Itzel Bustos (again), Isaias Lopez and Bryana Martinez), bowing like lightning rhythmically and melodically way high across the neck.
Crooner and over-the-top actor Pedro Infante had a meteoric yet short career, masterfully plying his sex appeal on screen as the archetypical mariachi, crying in his tequila over a woman who'd betrayed him, or exacting revenge from a rival in a bar-fight. He was killed at 40 in a plane crash in 1957, and is honored in a booming four-song medley that includes a fetching old timey bolero of "Cien Años".
Charming is the band's detour into jarocho (the form in which Ritchie Valens composed his immortal "La Bamba") for a two-tune sample. The bouncy African-inflected songs from the state of Veracruz get an orchestral lift, a fitting backdrop for the cameo of veracruzano harp virtuoso, Ivàn Velasco.
Herencia de México provides a remarkable training ground for an impressive number of budding talents who might otherwise not be afforded the rewards of a musical career. It may be unintended, but this noble and successful project gives notice to the bigots in the United States that immigrants will succeed in finding security and fulfillment through the celebration of their traditions, no matter the odds and the forces trying to push them back. Sì, se puede!

Follow Sounds and Colours: Facebook / Twitter / Instagram / Mixcloud / Soundcloud / Bandcamp

Subscribe to the Sounds and Colours Newsletter for regular updates, news and competitions bringing the best of Latin American culture direct to your Inbox.
Share: