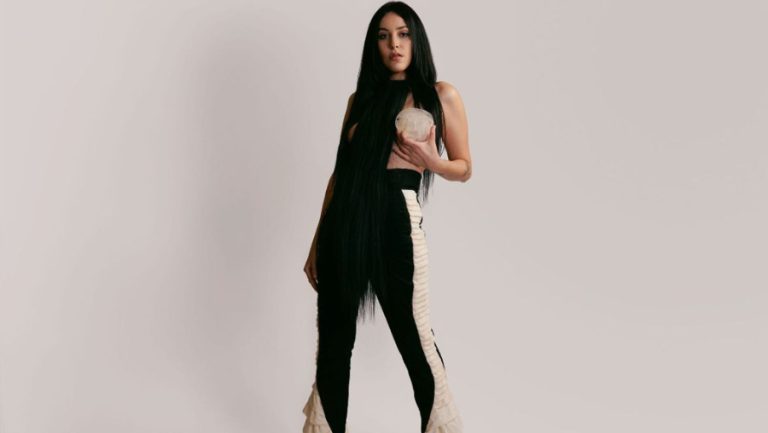 Mexicanismos 02
07 April, 2022
Mexico's artists and musical expressions continue flourishing, like life emerging from the ground itself when spring arrives. Fortunately, the pandemic is becoming more and more yesterday's news and our minds are able to focus more on the new music that an infinity of projects offer. Today, in the second instalment of Mexicanismos we present experimental music, cosmic cumbias, dark sounds, 80s-influenced tracks, and much more. Here we go…
---
Disco Bahía "Acuario"
In Mexico City, the R&B scene has among its ranks a fairly new band that has released several singles and now, their first release in 2022, "Acuario" which will be part of an upcoming album, Música Para Adultos. Disco Bahía have been working with the production duo of Coco Santos (CLUBZ) and Ángel Arzipe for the label Turista Universal in Monterrey. On "Acuario", María's sweet voice next to the instrumentation gives it a sensual, chill, new wave and even funky touch; the thermometers of Mexico City during spring reach skywards, on this song they promise to burst.
---
Palmasur "Aquí Seguimos" (feat. George Rhoads)
The producer from Puebla, Palmasur is one of Mexico's most renowned lo-fi artists, with his song, "Vibrando Alto en Tulúm", already an important reference point. Now, he arrives with a new track made in conjunction with George Rhoads from Guadalajara. "Aquí Seguimos" has a soft melody that combines Rhoads' regional sierreño sound Palmasur's lo-fi vibes. It is a song for lovers who want affection, THC, and beautiful sunsets.
---
ForyFive "Zona Pistola" (feat. Robot95)
You need to go to Iztapalapa in Mexico City to experience the real Mexico. Several of the city's most verdadero projects have emerged from this place, such as ForyFive, the duo of Richi45 and Calli Ketz, and a benchmark of the current urban sound. They mix trap, rap, reggaeton and gangsta, the latter felt clearly on this new track featuring Mexicali rapper, Robot95, a great collaborator who makes it clear that weapons are in the area. "Zona Pistola" is featured on ForyFive's new album 45, which promises to mark them out as leaders in their field.
---
Kay & Zambi "Intergalactic Cumbia"
Karim González is a producer with a long history in the Mexican music scene. He has worked with Camilo Lara (Mexican Institute of Sound) and done remixes for Beastie Boys, Los Angeles Azules and The Rapture. He was also part of the much-loved NSM project (No Somos Machos). Now under the name of Kay, he joins forces with Zambi, known for his patronage of Mexican cumbiastep, with a song that will make even aliens dance. "Cumbia Intergalática" mixes tremendous cumbianchero beats with cosmic sounds.
---
Tony Gallardo – La Conquista
Back in 2010, a producer who called himself El María y José started creating tribal and electronic sounds that made us want to dance. The producer's real name was Tony Gallardo and now, several years later, he surprises us by being signed to Hakuna Kulala, a label from Kampala, Uganda, which claims to be one of the most innovative African record labels in recent years. Under the name Tony Gallardo he has released a spectacular album entitled Tony Gallardo: Selected Works in which he compiles works from the past. In this musical jewel we can find marginal cumbias, psychedelia, locura, reggaeton deconstructions and much off-the-hook percussion. One of the best albums by a Mexican artist so far in 2022.
---
Debit "1st Day"
Mexican electronic music has an obligation to single out Debit as one of the scene's most important figures. Her releases for the NAAFI label led her to be part of the Mutek festival in Montreal, Mexico, as well as many other high-profile festivals. Now, with the British label Modern Love, the Mexican producer gives us her latest album The Long Count, which is influenced by her Mayan ancestry, and features wind instruments including the flute. Debit used recordings from the Institute of Maya Studies to create her own library of sounds and then take them back, process them, and achieve an extraordinary sound that ranges between the mysterious, the unknown and the intriguing. There are no records of Mayan music, but it is known that it was important for their culture, and that is why Debit has come to highlight it, rescue it and show it to the world. It's the perfect album for ambient lovers.
---
Don Couto "Cumbia Binaria"
An enthusiast of cumbia, electronic and danceable rhythms, Don Couto is a producer from Mexico City who for several years has been exploring the different range of sonic possibilities that can be found in these exuberant genres. Cavernous echoing voices, tireless güiros and elements of techno, 8bit and ambient; all this and more can be found on his new album ELCANO for Perronugget Records. On "Cumbia Binaria " we even find a fine reference to "Computer Love" by Kraftwerk. Bastard cumbia finds an electronic refuge in the work of Don Couto.
---
Vesica Piscis "Cometa"
Mexican dream pop and shoegaze can rest easy as Vesica Piscis have released their second album on Discos Panoram. If you are looking for guitars full of echo and reverb, accompanied by beautiful synths and sweet dreamy voices, then you have to listen to Cometa, the latest from this Mexico City band. Fans of Beach House, INXS, My Bloody Valentine or Cocteau Twins will surely be the first to enjoy it.
---
Prismatic Shapes "De Sigilos y Decretos"
The darkness also illuminates. With elements of post-punk and new wave, Prismatic Shapes appear to come from the 80s, hitching a ride in a time machine to feature in this round-up. Paying tribute to the pop culture of that decade, they have been permeated by Sisters of Mercy, Bauhaus and other dance-punk bands that lead you to dancing like vampires. In the process they have become one of the most important bands in Mexico City's escena oscura (dark scene). "De Sigilos y Decrees" will also be the name of their album, due for release in July this year.
---
The Americojones Experience – "La Fórmula Secreta"
With psychedelic music it is possible to take something of a trip; on "La Fórmula Secreta" these lot hope to take you even higher. The Americojones Experience are a band from Mexico City that remind us of 60s rock in its purest form. They recently released a new album titled Animal del Demonio, full of distortion, garage effects and the occasional expletive. Free your mind, The Americojones Experience have arrived.

Follow Sounds and Colours: Facebook / Twitter / Instagram / Mixcloud / Soundcloud / Bandcamp

Subscribe to the Sounds and Colours Newsletter for regular updates, news and competitions bringing the best of Latin American culture direct to your Inbox.
Share: