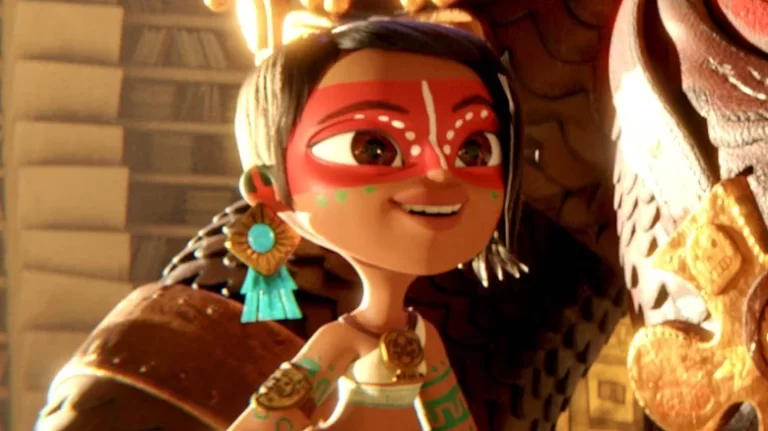 Netflix
Netflix's 'Maya and The Three' is an All-Star Animated Romp Through Mesoamerican Mexico
08 November, 2021
Jorge R. Gutiérrez's Maya and the Three is a supercharged, Aztec-inspired animation funfair promoting female superpowers. Why be a slo-mo princess lost in your palatial surroundings when you can run, fly, ride a black jaguar and fight the Gods of the Universe that threaten your community?

This fast-moving animation series shifts the focus from a medieval European history of folklore and myth, to the South. Set in pre-Hispanic, pre-Christian Mexico, it is colourful and exuberant, big-hearted and generous. The first four episodes were recently screened at the 65th BFI London Film Festival.

Maya's family situation is complicated: she has at least three brother-jaguars, but she is not waiting for their presents during her quinceañera celebration. Instead Maya is busy fighting an imposing Bear Killah in a pit with a crowd shouting behind her. Owing to her father's indiscretions and a mother, Lady Micte, the goddess of the underworld, who wants to sacrifice her for her family's misdeeds, Maya is forced to fulfill a prophecy in order to defeat them. But what is this prophecy? We hear that it may be a made-up story, something trivial or even the most impudent of thoughts, that god does not exist? Apparently they do, gods that is, and they are to be found amidst the glorious Tenochtitlan landscapes: in and around the sun stone, in military formation, with eyes and temples painted bright red and blue, adorned with animals. Maya and the Three is a feast for the eyes, with allusions to the "prophecy" continuing to tickle the ribs.
To fight back against the gods of the underworld, she assembles a crew including the black jaguar, Rico and "el monstruo blanco". On the opposing side are the stone giants of the volcano god, Cabralcan; Cipatli, the god of earthquakes, and Hera, the goddess of alligators, along with Goulish, the god of storms. Music in the form of heavy metal tells us who the bad guys are. But even when the super macho jaguar brothers are defeated and their weapons returned to Teca to be honoured, Maya will go on alone to complete her quest.
Maya is impure in an impure world, half god but not invincible, "if it is to be, it is up to me," her motto. She is all action and sets off riding Chiapa, the ever-unpredictable black jaguar. Increasingly sympathetic to Maya's travails is the good-looking funky-haired Katz who becomes something like a guardian angel acting on the commands of the gods of the underworld. Katz' proximity to Maya triggers the jealousy of his girlfriend, tattoo-girl Acat, leading to an expected girl-fight.

The series is created, written and directed by Gutierrez (The Book of Life), a "love letter to Mexican culture" inspired by the "real Mexican warrior women" of director his life. It features the voice talents of Zoe Saldaña, Gabriel Iglesias, Diego Luna, Gael García Bernal, Rita Moreno and Alfredo Molina, as well as Kate del Castillo, Danny Trejo, Cheech Marin and Rosie Perez. A fresh, family-friendly romp, Maya and the Three is available now on Netflix.

Follow Sounds and Colours: Facebook / Twitter / Instagram / Mixcloud / Soundcloud / Bandcamp

Subscribe to the Sounds and Colours Newsletter for regular updates, news and competitions bringing the best of Latin American culture direct to your Inbox.
Share: