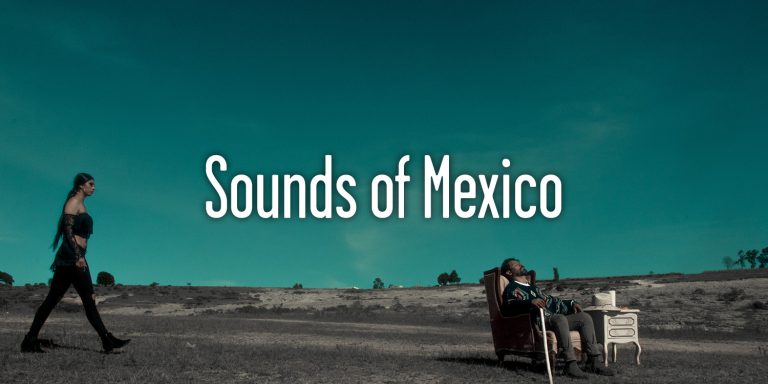 Sounds of Mexico #1
|

18 November, 2020

Mexico is the target of thousands of artists throughout Latin America and the world. It's attraction is simple: Mexico City is "the world's music-streaming mecca", according to Spotify, and the number of festivals and musical happenings is enormous. It's a hotbed of talent and industry. I feel very happy to find a space to promote music from Mexico to the world here on Sounds and Colours. Our country has 32 states, thousands of cities, different regions, cultures and of course… lots of music. This is a taster of some of that.

Selecting new music is a complex task due to the amount of quality music being made right now. In this first instalment I looked for music that highlights elements of Mexican music with a contemporary spirit, the current pop, folk and world beat, and I ended with a rock song that shows that rock is still very much alive. This first edition of Sounds of Mexico features music from Nunca Jamás (Sonora), Abraham Gu (Coahuila), Renee (Monterrey), Hombre Árbol (Aguascalientes), Luckas O (Guadalajara), Hector Mena (CDMX), Sebastian Romero (CDMX), Kartis Katar (CDMX), Pahua (CDMX) and The Wicked Ones (CDMX).

Artists live by people hearing their music, sharing it and spreading the word. I hope that these choices are to your liking, and, if so, please follow them and give yourself the opportunity to know the diverse music that our country offers.

If you'd like to send Mexican music for me to listen to, you can do so by sending a link of your music to [email protected]
Hector Mena
Since we are in the season of Día de Muertos, the renowned Mexican producer Hector Mena from 3KMKZ in Mexico City, delights us with "Ktrina", an alter-pop and cinematic sonic journey with Mexican roots. It begins as traditional music for a funeral with the typical brass band and mutates through pop, nostalgia and atmospheres of a rural town in some distant corner of Mexico. Mixing traditional rhythms, guitar solos and a story related to death, it is an authentic work of art representative of the ancestral traditions of our country with a contemporary essence.
Hombre Árbol
In a soft, poetic and reflective verse, Hombre Árbol recreates one of the most important sones of son jarocho. The buscapiés is the son that cannot be missed in the famous fandango, the traditional communal party of son jarocho, one of the original musics of Mexico. Very different from its traditional form, Ramiro Hernandez, originally from Aguascalientes and in charge of composition, production, vocals and everything else related to this project, lets us hear a soulful guitar-led folk filled with blues, atmospheres and nostalgia, recreating auditory landscapes of a memory… of a trip to Veracruz.
Renee
A singer-songwriter from Monterrey with a unique sound, Renee recently released the album Breve Espacio where "Viaje al Amanecer" stood out. It begins as a country song with harmonica as a characteristic element, but as it progresses it becomes a northern Mexican pop rhythm, with an emphasis on dancing. Renee has performed in many different cities in the country, sharing the stage with Mon Laferte among others. Breve Espacio is a reflective, happy and sad album that tells more than one story.
Sebastian Romero
Romero is a singer-songwriter from CDMX (Mexico City) who in a short time has managed to captivate thousands of hearts. Sebastian is a very active and creative singer-songwriter, continually involving his fans in his various activities such as giving them new music every week. "Me Haces Muy Bien" first appeared on his recent La Habitación album, but is here as an alternative acoustic version featuring Dstance, a renowned artist on the Mexican scene. Sebastian transmits that warmth of a coffee in the morning or a hot chocolate at night, tranquillity and passion, with honeyed lyrics worthy of being dedicated to a loved one.
The Wicked Ones
Of the five songs featured int his article, "Rising Sun" is filled with the type of rock that you thought was dead. It's not, it's alive and giving us plenty to think about. A melancholic theme accompanied by continuous guitar riffs in a Led Zeppelin spirit, keeping the same tempo through the song, but with typical rock guitar solos to keep you in the mood. The voice is something to highlight since it gives the song so much power and strength.

Follow Sounds and Colours: Facebook / Twitter / Instagram / Mixcloud / Soundcloud / Bandcamp

Subscribe to the Sounds and Colours Newsletter for regular updates, news and competitions bringing the best of Latin American culture direct to your Inbox.
Share: