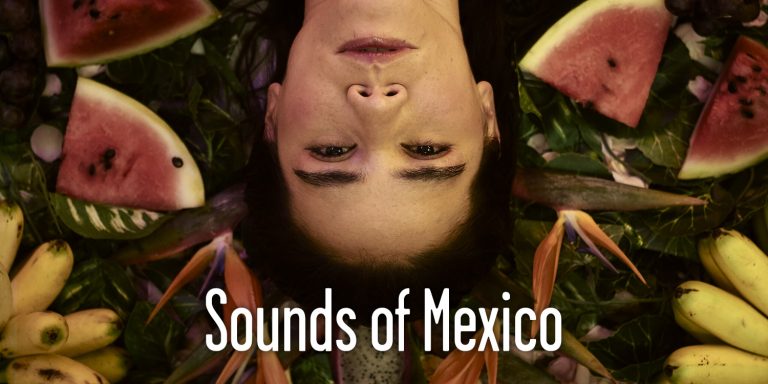 Sounds of Mexico #4
16 February, 2021
The multiculturalism of Mexican music is immense. Current trends and the excessive use of digital platforms generate varied musical proposals that result in a sound formed as a result of the individual experiences of each of the artists. Mexico is very big and with that justification the way of thinking and seeing things from north to south to centre is completely different.
In this edition you will be able to listen to fusions that you never thought you would hear, with urban, pop, lo-fi, rock, cumbia sonidera and ranchera all being thrown into the mix, creating curious fusions that reveal a search for a new sound, a voice within the musical mass that is released every week into the world. Moving from the simple to the complex, from a metaphorical language to a daily life translated into rhythm, experiences and songs.
Nowadays artists make music to be used as multimedia content on platforms such as TikTok; there are others whose approach is based on experimentation of sounds and soundscapes from the region. Others opt for electronic with global sounds; and others more for a cry for societal change, but in the end the goal is to find that differentiator above all.
I hope you enjoy this musical cocktail that shows the extremes of the globalized language of Mexican music.
In this edition you can listen to music from, Santa Fe Klan, Mexican Institute of Sound, Nunca Jamás, Pahua, Ingrid Contreras, br!¡ou, Carolina Ross, Fanko, Laura Guevara, Sacro Imperio Romano…
Santa Fe Klan
What you might expect from a musical genre is forgotten when you listen to Santa Fe Klan. On his new album Santa Cumbia the artist from Guanajuato presents a mixture of cumbia sonidera with urban, lilting with Latin hip hop overtones, which undoubtedly represents a before and after of an era. The freedom to experiment and find a voice that leaves those who want to pigeonhole you in limbo, is what has led to his meteoric rise and the recruitment of Camilo Lara and Toy Selectah as his producers. On opening track "Vuelve" he manages to innovate with the sound, essence and his representation of the urban street culture of Mexico.
Mexican Institute of Sound
Renowned producer Camilo Lara experiments with the sonic environment of his iconic hometown, CDMX and one of the most common sounds of Mexico City, the voice of the lady selling things street by street. "Se Compran" makes a very unusual variation of the original song that can be heard in this link below. On his new album Distrito Federal he tackles the different sounds and culture that gave rise to Mexico's multifaceted capital.
It is when musicians experiment with things that are lived day to day in the city that one realizes the cultural richness of their country. The musical breakdown of CDMX that is presented by MIS is super creative and each time adds more and more elements, turning the musical journey into a literal description of a common day in the city.
Pahua
In a completely different style, the composer Paulina Sotomayor, launches her solo project Pahua, a project that in a short time has gained an international audience for its chilled lilting grooves, electronic textures and Latin American rhythms converted into beats. "Caramelo" breaks any mental frontier and takes you to unknown places without losing the thread of the story. The song was produced by Robert Strauss at WAX Recording Studios in the city of Brighton and will be included on her debut EP, Ofrenda, scheduled for release on February 26th through Nacional Records. "Caramelo", in essence, is an ode to self-love, in the words of its creator.
Nunca Jamás
Nunca Jamás is a group originally from Cd. Obregón, Sonora that has stood out for its peculiar fusion of rock with the genres of banda and norteño music. It's a unique mix that has allowed them to make their way in the national scene. "El que pierde el sueño" from my point of view is a parody of commercial pop and reggaeton in style, highlighting the band's brass sounds, a catchy melody and a variant of power rock that you would not expect to hear. A musical surprise that vindicates the sound of Mexican rock.
Ingrid Contreras
"The fact that regional Latin music has gained such prominence reveals the demographic changes happening in many countries, where, due to a sense of nostalgia, the Latin American diaspora is voraciously consuming music from their home countries, instilling in their kids a part of their identity. For these music consumers, regional Latin music genres represent authenticity, and thanks to the music streaming companies who have made music readily available on a global scale, its consumption has increased beyond expectations".
This is an excerpt from Chartmetric's research in their blog "The Rise of Regional Latin Music, Part 1: Mexican Music Genres". For this reason I thought it was important to highlight the work being done by Ingrid Contreras; a 26 year old young woman who despite not being well known has grown rapidly and in my opinion is the new blood of ranchero pop. "Pobre Corazón" has a traditional ranchera musical base, a powerful voice and a message of heartbreak that is so indicative of the Mexican genre.
If you'd like to send Mexican music for us to listen to, you can do so by sending a link of your music to [email protected]

Follow Sounds and Colours: Facebook / Twitter / Instagram / Mixcloud / Soundcloud / Bandcamp

Subscribe to the Sounds and Colours Newsletter for regular updates, news and competitions bringing the best of Latin American culture direct to your Inbox.
Share: