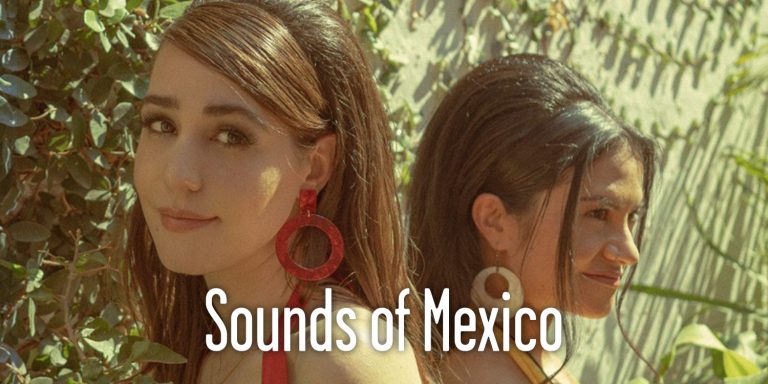 Sounds of Mexico #5
24 March, 2021
Spring is approaching in Mexico and the fresh, tropical sounds are starting to arrive. Using traditional Caribbean rhythms with urban, contemporary and electronic sounds, the artists of this edition give us a sample of their creative power and show that even in 2021, it is possible to continue innovating. Talking about genres these days is no longer relevant, the aim is to create sonic experiences, musical moments that surely have a root, but are not intended to be encapsulated in just one place. It is said that nowadays everything has been invented, but… I'm not so sure. There is always a need to explore and find something you can identify with, and this results in unimagined sounds, which are not necessarily experimental and unintelligible, but simply a musical opinion of each of the artists who, with their voice, give life to the music.
In this edition we will hear fusions of boleros, Central American sounds, bachata urbana, merengue, flamenco and more. It is worth mentioning that most of the artists presented are emerging independent artists that little by little have managed to make their voices heard.
In this edition you can listen to music from Escarlata, Alex Ferreira, Karina Galicia, Alaide, Vivir Quintana, Nana Mendoza, La Catrina Son System, Pahua, Marissa Mur, Valeria Jasso, Nicole Horts, Sofía Peña and Marco Mares.
Alex Ferreira
A tropical sound, a reflection of tranquillity, a landscape of flowers and nature; these are some of the elements that come to mind when I listen to "Como Viene se Va", one of the singles from Alex Ferreira's latest album Tanda. This single features Latin fusions, tropical rhythms, metaphors and a 'homey' sound. A fresh and unique proposal that has managed to break through in the Mexican music industry; backed by the success of Canapé, his previous album, Alex Ferreira explores new paths in musical fusion.
Pahua
An honest, contemporary proposal, full of textures and jungle atmospheres, could be a description for "Noche Negra", one of the stand-out tracks from the latest album, Ofrenda, by singer, composer and DJ, Paulina Sotomayor, known in this project as Pahua. It seems to me to be a mantra and at the same time the description of a metaphorical and poetic story that grabs you as the song progresses. Each track on this album has its own essence and story, but all in all it shows a sweet, passionate and personal sound, resulting in a sincere, sensual and feminine sound on her debut album.
Escarlata
It is accepted that the first bolero was "Tristezas", written by the Cuban José Pepe Sánchez in Santiago de Cuba in 1883. That piece gave formal origin to the genre with the "classic" musical accompaniment of guitars and percussion. Remembering this beautiful genre, the duo Escarlata, originally from Mexico City, take up this musical line with a series of six boleros entitled Boleros para darte cuenta. "Bolero triste", tells a story of heartbreak in the 50s, in urban bolero style, giving a peculiar and modern touch to the traditional sound.
Karina Galicia
The message of today's songs define an era, a way of thinking, a voice that makes itself felt behind a musical context. Seeking to empower the feminine essence, from the appropriation of language, to remembering the inner flame that burns and motivates them to take control of their lives, Karina Galicia and Alaide, young Mexican songwriters, present "Fuega", a deep song, with R&B touches, direct messages of reflection and feminine empowerment.
"I ask for nothing but freedom, I am weaving my place,
I manage to recognise the centre of my skin.
I know how to fly with clarity, without depending on others.
I manage to dress myself true to what I want to be".
These are the first phrases of this song, which make clear the message they seek to share. This song is part of a series of collaborations which will feature on Karina Galicia's first full-length album Cancionero del Nuevo Milenio.
Vivir Quintana, Nana Mendoza + La Catrina Son System
The women of the world want and deserve an equal future free of stigma, stereotypes and violence; a future that is sustainable and peaceful, with equal rights and opportunities for all people. 8 March marks International Women's Day, established by the United Nations (UN) in 1975. This day commemorates the struggle of women and the constant search for gender equality. Vivir Quintana, creator of the feminist anthem "Canción sin miedo", Nana Mendoza and La Catrina Son System, present "Llora Llora", a musical collaboration that breaks down the feeling of impotence and rage that women experience every day in our society, in the face of increased femicides and contemporary machismo. A musical collage that could be a film, mixing cumbia rhythms and electronic beats, reflects a story that nobody wants to tell, but we have all heard.
If you'd like to send Mexican music for us to listen to, you can do so by sending a link of your music to [email protected]

Follow Sounds and Colours: Facebook / Twitter / Instagram / Mixcloud / Soundcloud / Bandcamp

Subscribe to the Sounds and Colours Newsletter for regular updates, news and competitions bringing the best of Latin American culture direct to your Inbox.
Share: