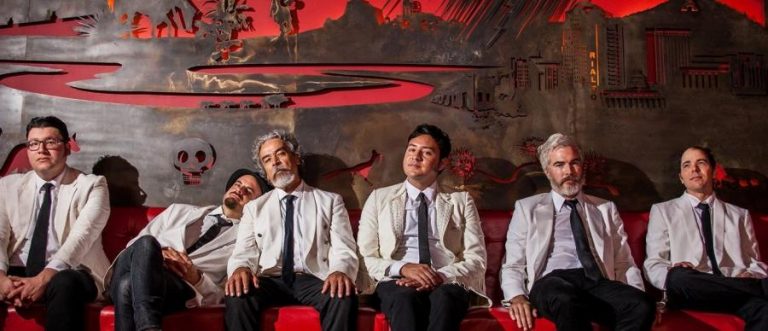 It Was Supposed To Be A One Time Thing: An Interview with Sergio 'Orkesta' Mendoza
19 April, 2017
Sergio Mendoza (pictured above, third from right) has been a busy man of late. Since emerging with Mambo Mexicano – the first official Orkesta Mendoza album – five years ago, the US/Mexican musician has been involved with a ridiculous array of musical projects. What's been most impressive is that he's managed to consistently hop between the worlds of US and Mexican music without ever looking out of place, able to play with US bands like Calexico and deVotchka as well as Mexican counterparts in Mexrrissey and Compass. It shouldn't come as any surprise then that he was born near the border and spent his early days crossing between the two countries.
Certainly the sounds of his two 'home' countries can be found on his main creative output, Orkesta Mendoza, a fiery combo whose sound veers between indie mambo, psych cumbia and ranchera rock 'n' roll, Mendoza seemingly able to pluck the best bits from these two neighbouring countries. When I sat down with Sergio I wanted to find out about his US/Mexican roots, how he walks the fine line between the two, and what it's like on the border these days.
So, first off, where were you born?
I was actually born in Nogales, Arizona, which is on the border with Sonora in Mexico, but I was raised in Mexico. There's Nogales, Arizona and Nogales, Mexico, and I moved from one Nogales to the other Nogales [in the US] later when I was like 7 or 8.
Was that literally moving over the border from one side to the other then?
Pretty much, just moving over the border but a whole new different world.
And what was the actual border like at that time? Was it easy just to travel between the two?
Back then it was a smaller fence. I can remember there was a time when you could actually just go through the border and it was a lot easier to get in to the US, they trusted a lot more. So I saw when the bigger fence went up, when the bigger checkpoint was built in the late 80s, but before that it was just a little building with border patrol and a small fence. You could go around the fence, it wasn't that far, and you could jump the fence if you wanted to, it wasn't that high.
When was it that you started getting into music?
I started getting into music when… well, for as long as I can remember being around and listening to music I was very into it. Maybe when I was 4 I could already turn on the record player and put on my favourite music and I would just put on the vinyl that my dad would buy and put it on and lock myself in the room. Even though I didn't speak English I would sing along and make up words to what I thought it said.
Then I started playing keyboard when I was like 5 years old, because there was a keyboard at the house, so I started playing just by ear, I actually never took music lessons or anything, I just started playing, and went from there.
What kinds of music were you listening to then?
There was some English music but lots of Mexican music, rancheras and cumbias. I was learning melodies of rancheras, of the styles of the north of Mexico. I was just learning with two fingers, I wasn't even using my left-hand. I was just using the right hand on the keyboard and then later when I was starting to get more into music, I was like 'ah, you guys play with two hands' and started figuring out how to play piano.
How did moving to the US affect what you were listening to?
The music I started listening to definitely changed, because all my new friends that I started hanging out with and some musicians that I found in my neighbourhood we went through phases together listening to The Police, Beatles, then Led Zeppelin, Black Sabbath. Then [later] we started listening to then grunge when that came out, so we were listening to all that and all the new stuff that was coming out and I started forgetting about all the Mexican stuff. And since we were right there on the border my friends kind of looked down on all the Mexican stuff because they thought it's not that cool, it's kinda cheesy. And don't watch Mexican television because it's soap operas and it's cheesy, so I kinda started letting go of all that stuff and just listening to everything American. So that was like from when I was like 11, through 12, through, I don't know, it lasted a long time, until I decided to go back to Latin music.
Okay, so this is what I want to know. When and how did that love for Latin music come back?
When I was 24 I started playing piano for a salsa band and I started learning a lot of Latin music. I pretty much wanted to do it to learn the style. I wanted to learn about Latin piano playing, and it was during that gig that I discovered some really cool stuff from Cuba that made me realise that this shit was psychedelic, this was rock 'n' roll but it was in Spanish. It was this guy, his name is Pablo Milanes, and he sings about politics, and I got really into him. So from that point on I started looking at Mexico and at Latin America to see what was going on, and try and find, there's gotta be other cool stuff coming out of Mexico.
So from being in the salsa band, and doing all these other kinda more 'rock' projects over the years, when was it that Orkesta Mendoza formed and you found your identity?
What really changed everything was that around 2006/2007 I was set-up with the local music scene in Tucson. I was trying to have these rock bands playing original material, based on rock 'n' roll, a little jazzy too, and we weren't getting any gigs, and I couldn't keep a band together either. So, I said I'm done with salsa, I've had enough of salsa, I learned what I wanted to learn, I don't wanna be a salsa piano player, and I'm gonna break up the band I had and just start from scratch again and just see where it goes.
And a month after that I started getting calls off Joey Burns of Calexico to come and play keyboards with them, they said they were looking for a keyboard player. They knew that I played in rock bands and they knew that I played salsa, so for them it was the perfect combination of a guy they wanted to play with, somebody who was Latin but also loves rock 'n' roll. So I met Joey and started to play with him a lot and he just kept on inviting me to more stuff and more stuff, more shows and tours and stuff. And with them I started listening to a lot more music, going to festivals. With having the salsa experience and having found Latin music again I decided to start the Orchestra and decided to go back to a style that I would listen to when I was a little kid, mambo and cumbia. It kinda went full circle.
I heard that your first gig was a tribute to Perez Prado. Is that right?
Yeah, I wanted to learn Perez Prado's style, ya know, and to have that as part of what I did. So we decided to do a Perez Prado tribute, just 20 minutes of his songs. It was supposed to be a one time thing, but Joey Burns of Calexico and promoters in Arizona were like, nah, you're going to do this again, many more times. So then they started booking us, having us open for bands, we started going out of town, playing the songs, and then right away I started writing songs in a sort of similar style, and that's how we made that first recording.
And how did the band come about? Was it easy to find people who wanted to be involved?
I pretty much kind of started finding non-Latin musicians because I was kind of burnt out with the salsa scene and I didn't want to play with musicians who only wanted a gig, and that can happen a lot with musicians that are really good and they're constantly getting paid for playing 2 or 3 hour gigs. I was looking for someone who wanted to be in a band and write music together and tour and stuff, so I started looking more for rock musicians, and I also wanted the Latin stuff to not sound so Latin and not sound so cumbia, so I looked for rock musicians to start a Latin band.
Considering you have this impressive gift to constantly cross between US and Mexican bands I have to ask: do you feel Mexican or American, or do you feel you have some other identity, a border identity perhaps?
Musically I feel like I fit in both worlds. I really feel comfortable playing with bands like Calexico, I feel right at home, and to hang with them also is a lot of fun. Then when I hang with Camilo [Lara] and some of the guys in Mexrrissey or DeVotchka I feel just as much at home. I think in the end I have more friends and more people I miss when I'm not with them.
Finally, I wanted to ask you about obviously an issue which must be very important for you, which is the issue of Trump. For us, it's very hard to get a hold on actually how the current presidency has affected people in the US. As someone who's from the border and lives near there, have you seen any impact? What has actually changed, if anything?
It's hard to see as something really changing, but at least in terms of our friends we're really together, we're in the same group. But there's always someone you'll talk to that just by one minute of talking to them you'll be like 'holy shit, she voted for Trump' ya know. Just last week I had some keyboards repaired. I took them to my repair person who's been fixing keyboards for me for the last 10 years and he doesn't have papers, he's undocumented, and him and his wife don't have any sorts of papers, but they have kids who were born in Tucson, so both of their kids are American, and every time I take keyboards to him it's very normal, like taking keyboards to anybody else. But this last time I take him my keyboards and he's like 'hey man, we're all just freaking out there. I wanted to ask you if there's anyway you can give me work so I can try to get a work visa, if you could request me as your sound engineer or something'. He's like 'if you can help me, that'd be awesome'. And I'm like 'I wish I could do something for you and I will try to ask some of my friends at venues to help you out and see if there's something they can do'. That's where I can see something going on.
He was telling me about his school, he has a music school and he teaches kids. He has a permit for that and everything, but now since a lot of the students are undocumented their parents are afraid of taking them to music school, so now the amount of students has gone done. That part is getting tough, everybody's getting scared.
Orkesta Mendoza will be touring the UK in April, as part of La Linea 17, before heading across the channel for European tour dates. Orkesta Mendoza's latest album, ¡Vamos A Guarachar!, is available from Glitterbeat Records.
Sergio also plays in Los Hijos de la Montaña, whose debut album has recently been released on vinyl by Vacilando '68. He was also one of the founders of the Mexican Morrissey band Mexrrissey. He is currently in the studio working on the next Calexico album.

Follow Sounds and Colours: Facebook / Twitter / Instagram / Mixcloud / Soundcloud / Bandcamp

Subscribe to the Sounds and Colours Newsletter for regular updates, news and competitions bringing the best of Latin American culture direct to your Inbox.
Share: