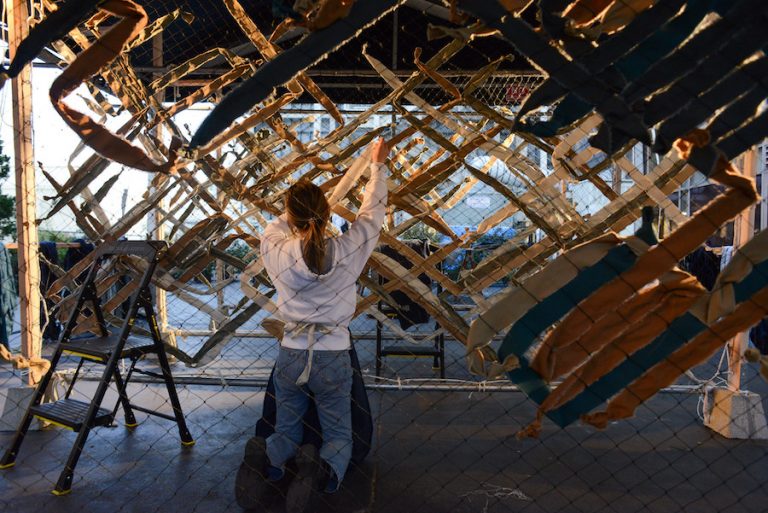 Tania Candiani's 'The Camouflage' Makes Modern Forced Labor Visible
06 March, 2020
Mexican conceptual artist Tania Candiani's presentation of "Camouflage" at the Frieze Projects (February 14 -16 2020, Los Angeles) charts the historical narrative of forced Japanese labor encampments in California during WWII by simulating the fabrication of giant protective covers to camouflage military equipment.
Her installation at first sight seems friendly, inoffensive, nonthreatening, and distant from any inhumane connotation. Candiani is moved by American photographer Dorothea Lange's documentation of the Japanese internment camps. In particular, one specific image titled Making camouflage nets for the War Department (1942).
The size of her installation draws you to approach what might seem to be an apolitical form of expression. Not until you read the description of the installation do you reach the significance of her project to engage in conversation with the history of forced labor. Speaking with Candiani she makes references to the maquiladoras along the Mexican-U.S. border, and the prison industrial complex as another form of labor exploitation. Although, maquiladoras are not associated as direct forced labor like the Japanese encampments, the condition that directs mostly young women to work in maquilas [production plants] today can be said to be somewhat a version of forced labor. [NB: Maquiladoras are foreign-owned, controlled or subcontracted manufacturing plants that process or assemble imported components for export. This concept of manufacturing goods in the global south, in this case the border between Mexico and US reveals the abuse by the Global North that takes advantage of weak labor and environmental laws with trade agreements unable to guarantee a dignified wage.]
By reenacting this installation Candiani reminds us of the inherited abuse of workers built into a system that is ready at any moment to incarcerate and deprive the liberty of its own citizens given they are not of European descent. This abuse is not a casual outcome, but a variable. The hysteria that brought about WWII enabled the US government to draft laws that singled out a non-white group, the Japanese Americans, to be treated as the enemy within. The same can be said today of immigrants.
Without a doubt, Candiani links two geographies, the US and Latin America, with this installation. She expresses a universal reality of what has often stood in the way of justice in today's globalized world. She points to a world where the market stands to profit from exploited workers confined in inhumane conditions with no right to improve their circumstances unless they are fought for. Candiani reveals the connection between human labor and the social relations of today's modern society. Her installation in essence is a critique not just the stealing of someone's labor and the value it produces but the instrumental rationale behind all justifications to minimize the dignity of humanity.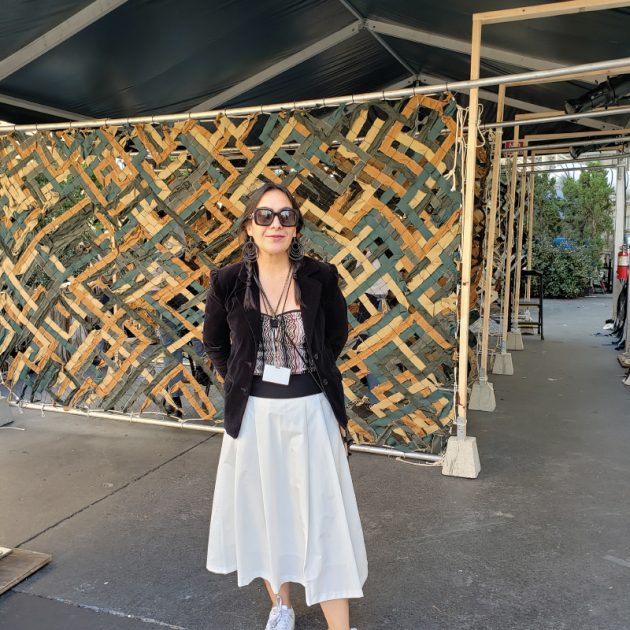 Follow Sounds and Colours: Facebook / Twitter / Instagram / Mixcloud / Soundcloud / Bandcamp

Subscribe to the Sounds and Colours Newsletter for regular updates, news and competitions bringing the best of Latin American culture direct to your Inbox.
Share: